The fake news industrial complex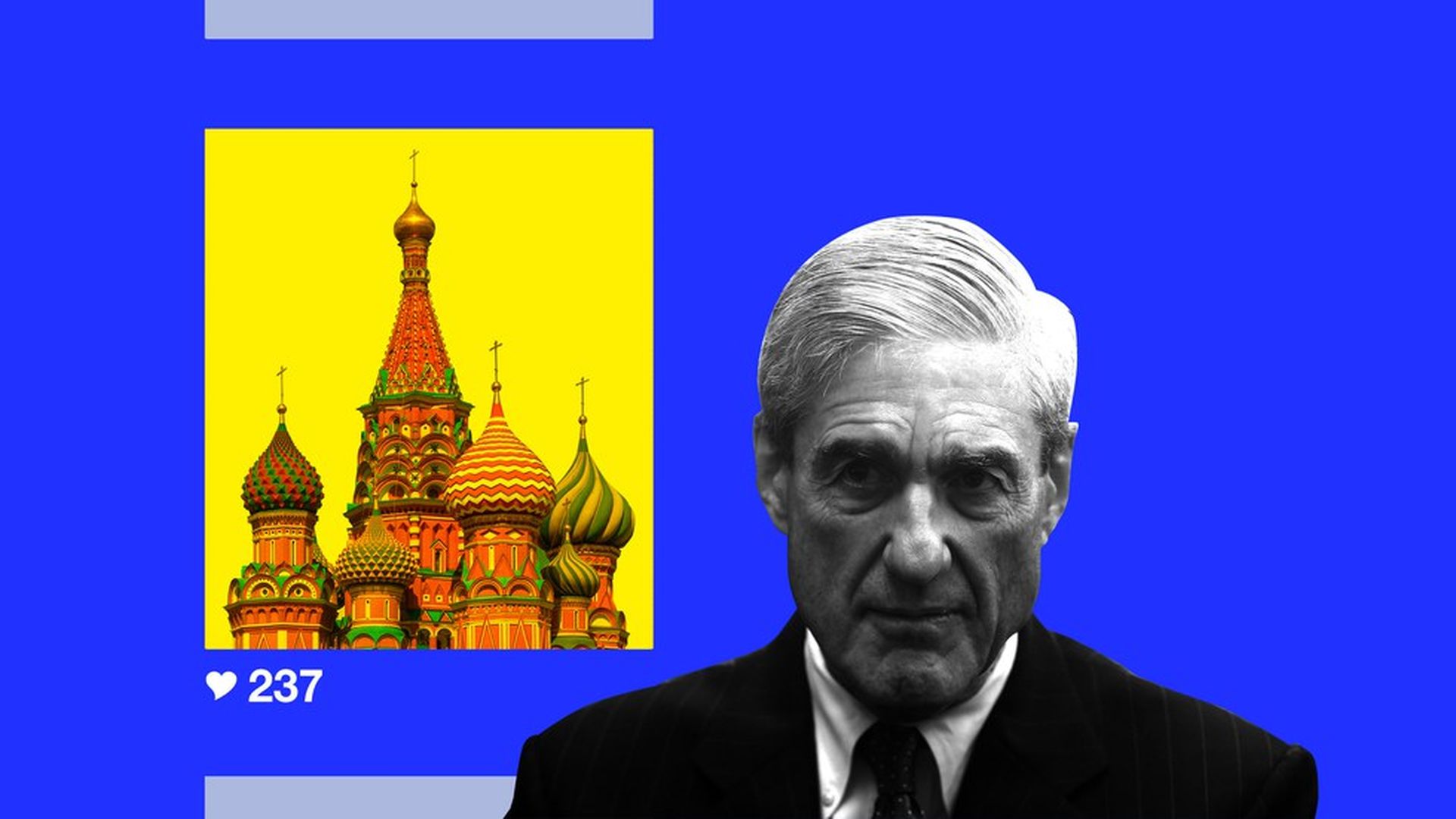 The year's most consequential storylines have collided — and are now one mega-story worthy of your undivided attention — with the revelation by Bloomberg's Chris Strohm that "Russia's effort to influence U.S. voters through Facebook and other social media is a 'red-hot' focus of special counsel Robert Mueller's investigation."
Why it matters: Mueller's investigation, based on people he's interviewing and questions he's asking, could very well expose in vivid detail not only Russia's influence in the election, and sketchy if not illegal behavior by Trump associates, but also how Facebook, Twitter and social media helped facilitate a lot of it.
The latest Mueller news would make the "House of Cards" writers blush, bringing together fake news, Mueller, Trump, Russia and the winds blowing against the tech giants.
"Mueller's team of prosecutors and FBI agents is zeroing in on how Russia spread fake and damaging information through social media and is seeking additional evidence from companies like Facebook and Twitter about what happened on their networks."
"Facebook officials likely to face Congress, key lawmaker says."
"Agencies ...are now examining what could be done to prevent similar interference and espionage in ... the 2018 midterm congressional vote."
"Russia is ramping up its hacking operations, Director of National Intelligence Dan Coats said."
At the same time, Hillary Clinton is out there sounding the alarm with the promotion tour for "What Happened," where she writes that Russian manipulation of the election ("an attack on our democracy by our principal foreign adversary") is "much more serious" than Watergate.
Confronting "hybrid war" ... Jim Rutenberg, in the cover story of Sunday's N.Y. Times Magazine ("RT, Sputnik and Russia's New Theory of War"), writes that the Kremlin has "built one of the most powerful information weapons of the 21st century," and that it "may be impossible to stop":
"Russia's media and social-media machinery ... contributed to the informational chaos — the fake news and conspiracy theories that coursed through social-media feeds — that characterized the final stretch of the election, to, it turned out, Trump's benefit."
Another development that'll keep this convergence in the news ... "FBI investigating Russian media's U.S. intentions," the L.A. Times reports on A1:
"The FBI is investigating two Russian government-funded media organizations that operate in the United States following accusations that they were part of a massive Kremlin operation to help swing" the election.
"Russia Today, Moscow's flagship English language television broadcaster, and Sputnik News, a radio and wire service funded by the Kremlin, claim to be legitimate news gathering organizations, no different from the BBC."
"But the FBI is exploring whether the two Russian organizations should be required to register as foreign agents ... A U.S. intelligence community report on Moscow's interference in the 2016 presidential race concluded in January that Sputnik and RT ... were part of a multi-faceted Russian intelligence operation."
Be smart: The Russia angle will vastly amplify congressional and media scrutiny of the tech giants, increasingly on the defensive for what they know about us and how they have used their power.
Per the N.Y. Post: "CNN boss Jeff Zucker slammed ... Facebook at Tina Brown's first Women in the World Canada Summit, saying, 'I urge more folks to hold them to account' for taking ads in a Russian-backed campaign to influence the election."
P.S. The N.Y. Times reports that beginning today, the Kremlin is holding "a six-day joint military exercise that is expected to be the biggest display of Russian military power since the end of the Cold War a quarter-century ago."
Go deeper