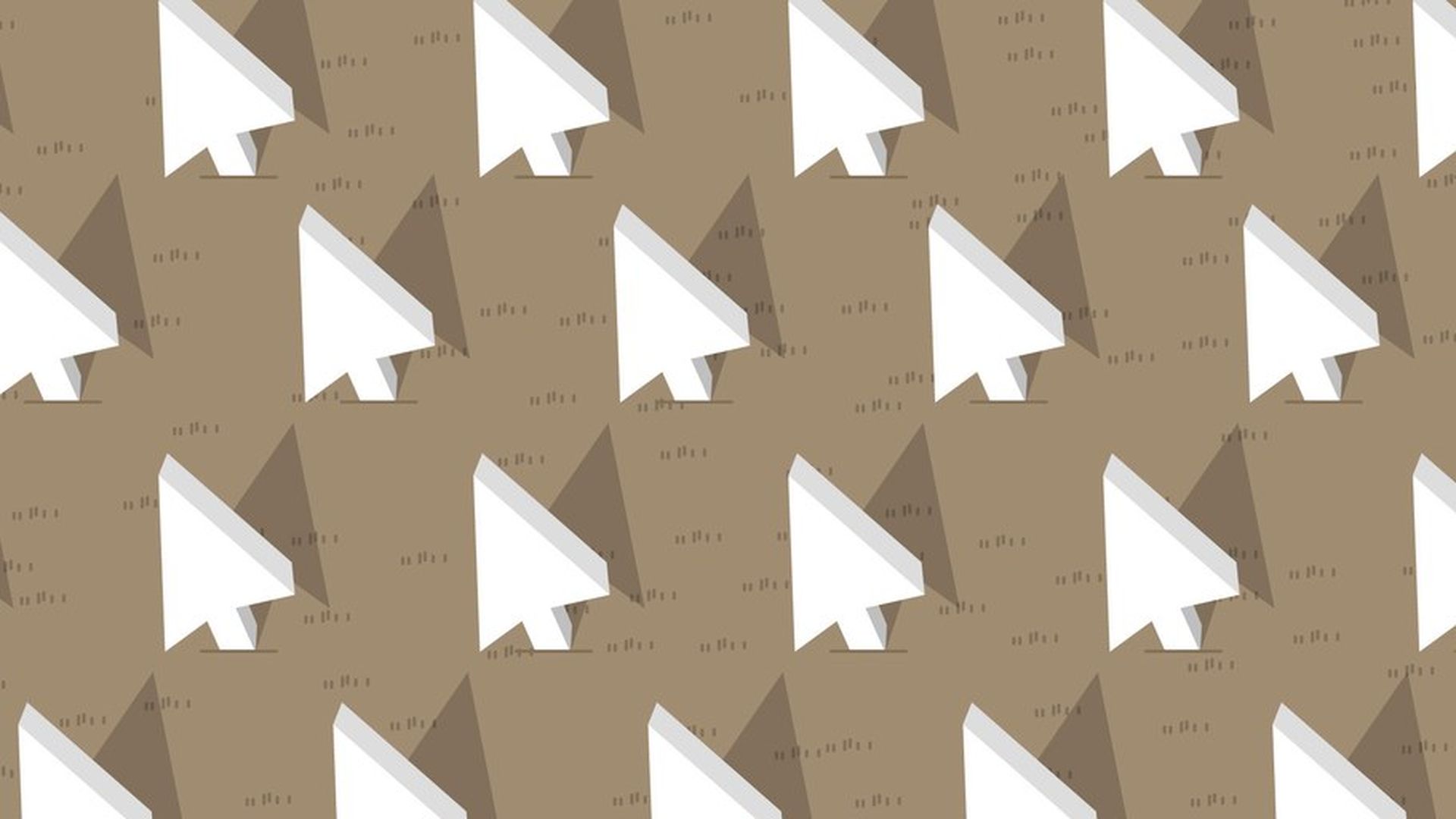 For the past 10 years, we've operated on the premise that the most important digital metric is the click that refers a person to a website. That click usually comes from a social distribution channel, like Facebook or Twitter, or a search engine, like Google or Bing. But according to industry experts, the click referral is becoming an idea of the past, soon to be replaced by content exposure.
Why it matters: Most publishers have designed their websites to measure user interaction through clicks, not scroll rates or time spent on stories. As the industry moves away from click-through rates (CTR's) as the most meaningful marketing metric, those publishers will have a difficult time justifying the effectiveness of their platforms for marketers.
How did we get here? When AT&T created the first banner ad in 1994, the ad had about a 44% CTR, according to a report by AdRoll. That's around 40x higher than the average banner CTR today. Two factors have led to the decline in clicking:
New web formats, used by apps like Facebook and Twitter, that replace clicking navigation with passive scrolling navigation.
A saturated digital ecosystem that makes users feel lost if they click out of the window or app that they're in (Hence the introduction of in-platform news formats, like Facebook Instant Articles and Snapchat Discover).
Who's to blame? Using click referrals as the most successful marketing metric was largely influenced by a free click referral measuring tool created in 2005 called Google Analytics. The tool was built to attribute successful marketing campaigns around referral clicks because referral clicks often come from Google Search, which Google monetizes.
What's next? "Clicks look like a high-performing tactic, but a lot of work is done to get you to type something into a search bar to begin with," AdRoll President Adam Berke tells Axios. Marketers are starting to attribute marketing success towards content exposure that drives you to click something, instead of the click itself. Two key formats increase content exposure: video and passive scrolling. Google and Facebook are investing heavily in products that embody these formats: YouTube and Instagram.
Go deeper