The China surge: "Change in the global order"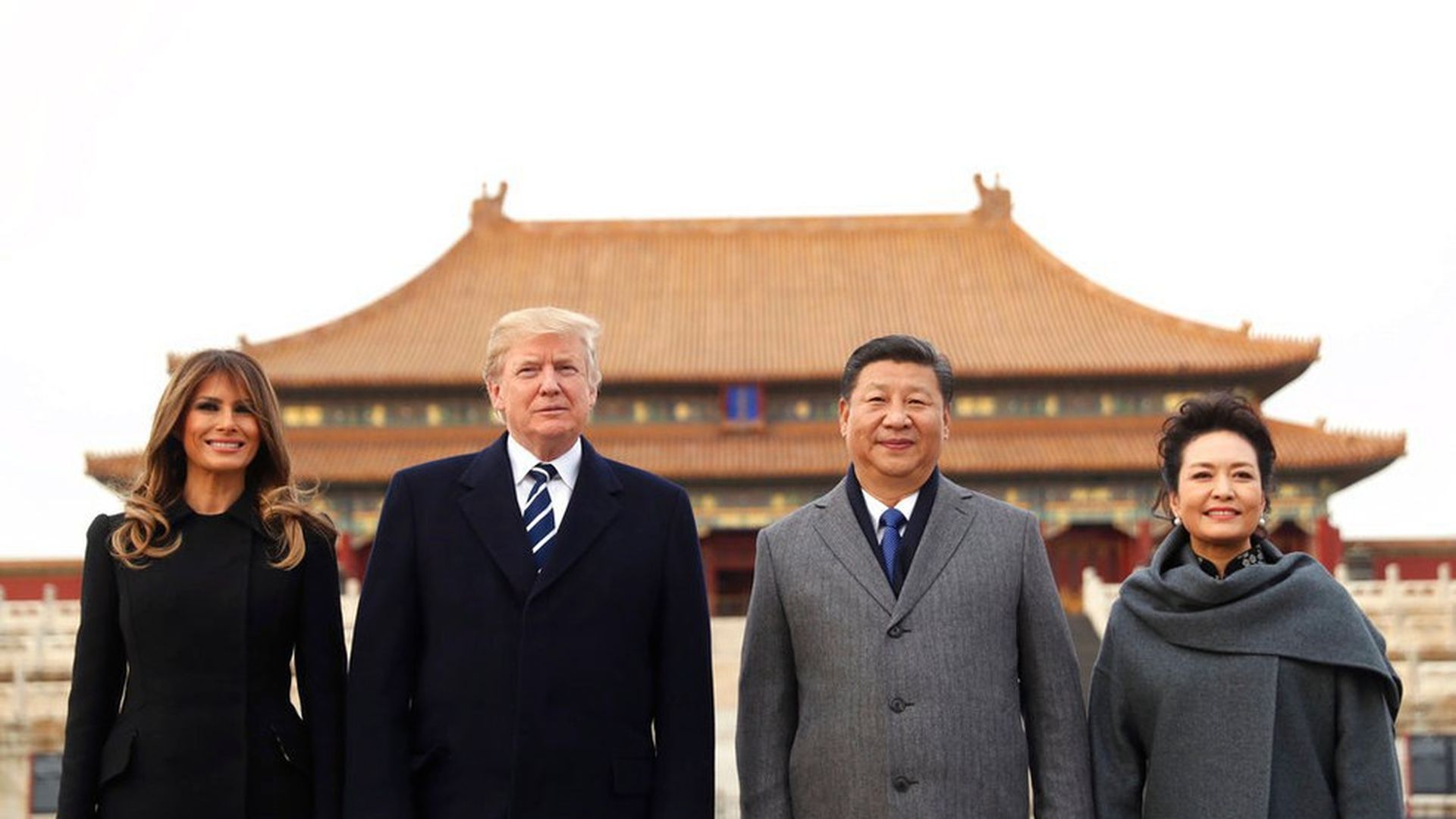 President Trump yesterday declared his 12-day Asia swing "historic." A David Ignatius column says that may indeed prove true, but "probably not in the way he intends... It may signal a U.S. accommodation to rising Chinese power, plus a desire to mend fences with a belligerent Russia — with few evident security gains for the United States."
Ian Bremmer, president and founder of Eurasia Group, has a similar mega-trend interpretation — but says it was baked even before Trump's trip.
Bremmer wrote his clients, with his idiosyncratic punctuation:
"there have been two speeches of my lifetime that mark a change in the global order: when mikhail gorbachev announced [in 1991] the dissolution of the former soviet union, and two weeks ago when chinese president xi jinping declared that china was ready to ... become a superpower."
"it's the money china is spending around the region and globally; their technology strategy and the growing impact of the government and their companies together in the space; their policy pronouncements which are seen as having a lot more impact than those of other capitals; and the inevitable pushing ahead of their military in their backyard (most specifically around the south china sea)."
Why it matters: "asia used to be a conversation about hedging between the united states and china; now it's more about how to react and adapt to Beijing."
The Ignatius column, "Trump's extraordinary 12-day adulation tour," adds:
"If the 1945 Yalta summit marked U.S. acceptance of the Soviet Union's hegemony in Eastern Europe, this trip seemed to validate China's arrival as a Pacific power."
"As Xi put it to Trump, 'The Pacific Ocean is big enough to accommodate both China and the United States.''
P.S. Trump tweeted yesterday: "The failing @nytimes hates the fact that I have developed a great relationship with World leaders like Xi Jinping, President of China."
And this morning: "To the three UCLA basketball players I say: You're welcome, go out and give a big Thank You to President Xi Jinping of China who made ... your release possible and, HAVE A GREAT LIFE! Be careful, there are many pitfalls on the long and winding road of life!"
Go deeper