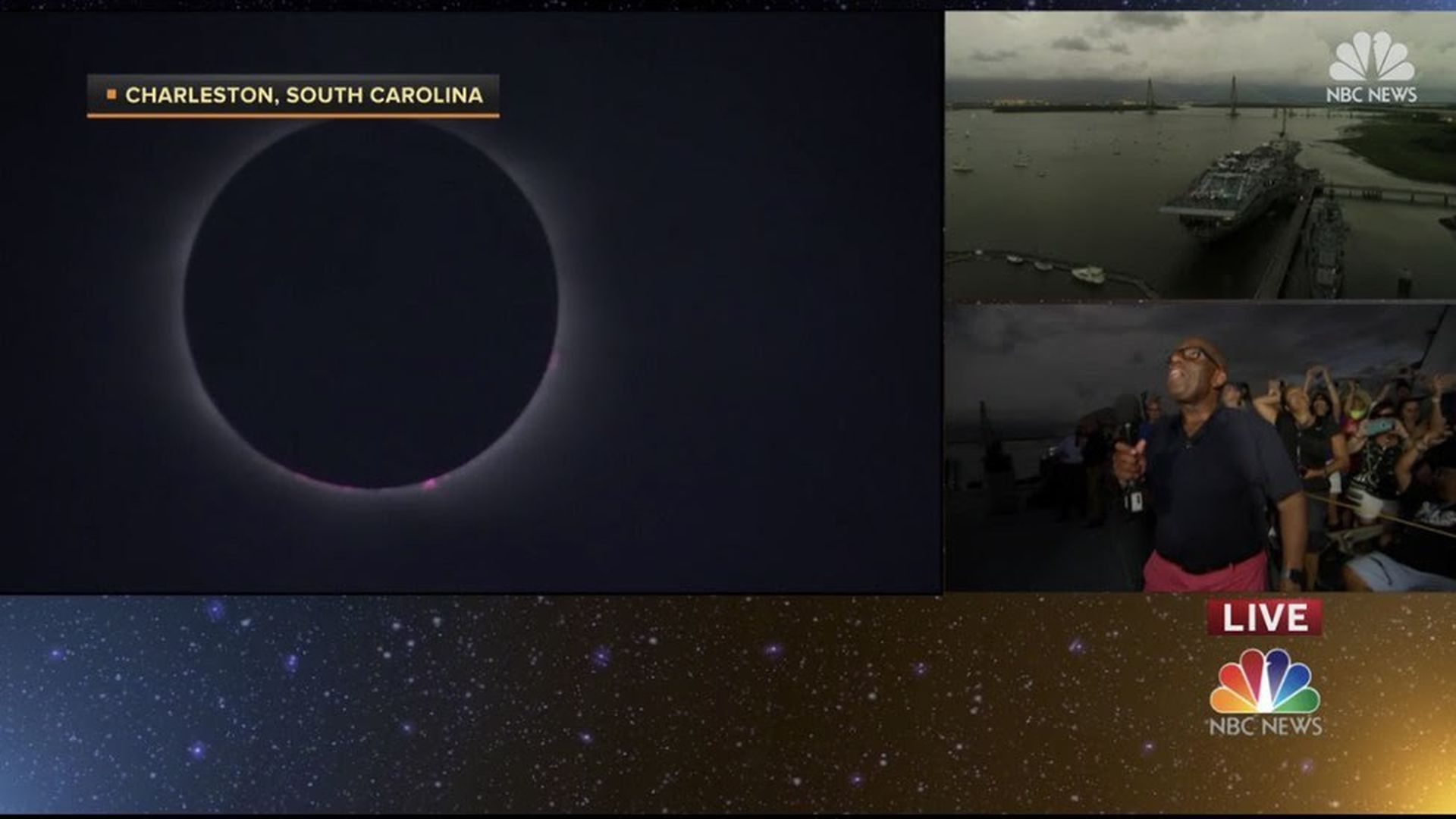 Brian Williams had a great eclipse lead-in on his 11 p.m. MSNBC show, "The 11th Hour": "Just when we thought we run the show down here ... "
It was a rare day of community for America: to obsess about something non-Trump — something that was bigger than ourselves, and something that was terrifying to the ancients, but a diversion and fascination (and, yes, commercial opportunity) for us.
Of all the eclipse anchors, Fox's Shep Smith had by far the most fun, racing maniacally around the "Fox News Deck," his personal set, and having fun with the different brands of gum, cereal, etc., boxes that people were using for their eclipse-viewing gizmos:
"Gotta give us names on pets. C'mon: We love the pets! ... It's interesting that NASA has been able to place its logo next to the sun — see that over there. ... Tell us something amazing! ... No! No! Mr. Production Manager, remove the clouds!"
The networks branded the once-in-a-lifetime event:
Fox News graphics heralded "FIRST COAST-TO-COAST TOTAL SOLAR ECLIPSE IN 99 YEARS."
CNN — which at times had double "ECLIPSE CAM" boxes, with a tiny Wolf Blitzer head floating between them — dubbed it '"ECLIPSE OF THE CENTURY."
CBS went picture-in-picture during ads, keeping the eclipse image live.
ABC's coverage of 'THE GREAT AMERICAN ECLIPSE" included countdown clocks "TO END OF TOTALITY" and "TO NEXT TOTALITY."
MSNBC called it "TOTAL ECLIPSE 2017."
CNBC covered "THE GREAT AMERICAN ECLIPSE."
CNN got the last word, tracking the solar stunner after it was over on the U.S. mainland at 3 p.m. ET, with live cruise-ship coverage "Aboard Royal Caribbean in Atlantic Ocean" — from the Bermuda Triangle.
Go deeper