The backstory on Trump's Charlottesville do-over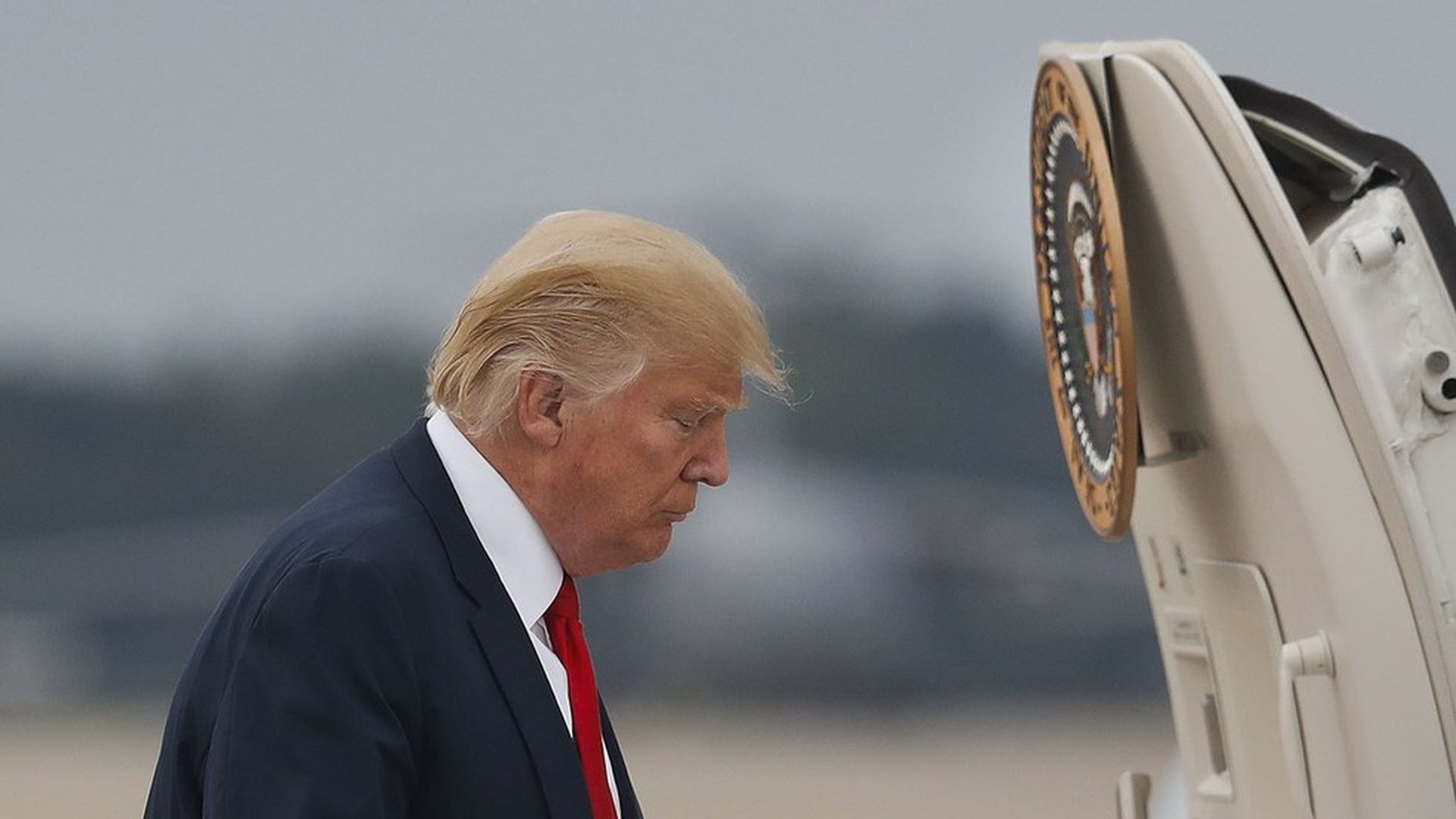 A Republican close to the West Wing summed up President Trump's do-over Charlottesville remarks yesterday: "Wound cauterized. Healing begins. Scars remain."
What he finally said, on Day 3: "Racism is evil. And those who cause violence in its name are criminals and thugs, including the KKK, neo-Nazis, white supremacists, and other hate groups that are repugnant to everything we hold dear as Americans."
The backstory, from AP's Jonathan Lemire:
"Loath to appear to be admitting a mistake, Trump was reluctant to adjust his remarks. ... He ... expressed anger to those close to him about what he perceived as the media's unfair assessment of his remarks, believing he had effectively denounced all forms of bigotry."
"Several of Trump's senior advisers, including new chief of staff John Kelly, ... urged him to make a more specific condemnation, warning that the negative story would not go away and that the rising tide of criticism from fellow Republicans on Capitol Hill could endanger his legislative agenda."
"Reading from a teleprompter, he made a point of beginning with an unrelated plug for the strength of the economy under his leadership. Then, taking pains to insist 'as I said on Saturday,' Trump denounced the hate groups."
"At [a China] trade event later in the day, he was asked why it took two days for him to offer an explicit denunciation of the hate groups. 'They have been condemned,' Trump responded before offering a fresh criticism of some media as 'fake news.'"
"He followed with a tweet declaring 'the #fakenews will never be satisfied.'"
The reaction:
N.Y. Times columnist Frank Bruni, "Trump Cannot Redeem Himself": "[T]he length of his delay upped the ante on his delivery, which was passionless."
Jesse Watters on Fox News' "The Five": "These same people who were mad at President Trump for saying 'radical Islam,' now all of a sudden want him to say 'white supremacy'?"
Cover tease on Trump-friendly N.Y. Post: "Trump: OK, yes, racists are bad."
Be smart: Conservative radio and MSNBC weekend host Hugh Hewitt, who has generally given Trump the benefit of the doubt, said the president's reaction to Charlottesville was basically the opposite of President Reagan's unifying eloquence after the space shuttle Challenger exploded in 1986. Trump will have other moments to try to transcend the national din. There's no getting this one back.
Go deeper