The 12 things that mattered in Trump's speech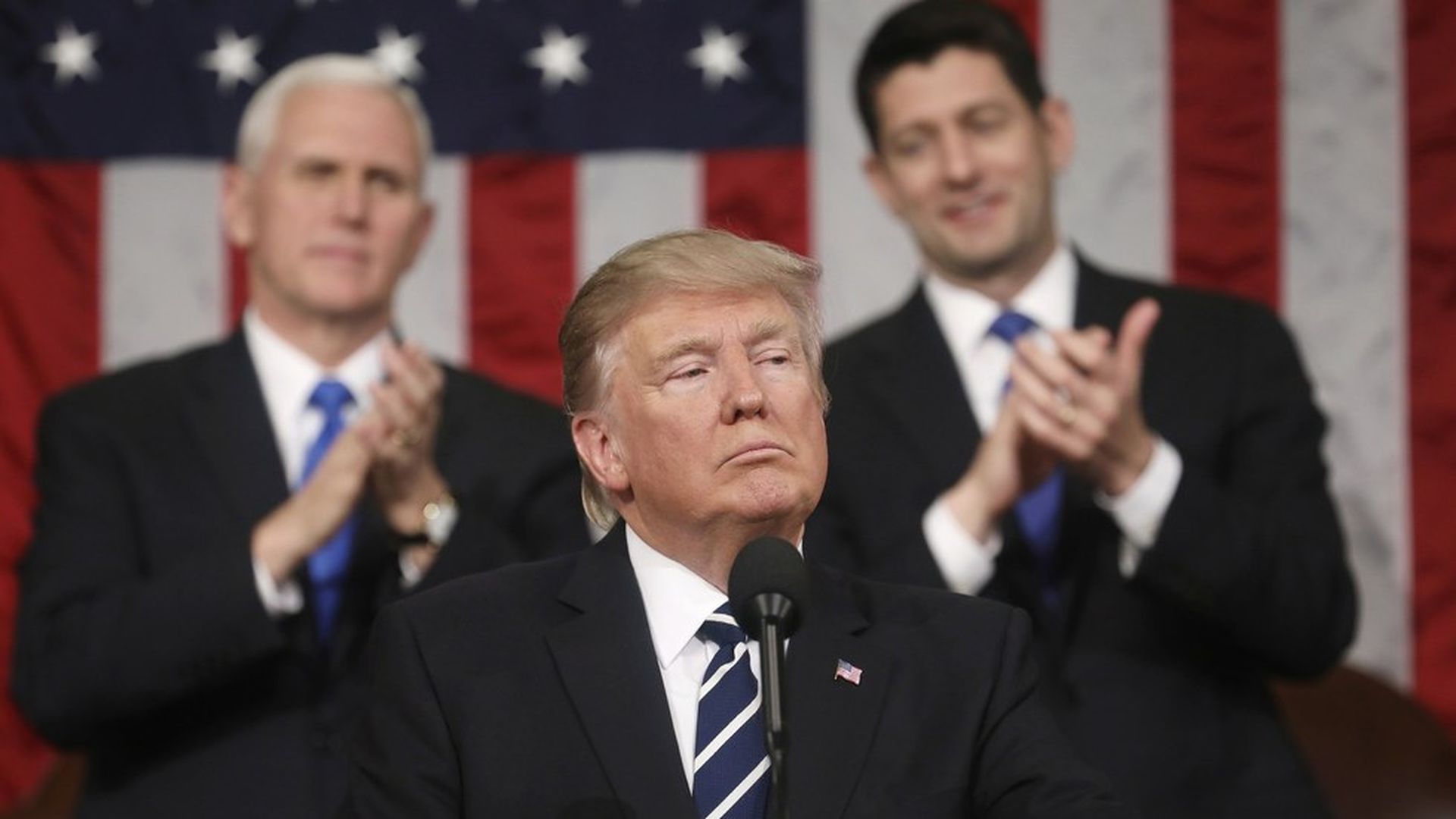 A rundown of what to note from Trump's first address to a joint session of Congress.
Tone: The speech was, by some distance, his most "presidential" since running for the office. He was totally on message, controlled, uncaffeinated, un-Trumpian.
Breaking the ice: Trump began his speech with riffs on Black History, civil rights, and a condemnation of anti-Semitic violence. He received standing ovations.
Head fake on immigration: As we reported, there was no way Trump was going to have a conversion to Jeb Bush-style immigration reform. He spent much of the speech highlighting the crimes committed by immigrants in the country illegally, and he gave no concessions on immigration
Declined to endorse the border adjustment tax: "We must create a level playing field for American companies and workers. Currently, when we ship products out of America, many other countries make us pay very high tariffs and taxes -- but when foreign companies ship their products into America, we charge them almost nothing."
More detail on healthcare: Trump gave Speaker Paul Ryan a big win by listing some components of the House GOP plan — and, as we forecast, the big one was tax credits. See David Nather's analysis.
Says his budget will increase funding for veterans. A well-received line: "Our veterans have delivered for this Nation –- and now we must deliver for them."
Crucial language on infrastructure: "To launch our national rebuilding, I will be asking the Congress to approve legislation that produces a $1 trillion investment in the infrastructure of the United States — financed through both public and private capital –- creating millions of new jobs." The key phrase — "that produces" — coupled with the mention of private capital — means the Bernie Sanders dream of $1 trillion in new government spending remains a fantasy.
Sought to tie the African-American experience to nationalism: "We've financed and built one global project after another, but ignored the fates of our children in the inner cities of Chicago, Baltimore, Detroit -- and so many other places throughout our land."
Promises: Listed pledges made and kept. He gave plenty of applause lines for (at least some) Democrats, including withdrawal from the Trans-Pacific Partnership trade deal and his request that "new American pipelines be made with American steel."
"Radical Islamic Terrorism": Trump is still using the phrase, despite the reported disapproval of his new national security advisor.
NATO: Trump made a happy man of Defense Secretary Mattis and the rest of the foreign policy establishment, which has worried about his previous comments that NATO is "obsolete." Tonight, Trump said: "We strongly support NATO, an alliance forged through the bonds of two World Wars that dethroned fascism, and a Cold War that defeated communism. But our partners must meet their financial obligations."
A emotional moment — and the longest applause of the night: "We are blessed to be joined tonight by Carryn Owens, the widow of a U.S. Navy Special Operator, Senior Chief William "Ryan" Owens. Ryan died as he lived: a warrior, and a hero –- battling against terrorism and securing our Nation."
Go deeper