Tech allies slam FCC's broadside against web platforms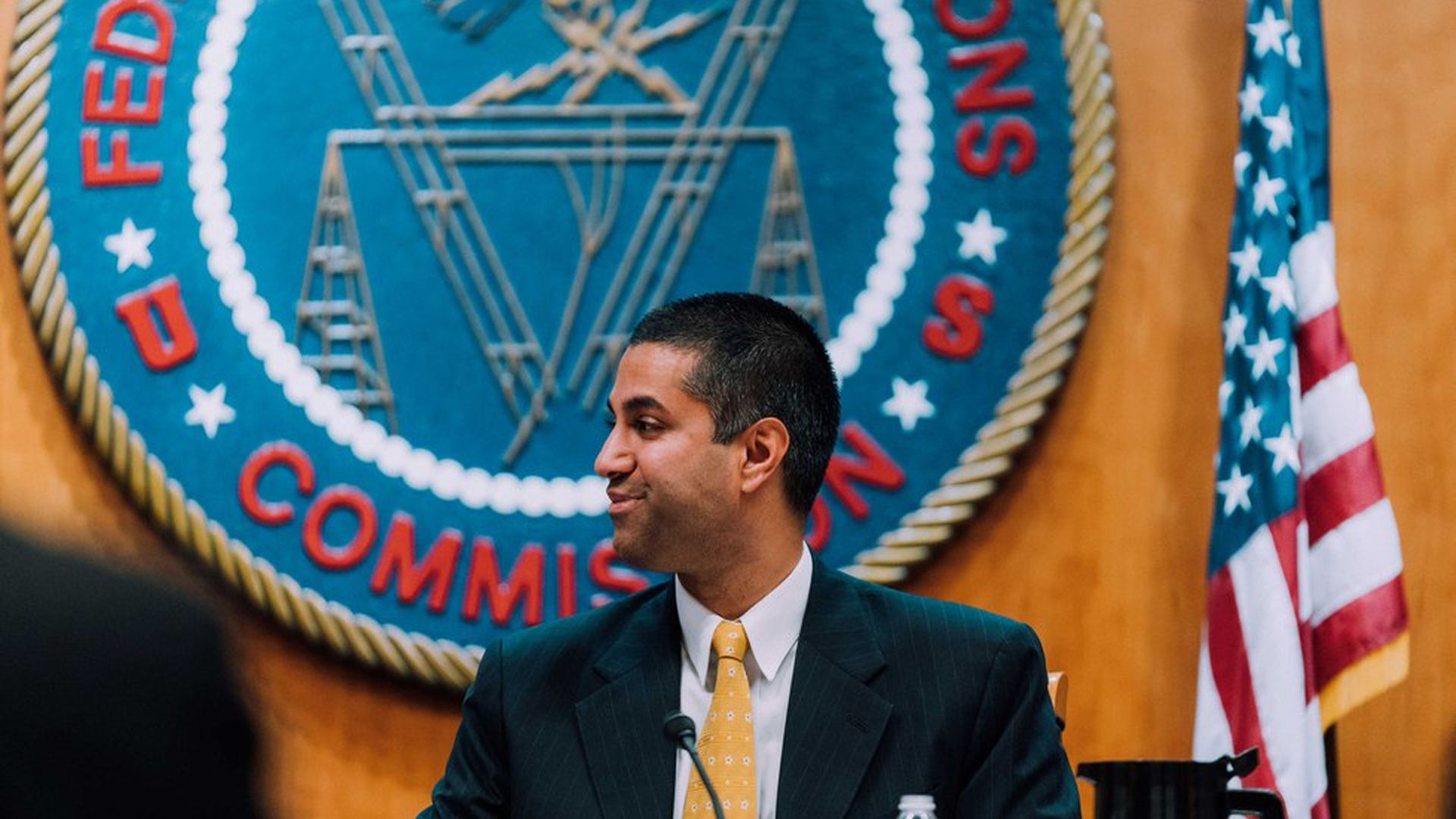 The tech industry and its liberal allies pushed back Tuesday on Republican FCC Chairman Ajit Pai's contention that they're a greater threat to free speech online than internet providers like Comcast and Verizon that are subject to the net neutrality rules he's trying to repeal.
Why it matters: Pai is trying to close the deal on a policy reversal that is supported by established telecom companies under the banner of Trump-era conservative populism. Jabbing Silicon Valley for supporting the net neutrality rules, while also removing some content from their own platforms, is exactly what some on the right want to hear.
Some in the Trump wing ate it up. "BOOM: FCC Chairman Ajit Pai specifically calls out Twitter censorship," tweeted Jack Posobiec, the right-wing social media personality who gained prominence pushing the false "Pizzagate" conspiracy theory, adding that now "it makes sense why Twitter, Facebook, Google, Amzazon [sic] etc all want net neutrality so bad."
One supporter of the current rules cast doubt on whether other conservatives would agree. "I don't know if rural Trump voters really love their broadband providers," said Gigi Sohn, a former FCC aide for former Chairman Tom Wheeler who helped shape the net neutrality rules. "They probably don't."
What they're saying:
"Websites and apps operate in a competitive environment with low barriers to entry where choice and competition are a click away," said Noah Theran, a spokesperson for the Internet Association, which represents Google, Facebook and Twitter. "This stands in stark contrast to ISPs, where more than 60 percent of Americans — and 87 percent of rural Americans — have no choice in high speed broadband provider. Strong, enforceable net neutrality rules are essential to protect consumers and preserve robust competition online."
Supporters of the rules said Pai was trying to distract from the substance of the debate. "This has been an argument that the ISPs have been pushing for a long time in this debate as a way to distract from the core issue here, which is whatever you think of the consolidation of power within the edge provider community it's still not a terminating access monopoly like ISPs have," said Evan Engstrom, the head of startup advocacy group Engine.
A Twitter spokesperson resisted the idea that it had discriminated against conservative Rep. Marsha Blackburn when it took down an ad because it contained a graphic comment on her opposition to abortion rights — an incident cited by Pai. The spokesperson said that because "advertisements are served to users who do not necessarily follow an account, we therefore have higher standards for their content."
"But… that's not what a free and open internet means? Twitter isn't an ISP," tweeted Andrew Losowsky, the head of Mozilla's Coral Project.
Google and Facebook declined to comment.
Yes, but: One major tech investor that still supports the net neutrality rules told Axios that Pai's concerns about the power of major web platforms was also valid.
Be smart: Lines between the far left and the far right on the issue of corporate power are blurring as fast as the lines between the pipes that carry content on the internet and the websites that host it.
Go deeper