Sneak peek: iPhone X test-drive
My nephew Anders texted me an animated dog — an Animoji, from the same family as the alien you see above — that said, in the 19-year-old's voice and with his facial tilt: "Hey, Uncle Mike, it's me!" I knew Anders had figured out to set up the iPhone X ("10") that Apple loaned me ahead of its release in stores this Friday. Preorders for the $999 "future of the smartphone" began last Friday in 55+ countries. (The Animoji choices include unicorn, pig and panda.)
Anders, a college freshman, is our family's designated early adopter (he followed 4G blogs long before the fast broadband rolled out nationally), and a longtime Apple connoisseur.
Ina Fried, Axios chief tech correspondent, will have our official review soon. But I asked Anders to play with the iPhone to see what he liked and didn't. Then he showed me how to use the new features packed into the 10th anniversary edition of the device that put palm-sized supercomputers in our pockets...
Why it matters: The iPhone X screen (as you can see in the left-hand image below), stretches edge to stainless-steel edge, like an infinity pool — "all display," as Apple puts it, a "physical object that disappears into the experience." And the social networks want to replace TV, with us as the stars and producers.
This phone's capabilities — with easily created and shared TrueDepth images that are crisp, yet imbued with more of life's subtlety — will speed up that process. Once again, the miraculous instantly becomes the norm.
Apple says this phone will set "the path for technology for the next decade." Bet it'll be a fast 10 years.
What's new:
Anders' first observation was that the phone is smaller than his top-of-the-line iPhone 7 Plus, but with a bigger screen (5.8‑inch Super Retina display). He could easily do everything in one palm; reaching top to bottom on his current phone is a stretch.
Part of the reason for the bigger screen is that there's no home button for navigation — you do it by swiping.
The X has fancy glass on both sides, though you're crazy if you don't hide the back with a protective cover.
Instead of a passcode, you can unlock the X with Face ID that you set (see right-hand image below) by rolling your head in circles till the camera "gets" you from all angles. It can take a few tries to set up. But then it works reliably, even in the dark. As you grow a beard, it keeps learning and recognizing you.
For selfies, you can carousel among Natural Light, Stage Light, Contour Light ("dramatic shadows"), etc. — and see the effect before picking one.
Some features just catch up to other brands, including the wireless charging dock where you lay the phone.
What's next: Anders' biggest question was why Animojis can turn you into a robot (center pic below) or monkey, but you can't send your own face — even though the phone captures you for the unlock feature. Apple treads carefully around privacy issues. So I'd look for that capability in the future.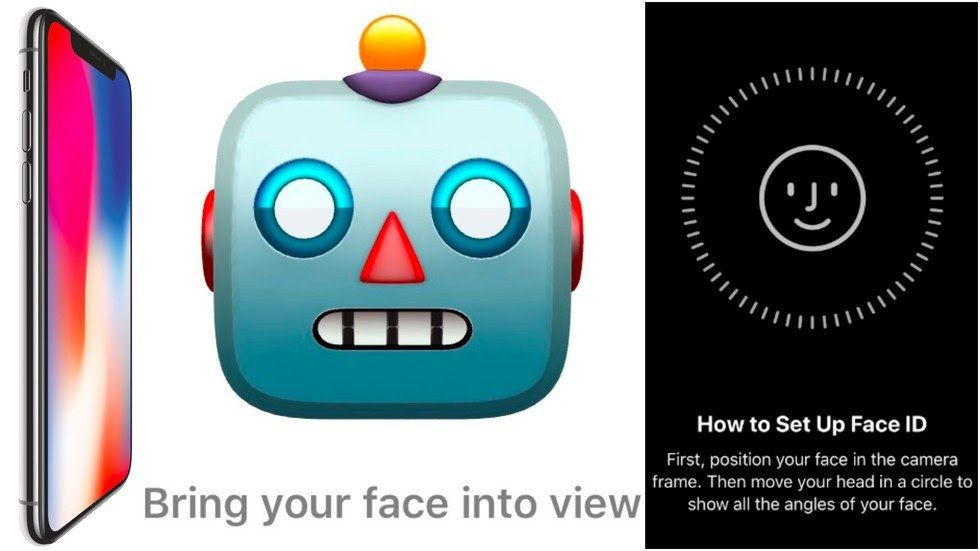 Left: Apple, by permission; center and right: Axios screenshots
Be smart: Not everyone can or should upgrade to this cool, unnecessary technology. But it's a taste of the future, when the way we communicate electronically will be even more seamless with — and similar to — interacting in person. Soon enough, it won't be a talking dog popping up to say "Hey." It'll be Anders.
Go deeper