Sen. Inhofe: Russia drama won't deter infrastructure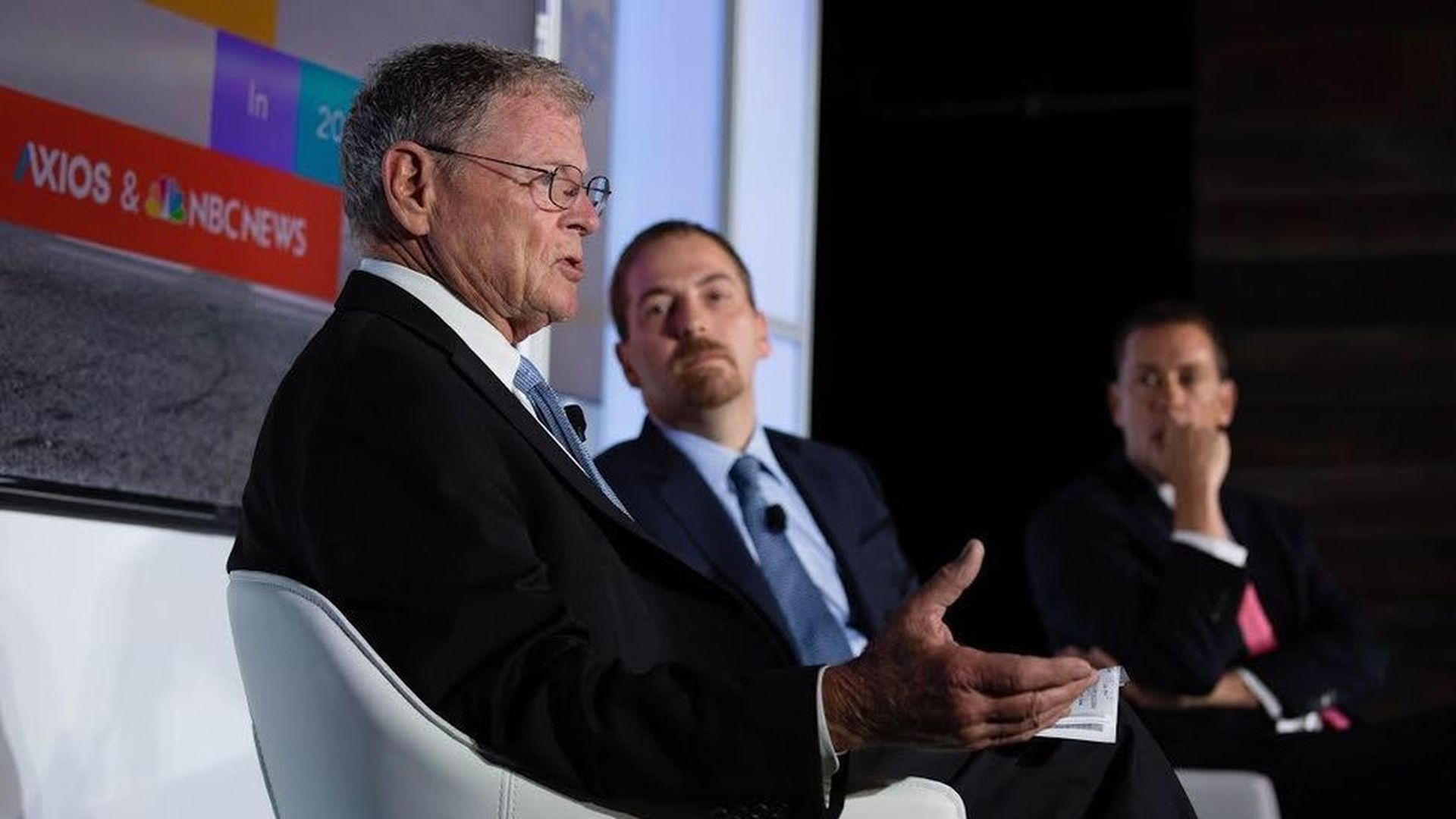 Axios' Jim Vandehei and NBC "Meet the Press" host Chuck Todd sat down with Senator Jim Inhofe (R-OK) and Atlanta Mayor Kasim Reed at Axios' Infrastructure in 2017 event. Inhofe (R-OK), a pilot and "infrastructure junkie", said he doesn't think that the drama with Russia will deter the Trump Administration from passing a successful infrastructure bill:
"A lot of people out there hate Trump, and a lot of you guys in the media keep fanning the flames, you're gonna keep doing it," said Inhofe. "But we're going to get it done... let the media have their heyday."
Other key quotes from Sen. Inhofe:
Does the core message of fiscal conservatives make your job harder? "There are two things I don't think people should be fiscally conservative toward, defending America, and infrastructure."
U.S. infrastructure compared to other countries: "We are 11th in line with infrastructure, when you talk about China and other countries... we just need to focus on it more and I'm going to use the fact that other countries are ahead of us as an advantage."
GOP health care bill: "The Freedom Caucus, or whatever it's called... they shouldn't have done that, because what passed last week was the same thing they had before... so I think they realize now that they made a mistake."
Gas tax: "It's the most popular tax that's out there."
Mayor Reed:
Focus on cities: ‪"The federal government aren't going to lead on this, it's going to be the cities." ‬ Cities will drive investment and business, which will change the transit culture, said Reed.
Culture of sunbelt cities: Businesses are changing the culture, more than Republicans or Democrats, when it comes to modern transportation. ‬
Faith in Democratic Party: "Democrats have to understand that for a while we might lose, but we've seen the other side... I think we have to condition our mind, Chuck, to fight every fight and not have our heart taken by these losses in districts."
Chuck Todd:
Trump's foreign trip: "I'd be curious to see if this foreign trip kicked some people out of [Trump's] foreign circle... if this trip is successful, will it be seen as Jared's success since he really drove Middle East policy?"
Why special elections matter: "I don't believe the party will ever turn on Trump until Trump voters turn on the party."
Trump's emotions: "If he cant learn to compartmentalize his problems, it will be worse than Clinton and Nixon."
Democratic rise: "Democrats just need one win, and [Jon] Ossoff will be enough... but coming close doesn't cut it."
Go deeper