Samantha Bee imagines the U.S. with Hillary as President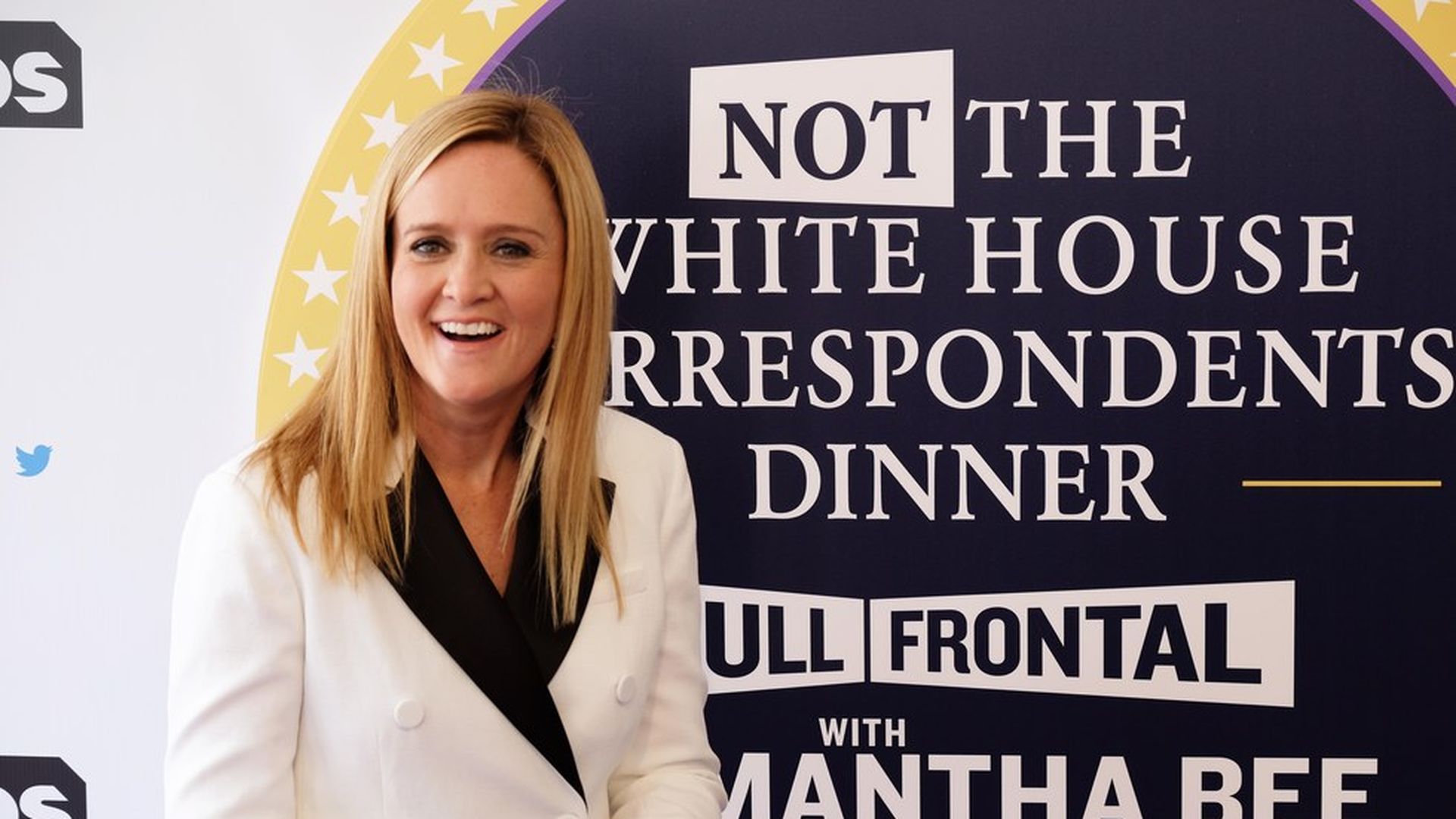 This afternoon TBS's Samantha Bee hosted her special edition of Full Frontal — Not the White House Correspondents' Dinner. She roasted CNN and Fox News as well as presidents Woodrow Wilson, Ronald Reagan, Richard Nixon and George W. Bush — played by Will Ferrell who Bush recently praised for his SNL impressions on him. But of course, Donald Trump got the most of the roasts.
The last act imagined a world in which Hillary Clinton was president.
The agenda: Opening the show, in a pre-recorded clip of Allison Janney playing the White House Press Secretary taking questions from internet trolls, Janney is asked if Ms. Bee was trying to undermine President Trump and the press with her event. Janney replies, "No, she's trying to undermine just one one of those." To which the crowd erupted in cheers and laughter.
The kicker: The event took place in D.C. on the same day as the official White House Correspondents Dinner, which Donald Trump and his White House refused to attend.
The puzzler: Barack Obama was notably left out of the roasts.
How to watch: The episode will air tonight as a one-hour special on TBS at 10pm (EST) and again on Twitter at 11pm (EST).
Quotes:
"We came here to Washington, D.C., to celebrate the free press, from the failing New York Times to the failing pile of garbage Buzzfeed to the... what the f*** is ProPublica? It sounds Mexican."
To the audience, "At a later date, I'll get Mexico to pay for your drinks."
To journalists, "You basically get paid to stand in a cage while a geriatric orangutan and his pet mob scream at you. It's like a reverse zoo."
"Tonight, the President screams at a pen that Katy Turr is not in, cheers!"
"You continue to fact check the president as if some day he might get embarrassed."
"Zucker's greatest success since the Apprentice is filling CNN with realty-like programs."
As photos of Bill O'Reilly and Roger Ailes flashed on the screen: "Let's pause now and remember those in the media who were taken from us far far too late."
"You're basically a presidential Fyre Festival."
Will Ferrell entered the stage as George W. Bush, asking "How you like me now?"
Will Ferrell as Bush: "I wish someone had told me all you have to say is 'fake news' over and over again"
During the conceptual piece, Bee recommended that the ladies use the restroom now since "Hillary Clinton's staff is all here and there's going to be a long line."
Go deeper