Ryan feels the heat on Obamacare replacement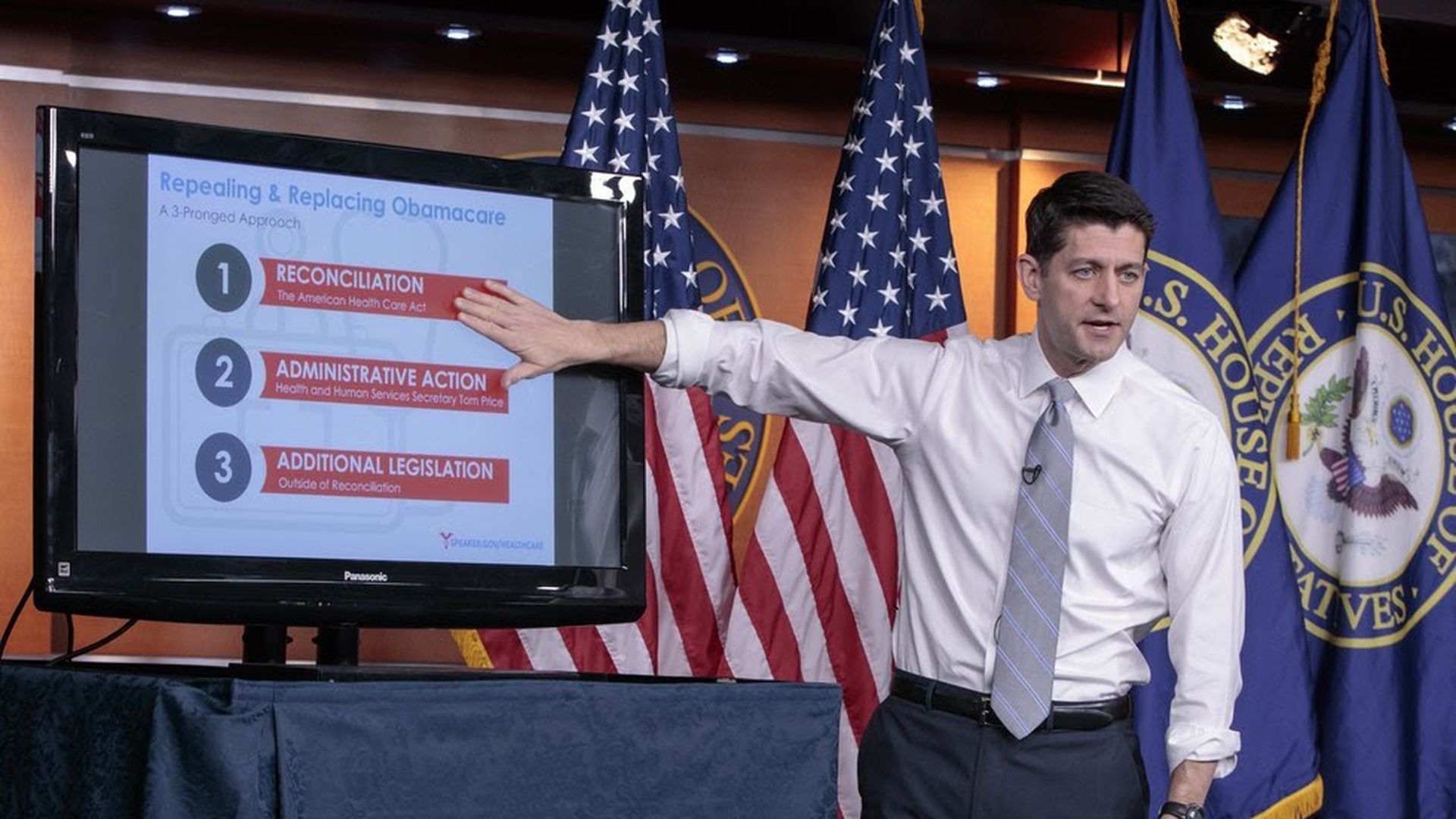 If you've been watching House Speaker Paul Ryan over the years, you understand why he has more riding on the success or failure of the Obamacare replacement bill than just about any other Republican: because it's his baby.
He's the one who pulled together the "Better Way" plan on which it was based — along with his former House colleague, Health and Human Services secretary Tom Price — and he's been working on Republican health care ideas since the days of the Obamacare debate in 2009.
All of that helps explain why he pulled out the PowerPoint at yesterday's weekly press conference and spent half an hour lecturing reporters on health care terms ("what is a death spiral?") and how the bill is supposed to work.
It also explains why he spent so much time insisting he's not about to get outflanked on the right on health care reform. "These are long-standing conservative principles that those of us who've been working in health care for about 20 years have been fighting for," Ryan said. (He even threw in a Reagan reference, about how the conservative icon wanted to give states more control over Medicaid.)
And it explains why he was so adamant that conservatives shouldn't miss the moment: "This is something that we, as conservatives, have been dreaming about for decades. This is the chance, and the best and only chance we're going to get."
What he thinks the problem is: Ryan thinks the conservatives are objecting to the bill mainly because they don't understand the limits of the budget "reconciliation" process, which prevent them from doing some of the things they want to do, like letting health insurers sell plans across state lines. He's taking care of that by assuring them those bills will move separately.
Why it matters: Anyone who has this much pride of authorship could have a harder time dealing with other conservatives who disagree on some of the basic solutions, like refundable tax credits or how to end Medicaid expansion. In the meantime, Trump met with Freedom Caucus members on Thursday and signaled he's open to changes.
And Ryan is about to face weeks of negotiations with Republicans who disagree with him. A gentle reminder from Senate Finance Committee chairman Orrin Hatch in a floor speech yesterday: "We have two chambers in Congress for a reason."
Key quote: "What we hear from the White House is, this is a work in progress," said Freedom Caucus member Mark Sanford, per the Washington Post. "Then we hear from leadership, take it or leave it."
Go deeper