Restoring order (kind of) at Trump's White House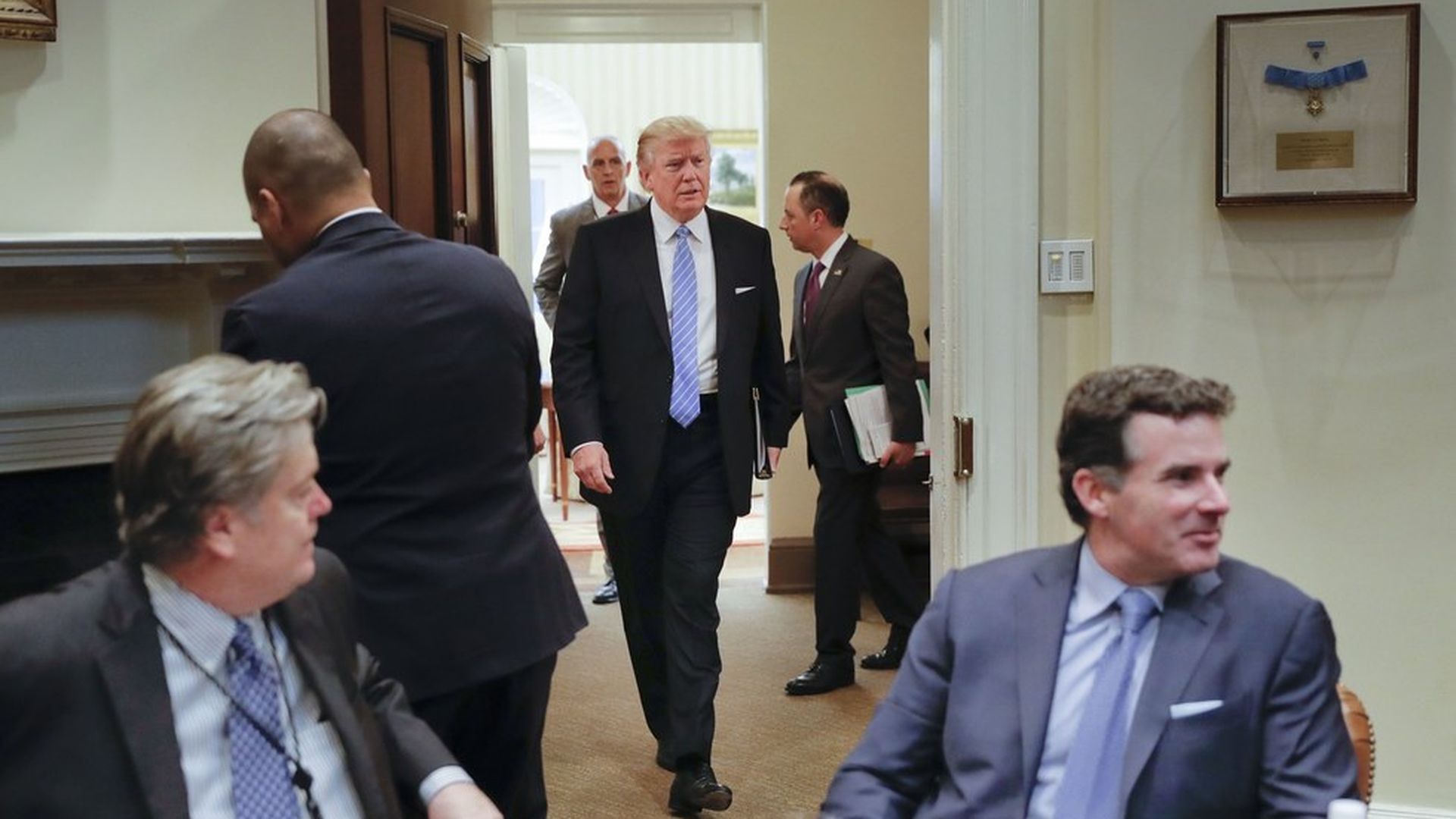 As Trump passes the two-week mark in office, there are sporadic signs of some semblance of order. Most of it is forced order: by disgruntled Cabinet officials, antsy GOP leaders, and now a Bush-appointed judge.
This will always be a wild ride, but it looks like the safety bars are beginning to come down.
A federal judge in Seattle temporarily blocks Trump's travel restrictions, although the White House said it was seeking an emergency stay of the stay. Per AP: "An internal email circulated among Homeland Security officials Friday night told employees to immediately comply with the judge's ruling."
At yesterday's CEO summit at the White House, Homeland Security Secretary John Kelly calmly and clearly answered questions about the executive order. An exhausted White House official told us: "It's what we should have done from the beginning."
Speaker Ryan is getting a slightly bigger say, helping quietly advise smarter language on trade, and less bombastic remarks on refugees.
Trump himself said this has to go better. The Wall Street Journal says he has clarified (only slightly, we hear) the lanes of power for Priebus, Bannon and Conway.
All of this comes as three different polls show Trump as the least popular president ever at this point.
Sound smart: You have staff, cabinet officials and GOP allies trying to build -- on the fly -- a structure, guardrails and public case for their plans. And they are building all of this around a president too impulsive and too improvisational to lock into a sane, smooth system. So anticipate the chaos-forced order pattern to continue.
Trump's first three tweets this a.m., after joining the First Lady at Mar-a-Lago:
"When a country is no longer able to say who can, and who cannot , come in & out, especially for reasons of safety &.security - big trouble!"
"More Interesting that certain Middle-Eastern countries agree with the ban. They know if certain people are allowed in it's death & destruction!"
"The opinion of this so-called judge, which essentially takes law-enforcement away from our country, is ridiculous and will be overturned!"
Go deeper