Republican lawmakers defend Sessions from Trump attacks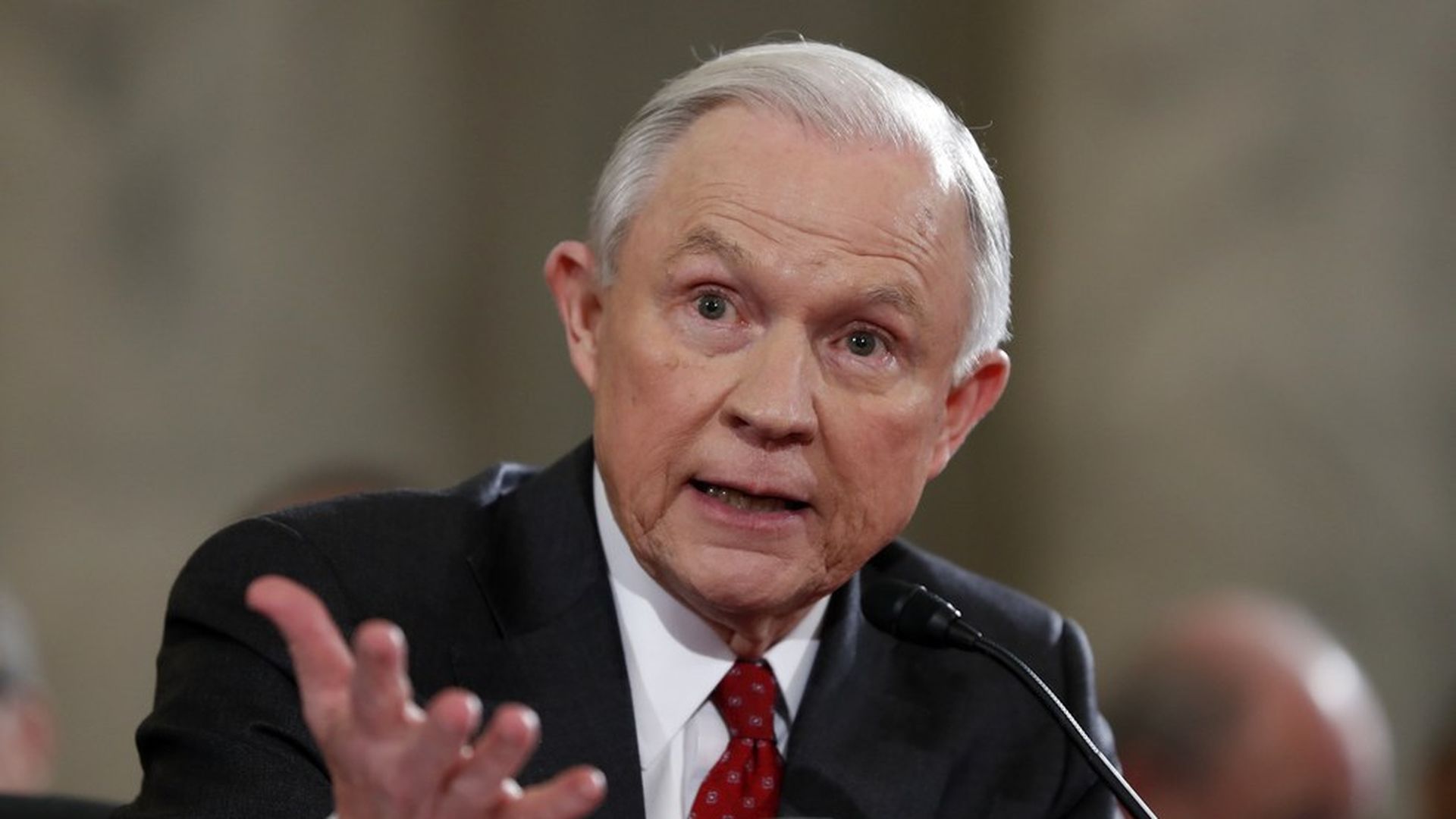 In the past two weeks, Trump has been on a campaign against Attorney General Jeff Sessions, tweeting this morning that Sessions took a "VERY weak position on Hillary Clinton crimes." A few Republicans quickly came to Sessions' defense this morning.
Why it matters: This is a heavy line up of movement leaders supporting Sessions despite Trump's criticism. If Trump decides to fire Sessions anyway, he'll need the Senate to confirm whoever he choses as the next Attorney General.
Sen. Lindsey Graham, a member of the Senate Judiciary Committee, had a six-part tweetstorm: "Jeff Sessions is one of the most decent people I've ever met in my political life. ... Jeff Session is a rock-solid conservative, but above else he believes in the Rule of Law. He understands we are a nation of laws, not men. ... On occasion, I've vigorously disagreed with Jeff but I've never once doubted his integrity or sense of fair play. ... President Trump's tweet today suggesting Attorney General Sessions pursue prosecution of a former political rival is highly inappropriate. ... Prosecutorial decisions should be based on applying facts to the law without hint of political motivation. ... To do otherwise is to run away from the long-standing American tradition of separating the law from politics regardless of party."
Rep. Adam Kinzinger (R-Ill.) also questioned Trump, replying to his tweet: "Mr. President, maybe just try a meeting? This is beneath the office - of any held office - from city councilman to POTUS."
Sen. Richard Shelby (R-Ala.): "During the past twenty years that I have served with Jeff Sessions in the Senate, I have had the opportunity to know him well. ... Jeff Sessions is a man of integrity, loyalty, and extraordinary character. ... I join the people of Alabama in giving Jeff Sessions my deep respect and unwavering support."
Sen. Thom Tillis (R, NC): "I've worked with Jeff Sessions for years, and while we certainly may not agree on the specifics of every issue, I believed he would be a great Attorney General because of his unwavering commitment to the rule of law. In the nearly six months he has led the Department of Justice, he has maintained that commitment every day and demonstrated why he was widely respected during his years as a U.S. Senator."
Sen. Ted Cruz (R, TX): "Jeff Sessions is a friend and a strong conservative. I was proud to vote to confirm Jeff and to vigorously defend his confirmation, and I'm deeply gratified that we have a principled conservative like Jeff Sessions serving as Attorney General. The stories being reported in the media tonight are false. My focus is and will remain on fighting every day defend 28 million Texans in the US. Senate."
Sen. Rob Portman (R, OH): "Jeff Sessions is a friend, former colleague, and an honorable person. He is a man of deep conviction and principle who believes in the rule of law. We may not agree on every policy issue, but I believe he always has the best interests of our country at heart."
Other political and law enforcement leaders defending Sessions:
Jim DeMint, former Senator of South Carolina, leading figure of Tea Party movement: "Trump right about media's Russia obsession. Hope he sees Jeff Sessions is a great leader that will defend Constitution & rule of law."
Family Research Council President Tony Perkins: "Attorney General Jeff Sessions has in a very short time restored the Justice Department's reputation as one that upholds the law -- not circumvents or undermines it. He has ushered in a new era at DOJ -- one that cherishes the Constitution and its protection of our freedom from government oppression. If there's one thing we know about the Attorney General, it's that he understands the importance of all of our God-given rights, respects the law, and is making tremendous progress to restore our nation to greatness."
Ken Blackwell, who headed Domestic Policy for Trump Transition, former Mayor of Cincinnati, Ohio Secretary of State, Senior Fellow American Civil Rights Union: "As someone who has worked with Attorney General Sessions most recently on President Trump's transition team, I cannot speak highly enough about General Sessions credentials and integrity as the nation's top law enforcement officer or about his loyalty to President Trump."
Jenny Beth Martin, Co-Founder, Tea Party Patriots: "Tea Party Patriots and our network of grassroots supporters around the country know that we can count on Attorney General Jeff Sessions to stand with us on the issues that matter most. He has been one of the strongest and most consistent allies we have and can think of no better person to serve as President Trump's Attorney General."
Jonathan Thompson, National Sheriffs' Association CEO and Executive Director: "On behalf of more than 3000 elected Sheriff's in this country we affirm today our support for Attorney General Jeff Sessions...We have complete confidence in Attorney General Sessions. Attorney General Sessions has restored law enforcement's trust in the federal government and we applaud his efforts to back the men and women in law enforcement. "
Go deeper