Reactions to U.S. strikes in Syria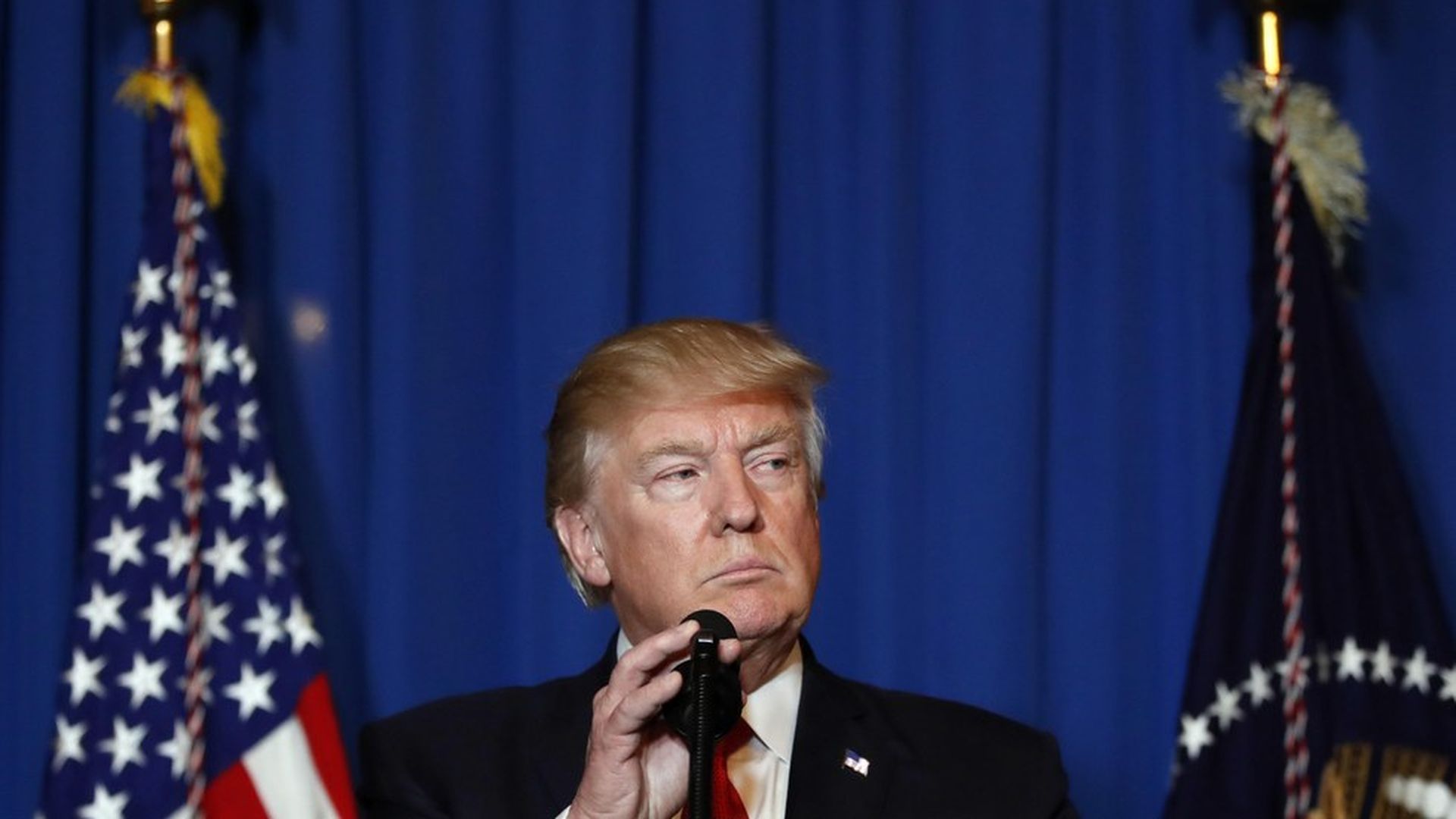 Thursday evening Trump launched between between 50 and 60 Tomahawk missiles to strike an airfield in Homs, Syria in response to Bashar al-Assad's use of banned chemical weapons earlier this week. Here are the initial reactions to the U.S. strikes:
About Russia:
Secretary of State Rex Tillerson: Referencing Syria's 2013 agreement to destroy its chemical stockpiles, "Russia would locate these weapons, secure these weapons and destroy the weapons. They would act as the guarantor...Either Russia has been complicit, or simply incompetent" in preventing Syria's Sarin gas attack.
Some disapproval:
Syrian state TV: This is "an act of aggression."
Senator Rand Paul: "While we all condemn the atrocities in Syria, the US was not attacked. The President needs Congressional authorization for military action and I call on him to come to Congress for a proper debate on our role."
Rep. Tulsi Gabbard: "This escalation is short-sighted and will lead to more dead civilians, more refugees, the strengthening of al-Qaeda and other terrorists, and a possible nuclear war between the United States and Russia."
Rep. Seth Moulton: "So @POTUS cares enough about the Syrian people to launch 50 Tomahawks but not enough to let the victims of Assad find refuge & freedom here."
Some support:
Israeli PM Benjamin Netanyahu: "Israel fully supports President Trump's decision and hopes that this message of resolve in the face of the Assad regime's horrific actions will resonate not only in Damascus, but in Tehran, Pyongyang, and elsewhere."
Senators John McCain and Lindsey Graham: "Unlike the previous administration, President Trump confronted a pivotal moment in Syria and took action."
Rep. Paul Ryan: "This action was appropriate and just. These tactical strikes make clear that the Assad regime can no longer count on American inaction as it carries out atrocities against the Syrian people."
Rep. Nancy Pelosi: "Tonight's strike in Syria appears to be a proportional response to the regime's use of chemical weapons."
Senator Marco Rubio: "The president took an appropriate step tonight."
Senator Chuck Schumer: "Making sure Assad knows that when he commits such despicable atrocities he will pay a price is the right thing to do."
Senator Tom Cotton: "I commend President Trump for taking swift, decisive action against Bashar al-Assad's regime."
Senator Bill Nelson: "I support the administration's strike on the air base that launched the chemical attack. I hope this teaches President Assad not to use chemical weapons again."
Senator Ben Sasse: "After Syrian moms and dads buried their children, American troops met injustice with strength. The use of chemical weapons cannot become normal — civilized people cannot grow indifferent to such suffering."
Senator Bob Corker: "I applaud President Trump for taking decisive political action following the latest chemical weapons attack."
Senator Cory Gardner: "…the Administration is well justified taking this long-overdue action tonight against a designated state sponsor of terrorism. I believe this action must be a part of a broader strategy to achieve the following U.S. national security goals."
Senator Orrin Hatch: "'No child of God should ever suffer such horror.' Amen."
Senator Thom Tillis: "President Trump decisively responded to Assad's latest atrocity to help prevent future ones, sending a clear message that when the Syrian regime crosses the red line, America will respond."
Senator David Perdue: "I am glad to see that President Trump is willing to stand up for these innocent victims and stop those responsible for this violence."
Senator Joni Ernst: "Unlike the Obama administration, the Trump administration is showing global leadership and we must work to find an end to the root causes of this crisis."
Some warnings about Congressional consultation and escalation:
Senator Tim Kaine: "Assad is a brutal dictator who must be held accountable for his actions. But president Trump has launched a military strike against Syria without a vote of Congress...I voted for military action against Syria in 2013 when Donald Trump was still advocating that America turn its back on Assad's atrocities."
Senator Ted Cruz: "Any military action in Syria must be justified as protecting the vital national interests of America...and I look forward to our Commander-in-Chief making the case to Congress and the American people how we should do so in the days ahead."
Senator Elizabeth Warren: "The use of chemical weapons against Syrian men, women, and children is a clear violation of international law...But the Constitution gives the power to authorize the use of military force to the legislative branch."
Senator Dick Durbin: "Any further action will require close scrutiny by Congress."
Senator Ben Cardin: "Any longer-term or larger military operation in Syria by the Trump Administration will need to be done in consultation with the Congress."
Senator Jeff Merkeley: "We owe the nation full consideration of the complete range of options, including pursuit of an international agreement to end the war and end Assad's reign of terror."
Senator Chris Coons: "While I'm encouraged that the Trump administration has felt compelled to act forcefully in Syria against the Assad regime, I'm gravely concerned that the United States is engaging further militarily in Syria without a well-thought-out, comprehensive plan."
Senator Ed Markey: "I expect President Trump and his national security team to fully brief Congress and the American people on his complete plan to stop the Assad regime's cycle of violence."
Senator Michael Bennet: "Moving forward, any military action must be conducted in consultation with Congress and considered only as part of an articulated strategy to address the ongoing crisis."
Rep. Steny Hoyer: "This week's chemical weapons attack demanded a response, and the White House must work closely with Congress in the days and weeks ahead to determine what strategy ought to be pursued and authorized by Congress to end the Syrian conflict..."
Rep. Adam Schiff: "I will be re-introducing an authorization for use of military force against ISIS and Al Qaeda when Congress returns to session."
Rep. Joaquin Castro: "I continue to believe that Congress must authorize any additional use of force against the Syrian government."
Go deeper