Priebus, Flynn, others on thin ice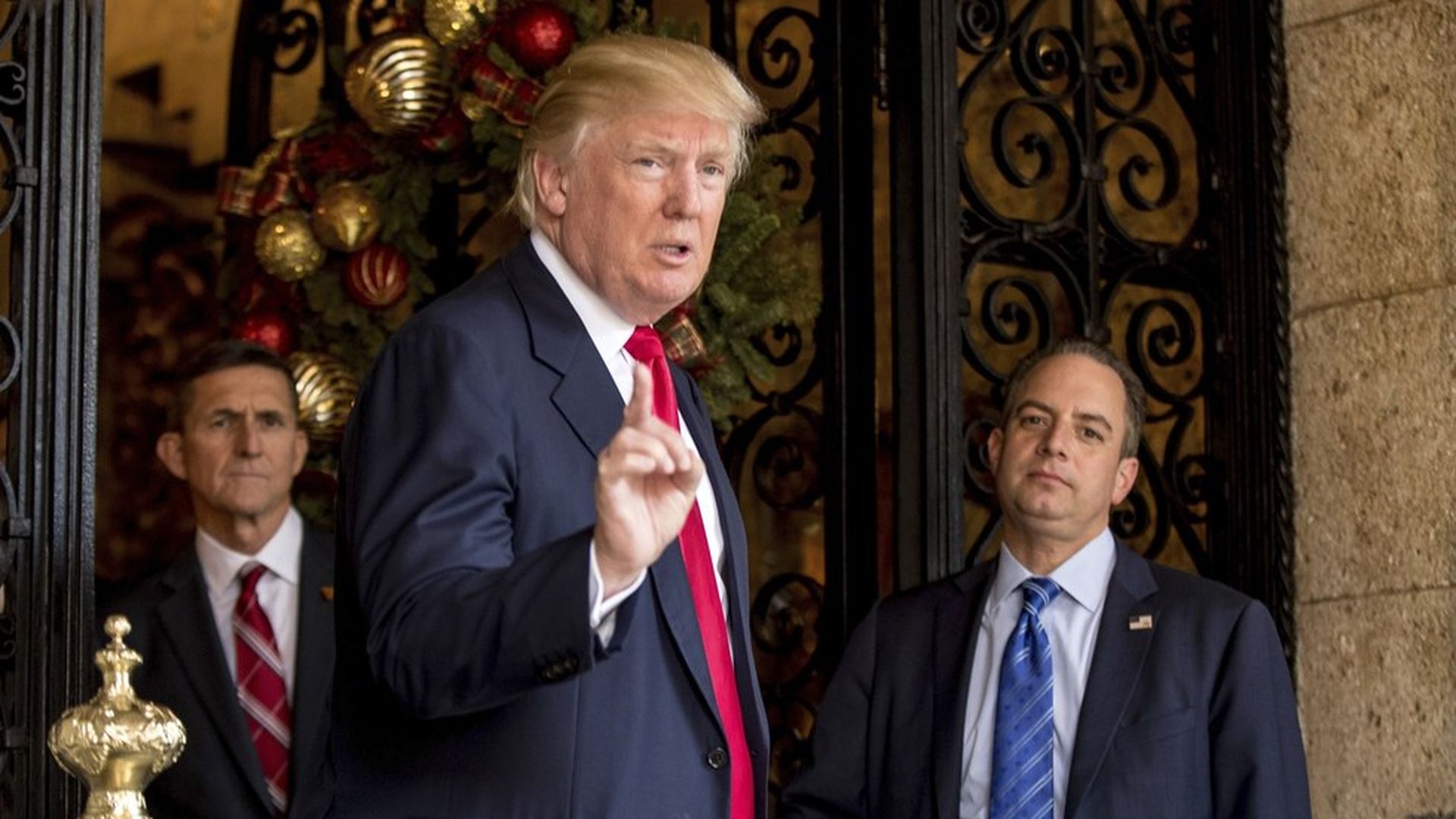 Imagine you're Reince Priebus. Every day, you hear speculation that your days as White House chief of staff are numbered. You wake up on a Sunday and read that colleague Kellyanne Conway's dream job is, well, yours.
Then, you flick on CNN to see Newsmax CEO Chris Ruddy — a Trump pal of 10 years (and Mar-a-Lago member) who just spent time alone with him in Florida — saying this on "Reliable Sources": "The White House is showing not the amount of order that we need to see. I think there's a lot of weakness coming out of the chief of staff."
After a pleading call from Priebus, Ruddy tweeted: "Reince just briefed me on new WH plans. Impressive! CNN today my personal view. Told him I have 'open mind' based on his results." Then Ruddy got another call: "Jared Kushner tells me COS Reince is doing 'amazing job.'"
Not a reassuring end to your third week on the job!
But this is a problem hardly confined to Priebus: After watching Trump clean house several times during the campaign, everyone feels on thin ice. This naturally breeds insecurity, ass-covering and endless leaking. Those who don't fear for their hide are busy gaming out how they rise when someone falls. Trump feeds all of this. It's why an insider describes the White House hierarchy as "fragile."
"These people are insecure because Trump does not respect them," said a person in constant contact with the West Wing. "He does not because they have not made any money. He respects [Stephen] Bannon and Gary Cohn because they are financially successful."
Trump has already consulted friends about his next chief of staff. I'm told that to avoid admitting error, Trump plans a smooth transition from Priebus (could be a year), perhaps by making him a Cabinet secretary!
Trump is trying to figure out who he should trust. This is totally new for him, so he's trying to figure out who the strong ones are and who the weak ones are. — Chris Ruddy, in a phone interview with Axios
Heather Nauert, the news anchor on "Fox & Friends," was spotted at the White House last week — talking to Trump, we're told, about a communications job. Yesterday she tweeted that she's buying Ivanka Trump shoes in solidarity after Nordstrom dropped the line, and will wear them on "Fox & Friends" this week.
That certainly doesn't make embattled West Wing officials feel any more secure as they try to put out what one called "400 fires a day."
Any purge will begin with national security adviser Mike Flynn, for lying to Vice President Pence about contacts with Russia on sanctions. In retrospect, that was clear as soon as Trump told reporters on Air Force One on Friday that he didn't know about the story, which had been on the front page of that morning's Washington Post. It was a way for Trump to dodge showing support for Flynn.
"Spread the butter: He is toast," said a top source. "Lying to Pence damaged Pence's credibility and the administration's. That is an unpardonable sin."
Go deeper