Pressure builds for Roy Moore to step aside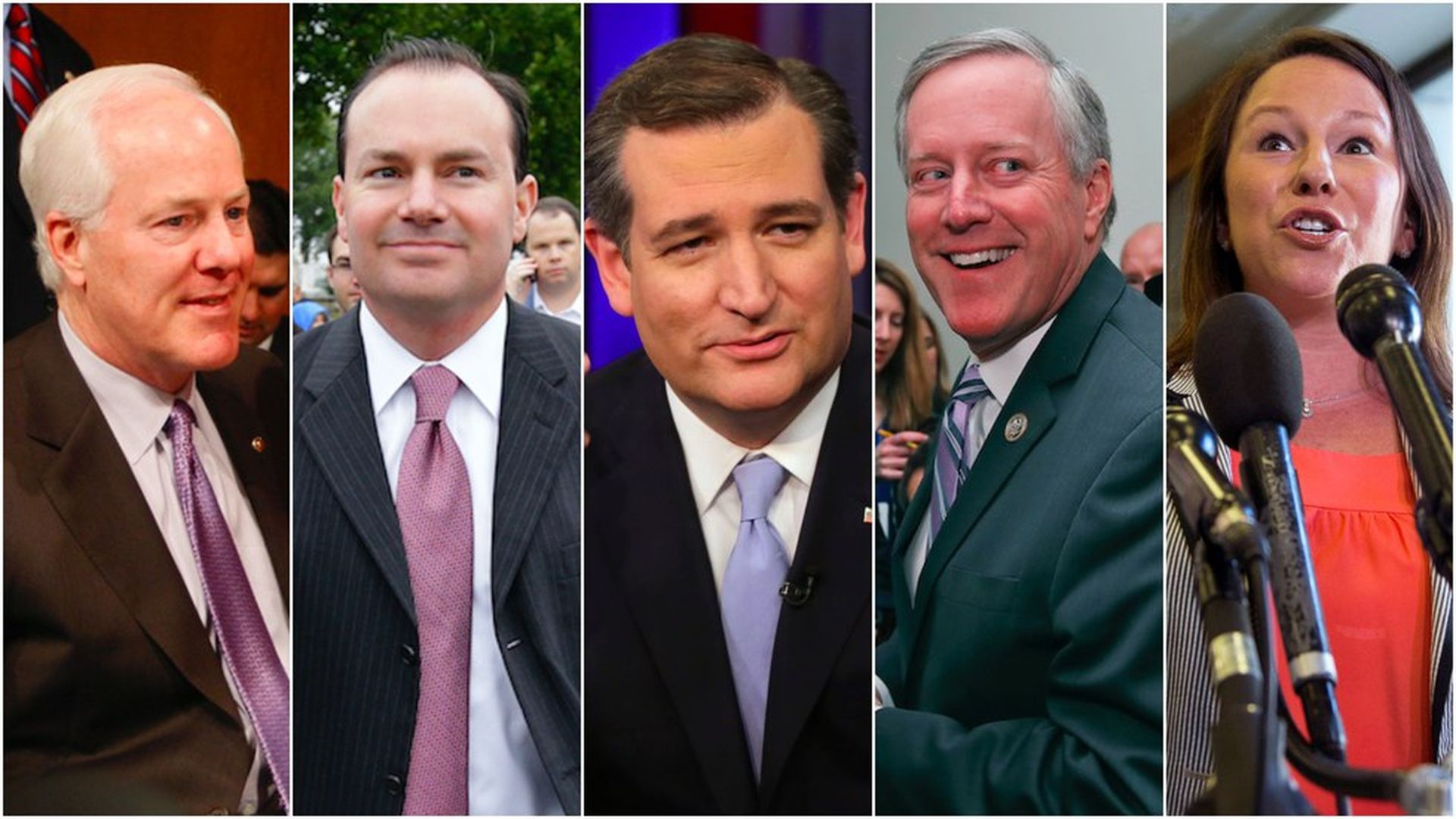 Sens. Ted Cruz, John Cornyn, Mike Lee and Steve Daines have pulled their respective endorsements of Roy Moore's candidacy, in light of the sexual assault accusations against the Alabama Republican. Sen. Rand Paul is the only senator still endorsing Moore. Tuesday, the RNC also pulled its support for Moore.
Why it matters: It's too late for Moore to be removed from the ballot, but the statements from Republicans suggest they don't want him running and that he could add a negative image to their party. Pressure is mounting for Moore to step down.
Four women have accused Roy Moore — Alabama's Republican nominee for Senate — of sexual advances when they were between 14 and 17 and he was in his 30s. And a 5th accuser came forward Monday. Senate Majority Leader Mitch McConnell has said he believes the women and called on Moore to "step aside." House Speaker Paul Ryan called the allegations against Moore "credible" and also said the candidate should step aside.
What Republicans are saying:
Vice President Mike Pence said, via his spokesperson, that Pence believes that if the allegations against Roy Moore are true, then "this would disqualify anyone from serving in office."
Sen. John McCain: "The allegations against Roy Moore are deeply disturbing and disqualifying. He should immediately step aside and allow the people of Alabama to elect a candidate they are proud of."
Sen. Lindsey Graham: "In light of the most recent allegations and the cumulative effect of others, I believe Roy Moore would be doing himself, the state, the GOP, and the country a service by stepping aside ... If he continues this will not end well for Mr. Moore."
Sen. Todd Young: "After giving Roy Moore ample time to unequivocally deny the disturbing allegations against him, those allegations remain far more persuasive than the denials. Roy Moore should immediately drop out of the race. The appearance of grossly reprehensible behavior disqualifies him from service in the United States Senate. If he does not step aside, we need to act to protect the integrity of the Senate," hinting at an expulsion vote, reports Jake Tapper.
Former Gov. of Massachusetts Mitt Romney: "Innocent until proven guilty is for criminal convictions, not elections. I believe Leigh Corfman. Her account is too serious to ignore. Moore is unfit for office and should step aside."
Sen. Lisa Murkowski said, "I'm horrified and if this is true he needs to step down immediately." She also said she has spoken to Luther Strange about becoming a write-in challenge, ultimately challenging Moore in the Dec. 12 election.
Sen. Ted Cruz, who endorsed Roy Moore: "These are serious and troubling allegations. If they are true, Judge Moore should immediately withdraw. However, we need to know the truth, and Judge Moore has the right to respond to these accusations."
Sen. John Cornyn, who endorsed Moore and is listed on his website, said: "Well I think the next steps are up to the governor and the people of Alabama. I find it deeply disturbing and troubling. If it is true, I don't think his candidacy is sustainable."
Sen. David Perdue called the allegations "devastating" and said Moore should withdraw if they're true.
Sen. Pat Toomey: "I have to say, I think the accusations have more credibility than the denial, I think it would be best if Roy would just step aside."
Sen. Richard Shelby: "If that's true, then he wouldn't belong in the Senate." And he told ABC Moore should seriously consider bowing out of the race.
Sen. Tim Scott: "If they're accurate, he should step aside."
Sen. Cory Gardner, chairman of national republican senatorial committee: "If these allegations are found to be true, Roy Moore must drop out of the Alabama special Senate election."
Sen. Rob Portman: "It was very troubling ... if what we read is true and people are on the record so I assume it is..." Moore should step aside.
Sen. Susan Collins: "If there is any truth at all to these horrific allegations, Roy Moore should immediately step aside as a Senate candidate."
Sen. John Hoeven: "The allegations against Roy Moore are very serious and if true, he should step down as a candidate for the Senate."
Rep. Mark Meadows, who also endorsed Moore: "If [the allegation are] proven true, Judge Moore should immediately step aside."
Go deeper