Policy threats intensify for tech giants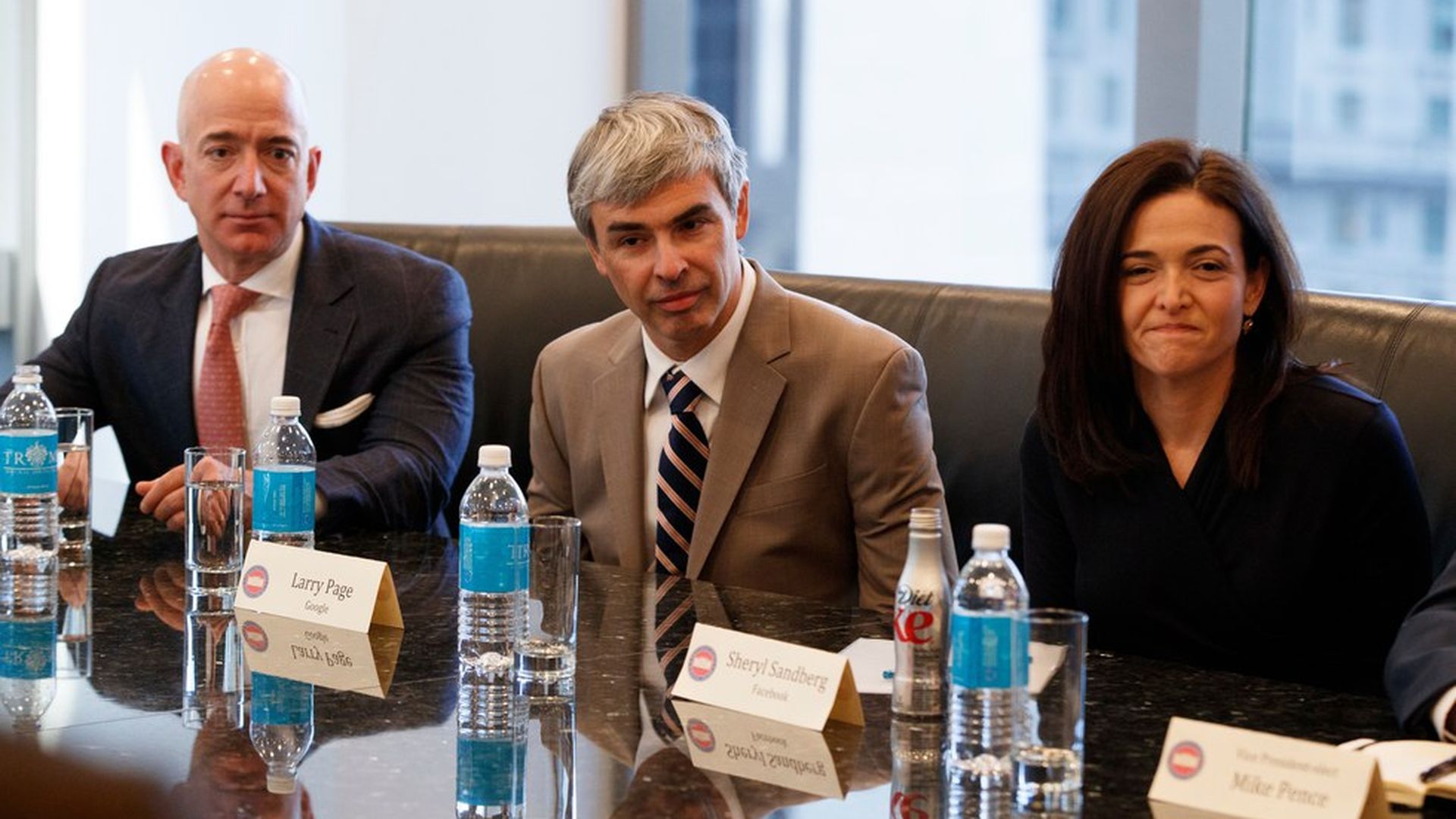 While tech giants like Facebook, Amazon, Google, Microsoft and Apple have already stepped up their lobbying efforts, some say the companies will have to pay even more attention to policy in the coming years as regulators across the globe increase scrutiny.
Why it matters: Tech companies are more reliant than other industries on worldwide talent and international customers, so rising nationalist and protectionist views around the world could dramatically shrink markets for them. In an environment where data is the new oil and Jeff Bezos is seen (by some) as the next John D. Rockefeller, the pressure in Washington (and Brussels and Beijing) will keep ratcheting up, said Bruce Mehlman, a prominent tech lobbyist.
Even the states are stepping in: "So far states have been more aggressive than than the federal government in regulating the internet," he said.
A few issues tech companies — and internet platforms in particular — are facing:
Trade: Flare ups in Asia, Europe and Latin America over limiting how data flows across borders can have big implications for tech's data-based business. "Artificial intelligence depends on massive data sets from around the world to be effective," Mehlman said. "If every country shuts its digital borders, it's harder to aggregate that data."
Market Power: Questions around how antitrust rules should apply to these tech companies, transparency of how their algorithms work, and the industry's impact on jobs everywhere will drive this pressure, being led primarily by aggressive action in the EU and Asia.
Consumer Protection: How companies protect consumer information and transparency around political ads are is scrutinized after massive breaches at Yahoo, and strict new EU rules (GDPR) coming into play next year, and the congressional probe into Russia's election meddling. And dozens of data breach laws are being passed at the state level.
Security: Tension will inevitably flare with the government over encrypted data and general surveillance issues with the use of drones.
Liability: Tech companies are in a precarious spot when it comes to policing content on their sites. Once claiming to be neutral brokers of content, the platforms are in the middle of intense debates their role in facilitating hate speech, sex-trafficking ads and fake news.
Go deeper: Here's Mehlman's latest analysis of the politics and policy landscape.
Go deeper