Parallel universe: Fox hosts defend WH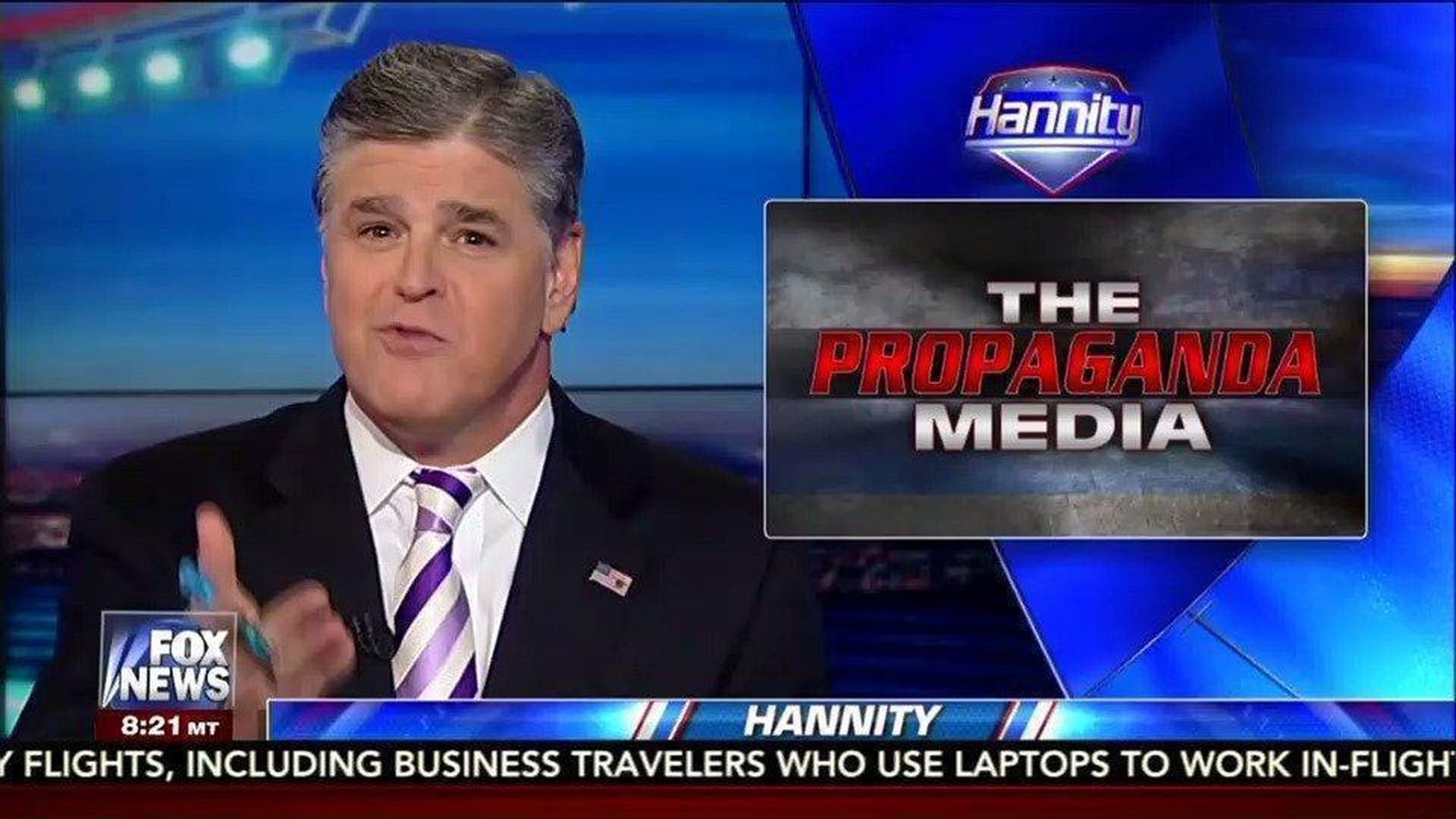 Last night, all cable networks were focused on one story: The Washington Post's bombshell report that Trump spilled sensitive secrets to the Russians last week. However, Fox News stood out from the crowd by taking a more defensive approach with its coverage:
Last night's cable news banners read:
CNN: "WashPost: Trump shared highly classified info with Russians"
MSNBC: "WAPO: Trump revealed highly classified info to Russians"
Fox: "Leftists protest gay conservative journalist."
Fox News' Jesse Watters on "The Five": "The story is the leak... if you're a disloyal person, you sing to the Washington Post. If you're a loyal person, you take it to your superior."
Sean Hannity at the top of his show: "I have a message for those of you who work in... the White House: Enough with the self-serving leaks!"
Turned the story on the media: "We see liberal so-called journalists trying to make a name for themselves with their big gotcha questions and other combative attention-seeking behavior."
Hannity said Spicer's daily briefings must be regulated and restructured so that they "serve the American people and not themselves." CNN reporter Oliver Darcy tweeted: "Hannity says White House should limit questions at briefings to topics admin selects ahead of time, require reporters to presubmit questions."
This led to a Twitter feud between Hannity and Darcy. Hannity: "Oliver if you are going to quote me get it right and in context. Top 15-20 stories a day. Written to avoid ambiguity. End "Gotcha" ... Take other questions and respond, in writing, with complete accurate answers. Take questions from American citizens as well. Also.... Understand that many in the media colluded with HRC, many have reported "fake news". Accuracy ahead of speed vs a destroy Trump media."
Go deeper