Opioid addiction treatments are equally effective, study finds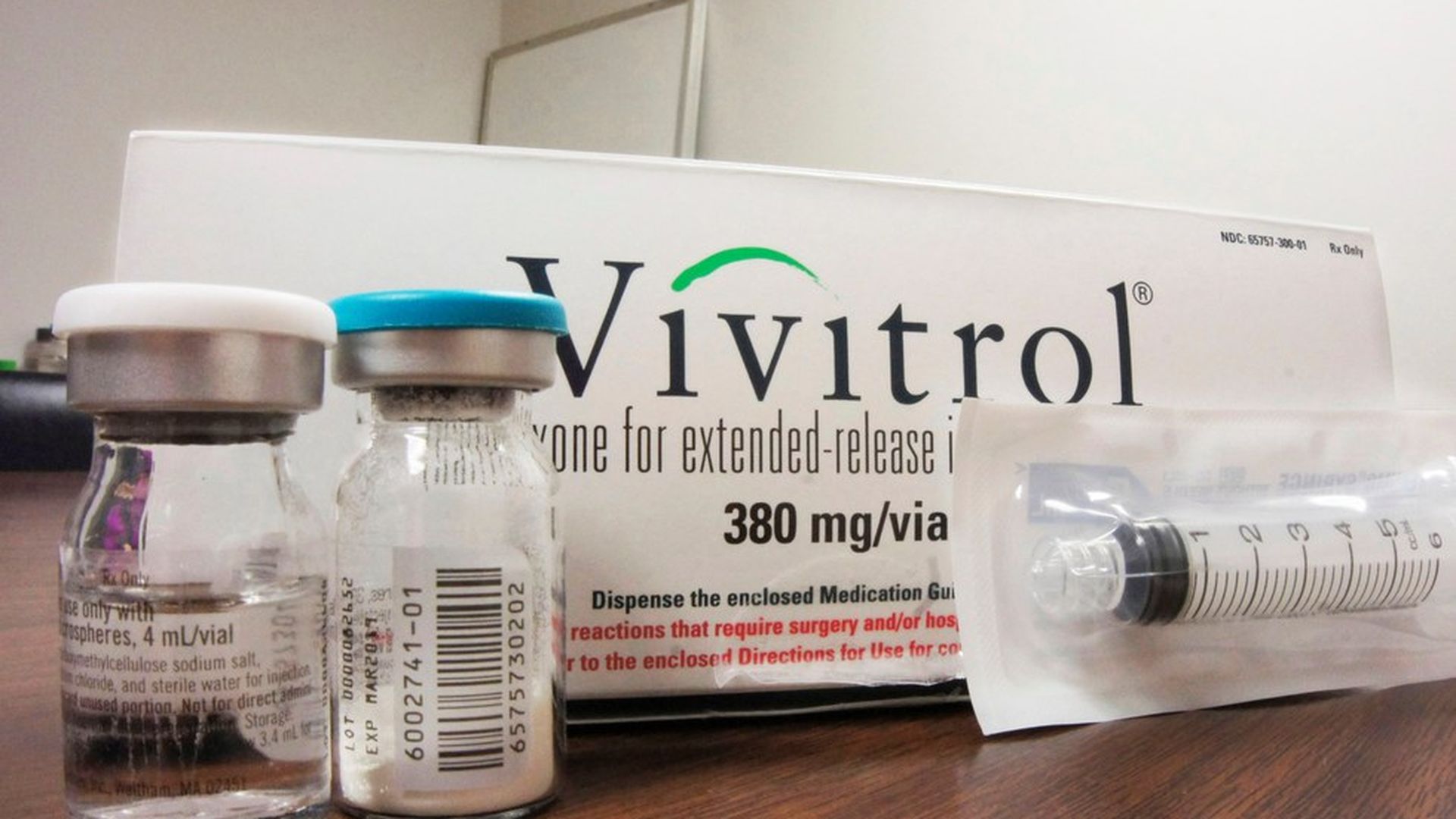 The first study in the U.S. to directly compare two medications to treat opioid addiction — one injected monthly, one given daily as a film placed under the tongue — found the treatments are equally effective, according to research published in the Lancet on Tuesday.
Yes but: Naltrexone (or Vivitrol) injections can't begin until someone has detoxed, typically after a few days. In the study, 28 percent of the participants who were to receive naltrexone didn't detox and couldn't begin the treatment.
What it means: Increasing access to medications for treating opioid addiction was a top recommendation from President Trump's opioid crisis commission. One potential advantage of naltrexone for some patients is that it is a monthly shot versus a daily treatment. Until now, there was limited data about the medication's effectiveness. "We need as many evidence-based options as possible because opioid abuse disorder is more deadly and affecting more people," says Alex Walley, a physician and researcher at Boston Medical Center's Grayken Center for Addiction, who was not involved in the study. He says detox programs should be offering both treatments and allowing patients and their physicians to choose.
What they did: 570 people who had used illegal opioids, mostly heroin, were recruited from inpatient treatment clinics in eight different locations across the U.S. Roughly half of the people in the study received monthly shots of Vivitrol, and the other half took buprenorphine and naloxone (Suboxone) at home each day.
The researchers then tracked any relapses, overdoses, and deaths in the groups over the following 24 weeks. 52 percent of the people that were able to detox and receive naltrexone relapsed during the next six months versus 56 percent of the group that received Suboxone. "We need to think of staying on medication as an important outcome," says Walley.
The big question: What happens long-term? Nora Volkow, director of the National Institute on Drug Abuse, which funded the trial, says they want to understand the characteristics of patients that determine if they will respond better to one treatment versus another. They also want to know how protocols used by centers to initiate treatments might be standardized and improved.
Editor's note: This story has been corrected. In the study, Suboxone was administered daily as a film placed under the tongue, not a pill.
Go deeper