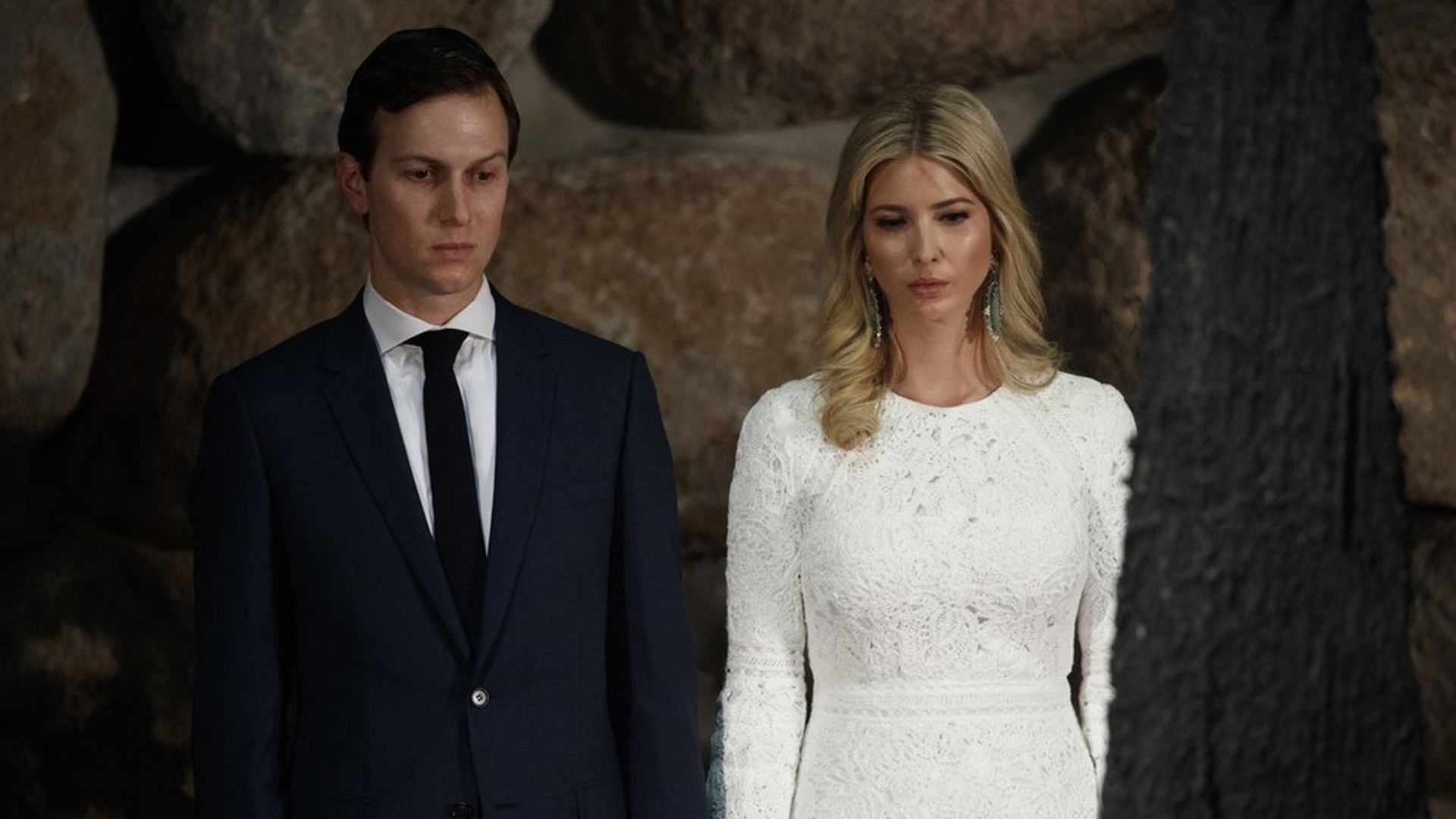 A clear pattern has emerged when President Trump does something highly controversial or deeply offensive to large chunks of America. Within 24 hours, a story is leaked about how Ivanka and Jared are disappointed or tried to stop it.
Why it matters: Jared and Ivanka provided some hope for some on the left who hoped the duo would have power to dissuade President Trump from some of his most extreme promises. But the truth is, they only have so much influence. Roll the tape:
Charlottesville: While on vacation, Ivanka and Jared tried and failed to temper Trump's final response to the Charlottesville rally, according to the New York Times.
Paris Agreement: After organizing weeks of meetings with climate and energy leaders and pushing for her father to keep the U.S. in the Paris Accord, President Trump left the agreement anyway.
Transgender military ban: Ivanka and Jared were "shocked" by the President's tweets a couple of weeks ago banning transgender individuals from serving in the military, according to the Daily Beast. The couple had previously managed to stop a draft of an executive order overturning policies protecting LGBTQ rights in the workplace.
Mexico meeting: In February, after Jared Kushner successfully arranged a meeting between Donald Trump and Mexican President Enrique Peña Nieto, Trump tweeted, "If Mexico is unwilling to pay for the badly needed wall, then it would be better to cancel the upcoming meeting." Sources told Vanity Fair that Kushner was "f***ing furious."
Muslim ban: Soon after being elected, President Trump signed an executive order banning travelers from 7 majority-Muslim countries — while Jared and Ivanka were away from work and technology, observing Shabbat. Sources told Vanity Fair that Ivanka felt terrible about posting a photo of herself and Jared and sporting fancy evening wear during the wide-spread travel ban protests that weekend. While Ivanka never decried the ban, she has expressed sympathy for Syrian refugees, calling the issue a "global humanitarian crisis" needing to be resolved.
Apologizing: Even before he was elected, Ivanka begged her father to make a "full-throated" apology in the wake of the Access Hollywood tapes scandal, but her father did not want to listen, according to NYT.
Go deeper