One of the dumbest political mistakes in the modern era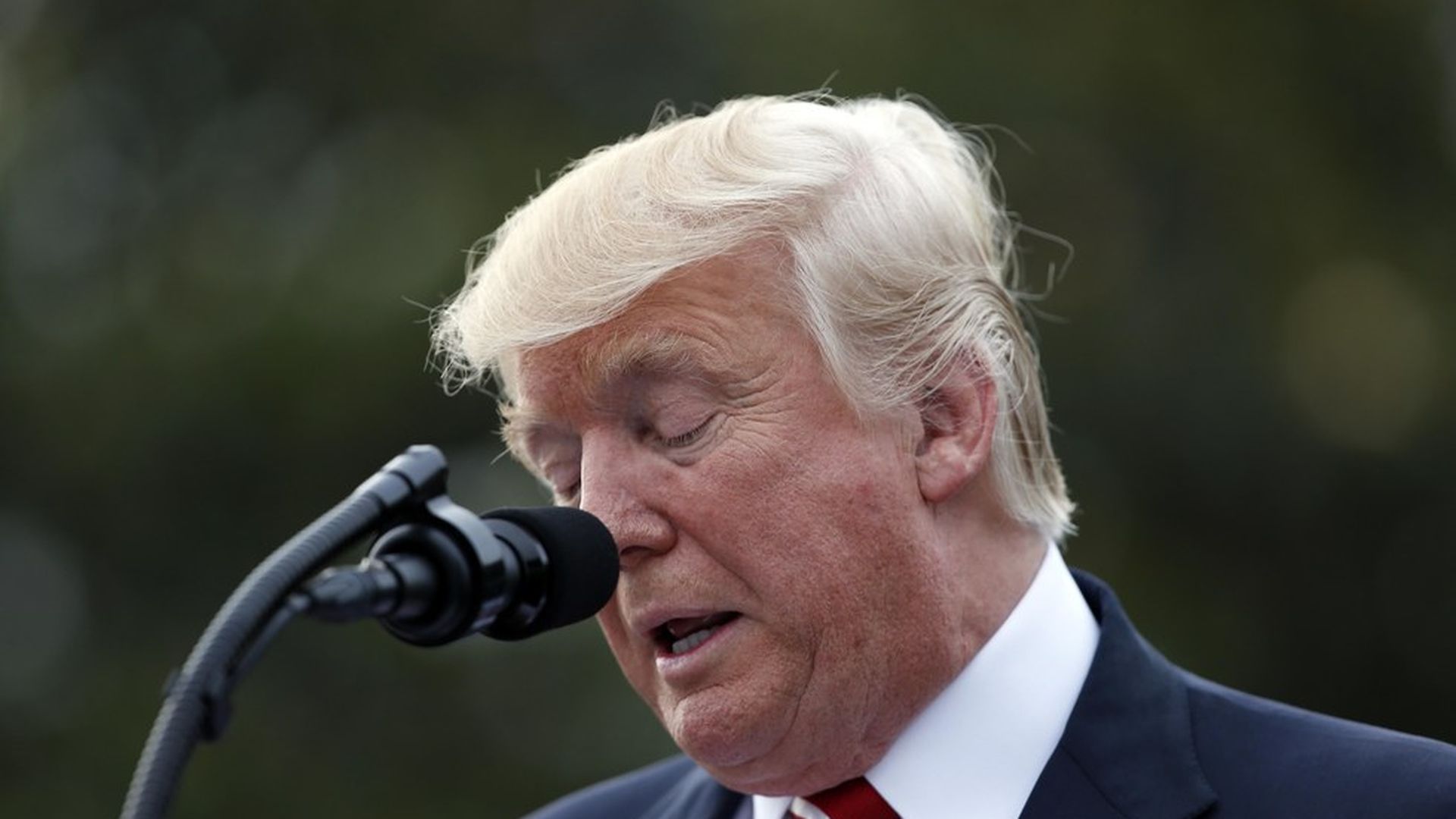 President Trump's firing of FBI Director James Comey is rightly seen as a terrific legal blunder: He undercut an investigation that might have shown he never colluded with the Russians, and spawned one that could result in obstruction of justice charges.
Why it matters: Regardless of the legal outcome, it'll go down as one of the dumbest political mistakes in the modern era. One of the president's outside advisers calls it the gravest political mistake since Richard Nixon decided not to apologize to the American people for Watergate, and instead proceeded with the cover-up.
"The Russia investigation is now the central narrative of the Trump administration, no matter what he does," the adviser said. "He wanted to be a disruptive force for change, and now he's stuck in the quicksand of the swamp."
Trump himself has suggested to friends that he understands the bind he created: By taunting Comey about tapes that the president admitted yesterday don't exist, he hastened the chain of events that led to the appointment of special counsel Bob Mueller, who's expected to delve into the business affairs of the president and his family.
In retrospect, if Trump had kept Comey and stopped obsessing about his investigation, his legal troubles might have blown over: No evidence of collusion has emerged. As David Brooks pointed out in one of the better columns of the month, it's striking how little has surfaced on the collusion front, given the gush of anti-Trump leaks.
Trump would be standing here today with a perfect record on contested special elections, a strong stock market, low unemployment and momentum heading into the tax reform debate. Instead, Trump's impulsive decision — made against the advice of several trusted advisers — has:
Consumed Trump: In phone calls, staff meetings and tweets, the president rages about Mueller. This often pushes aside conversation about his legislative agenda, executive actions and planned messages.
Trapped Trump: The Russia probe has now mushroomed into one that includes obstruction of justice, adding a self-created investigation that will eat up precious time for months or years to come.
Tainted Trump: Polls show the vast majority voters disapprove of his handling of Comey and Russia. More importantly, Republicans inclined to believe he didn't collude with the Russians seem quite willing to believe he might have obstructed justice after canning Comey.
Stalled Trump: He was hardly cooking with grease on the legislative front pre-Comey. Now, White House officials think they will be lucky to end 2017 with any substantial bills signed into law.
Tagged Trump for 2020: If he runs again, Democrats can be expected to turn the firing, probes, and attacks on the special prosecutor into centerpieces of the case against Trump.
Be smart: Trump changed the arc of his presidency on Day 110 by bouncing Comey. Now, Trump's great fight is to have his presidency remembered for something else.
Go deeper