Obamacare rule is mostly tinkering, but suggests bigger plans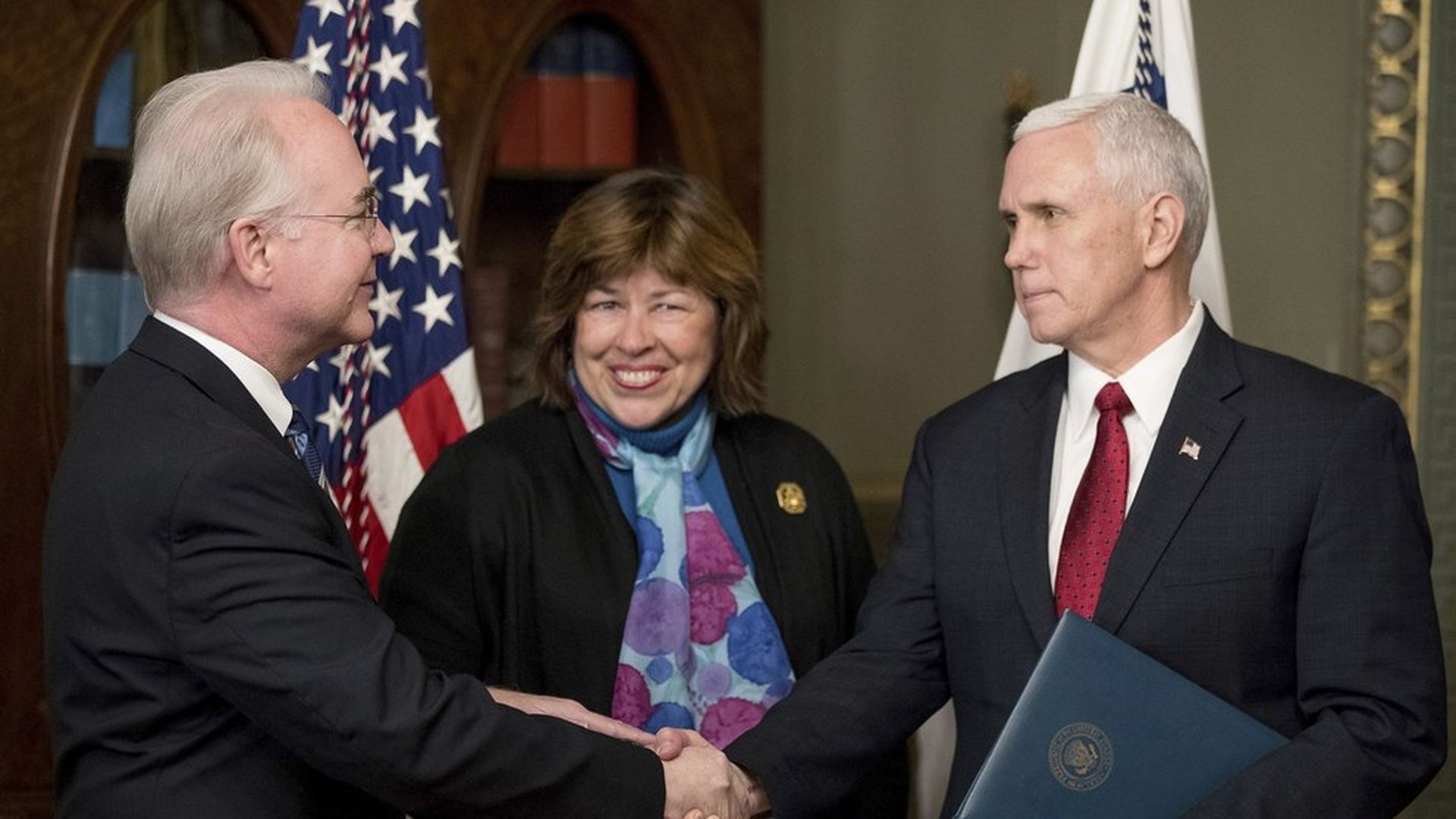 The Obamacare "market stabilization" rule released this morning dodges a lot of the biggest issues health insurers are worried about. It's mostly meant to send signals about where the Trump administration is headed — and analysts say the signals suggest a more insurer-friendly environment, with tighter rules for consumers and separate treatment for sick people.
Insurers are mostly happy with the changes in the proposed rule, though they're noncommittal about whether it will bring them back to the Obamacare marketplaces next year. But liberals and consumer groups are up in arms about it, saying it will shift costs to patients. Health and Human Services Secretary Tom Price said in a statement that it's the first stage of an effort to "reverse the harmful effects of Obamacare."
Read on for highlights of the early reactions.
Dodging the big issues: Analysts say the proposed rule leaves out some of the biggest issues health insurers want resolved, like whether they can charge higher premiums for older people, whether they'll get more flexibility in the benefits they have to offer — or, most crucially, whether they'll get paid back for their cost-sharing reduction subsidies to low-income customers. (Those payments probably will have to come from Congress.)
The rule changes insurers are getting: shorter open enrollment periods, more leverage to get customers to pay their premiums, tighter rules on signups, more flexibility in determining the value of their coverage, and greater leeway to create narrow networks of hospitals and doctors.
Joe Antos, resident scholar at the American Enterprise Institute and a member of the Axios board of experts: "None of these things are going to help with anything substantial in the short term."
Ceci Connolly, president and CEO, Alliance of Community Health Plans: "Until we have clarity on the future of the subsidies and the mandate, it is impossible for a business to make any kind of sound decision for 2018."
Larry Levitt, senior vice president, Kaiser Family Foundation: "There's still a pretty big cloud of uncertainty hanging over insurers."
Emily Evans, health policy researcher for Hedgeye: "The proposed rule will probably provide some comfort to insurers but [it] falls short of what they were seeking. It does not mention increasing state flexibility for essential health benefits — a major premium cost driver — nor does it mention any changes to the age bands."
The biggest change: Liberals are alarmed by the change in how insurers can calculate the amount of coverage they have to provide — because they say that will shift costs to patients. The Center on Budget and Policy Priorities warns that the change would allow insurers to sell plans with greater out-of-pocket costs, including higher deductibles, and could also reduce the value of the Affordable Care Act's tax credits.
The rule itself acknowledges that the change "could lead to more consumers facing increases in out-of-pocket expenses," but suggests it's justified because the flexibility "could help stabilize premiums, increase issuer participation and ultimately provide some offsetting benefit to consumers."
The long term: The rule signals a longer-term shift toward the vision Republicans have already laid out for how they want to replace the Affordable Care Act, with more flexibility for insurers and probably a return to high-risk pools to separate the most expensive customers from the regular health insurance market.
Yvette Fontenot, partner at Avenue Solutions and a member of the Axios board of experts: The rule suggests a plan to "defer to states on consumer protections, place sicker people in a separate pool and give everyone else tax credits that are significantly less valuable than what they are currently receiving. The hope seems to be that the first two changes reduce costs enough to offset the impact of the last change."
Lanhee Chen of Stanford University, a member of the Axios board of experts: The rule stabilizes the market for customers who don't get subsidies, and "buys the administration and Congress some more runway as they consider future plans to repeal and replace the ACA."
Antos: "I view this mostly as ... signals to the insurance companies that things might get better. But these are very weak signals."
Go deeper