NYT to Trump on"failing" claims: Not so much, Mr. President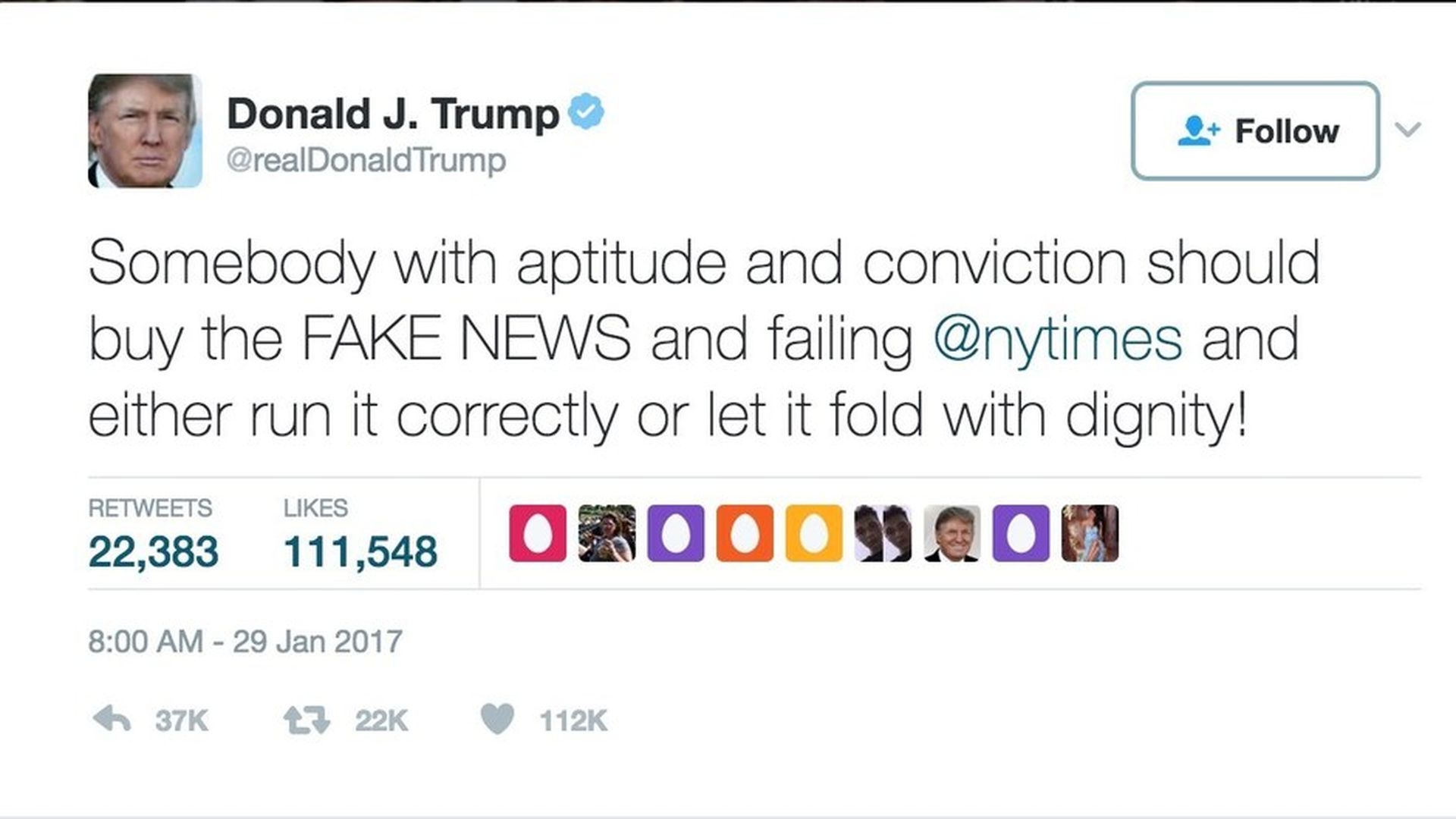 The New York Times added 276,000 net new digital news subscriptions in Q4, more than all of 2013 and 2014 combined. Digital-only subscriptions increased 21.9% from Q4 2015.
The truth behind the Trump bump: Times CEO Mark told investors on their quarterly earnings call that the increase was largely due to piqued interest in coverage of Trump after the election, including from international subscribers.
The Times' Chief Revenue Officer Meredith Kopit Levien reminded investors that the revenues from those subscriptions are skewed to reflect discounts that are always offered to new subscribers, and investors should expect to see the average revenue per user (RPU) increase once those subscribers are renewed to standard subscription cost structures.
By the numbers:
Average revenue per subscriber in Q4: $13-14 USD
$439.7 million in revenue vs. $438 million expected
9.7% drop in advertising revenue vs. 8% expected
6% YOY increase total digital revenue (10.9% YOY increase in digital ad revenue)
20.4% YOY decline in print advertising revenue
Despite heavy print declines, The New York Times' yearly digital revenue and circulation continued to increase in 2016, largely due to piqued interest in election coverage during the second half of Q4.
The Times also announced Thursday a 20.4% print advertising revenue drop in 2016, which largely drove the 9.7 percent drop in total advertising revenue for the year.
What had Mark Thompson Buzzing: Despite YOY revenue losses, Times CEO Mark Thompson proudly announced that the company had surpassed three million paid subscriptions (print and digital) as of Thursday. "This is an important moment for us."
For investors: The Times announced adjusted diluted earnings per share at $.30 for Q4 2016 compared with $.37 in Q4 2015. Operating profit decreased to $55.6 million in Q4 2016 from $87.7 million in Q4 2015, largely due to lower print advertising revenues and higher operational costs.
What caught our attention: The company also announced they will be spending $50 million in expenditures to reconfigure their office space as they downsize, and some employees will have to temporarily relocate to offices in Midtown. The Times announced last year that they would be vacating at least eight floors in their iconic midtown space to drive down expenditures.
Go deeper