North Korea holds military parade amid growing tension with US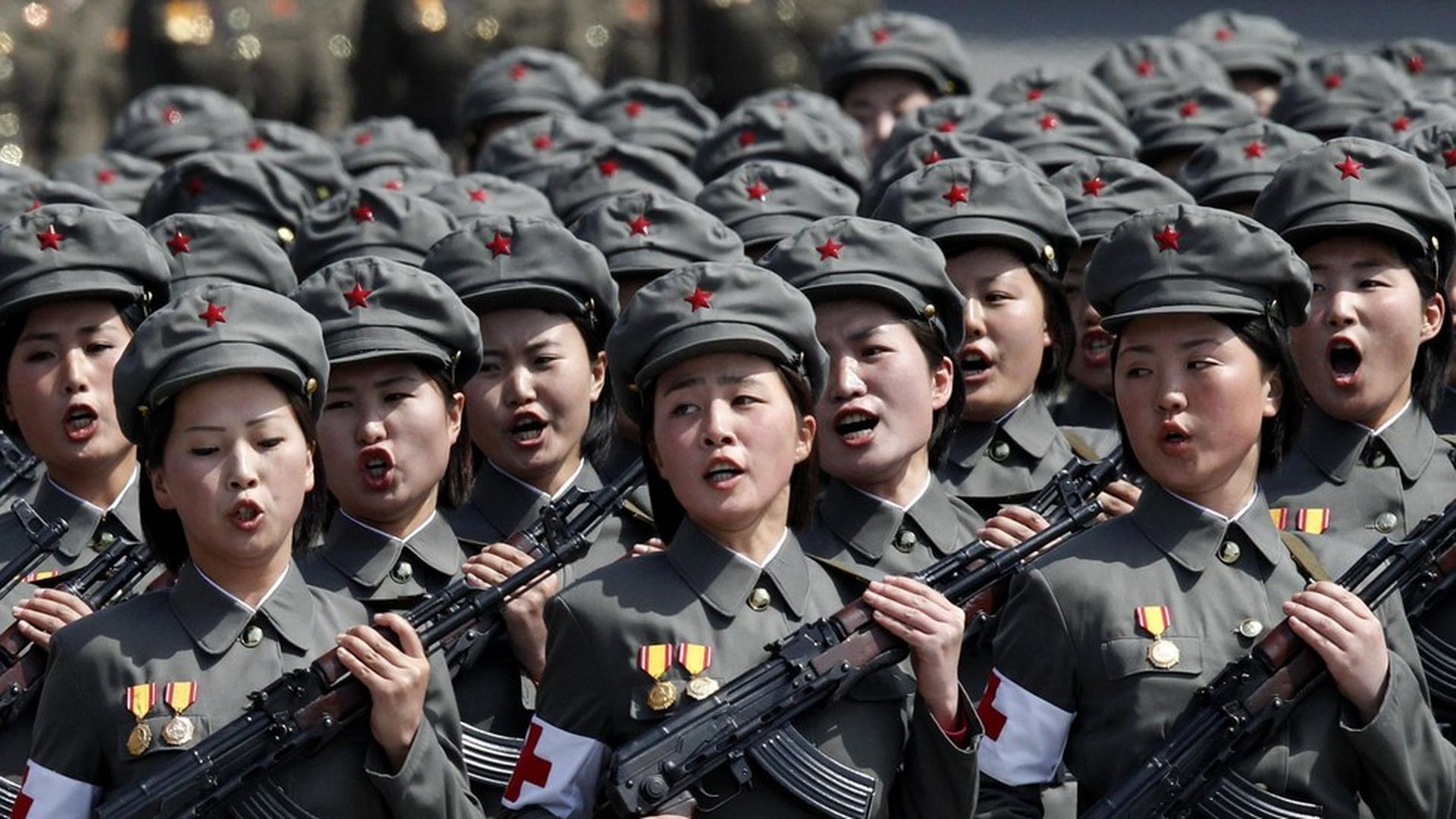 North Korea held a military parade earlier today, debuting what appeared to be the country's new submarine-based and long-range missiles. The parade also celebrated the 105th birth anniversary of Kim Il-sung, North Korea's founding president.
Why it matters: The military parade, particularly the presentation of the nation's new ballistic missiles, is the latest display of military force as tensions continue to grow between North Korea and the US.
The U.S. deployed a Navy strike group to the waters off the Korean Peninsula on April 9. The group included two guided-missile destroyers, one guided-missile cruiser, and an aircraft carrier. The strike group can intercept ballistic missiles sent from North Korea, as well as launch its own missiles.
Why? The strike group was in response to North Korea's continued missile tests, despite UN resolutions banning the nation from carrying out any such tests. They have also pursued nuclear weapons capability.
April 11, tweets and threats:
President Trump tweeted, "North Korea is looking for trouble," adding that the US would solve "the North Korean problem" with or without China's help.
North Korean state media said the country has its "nuclear sight focused" on the US and warned of a nuclear attack if there were any signs of a pre-emptive strike from the Navy carrier group heading toward the Korean peninsula.
April 12: Satellite images suggested North Korea was going to conduct its sixth nuclear test, per NYT. The test, an underground detonation through which the nation could figure out how to craft nuclear weapons, would have been the latest in a decade. It also could have been its most powerful test yet, clearly in response to the US' show of force near the peninsula.
April 13: The US placed two Tomahawk cruise missiles carriers in the area — one of them was 300 miles from the North Korean nuclear site — after learning of North Korea's potential nuclear test and recognizing that they often celebrate major holidays and significant dates with military force.
North Korea's military parade is the latest show of force amid this growing tension. "We are ready to hit back with nuclear attacks of our own style against any nuclear attacks," said Choe Ryong-hae, who is believed to be the country's second-most powerful official. "We're prepared to respond to an all-out war with an all-out war," he said.
Go deeper