North Korea beats the drum of war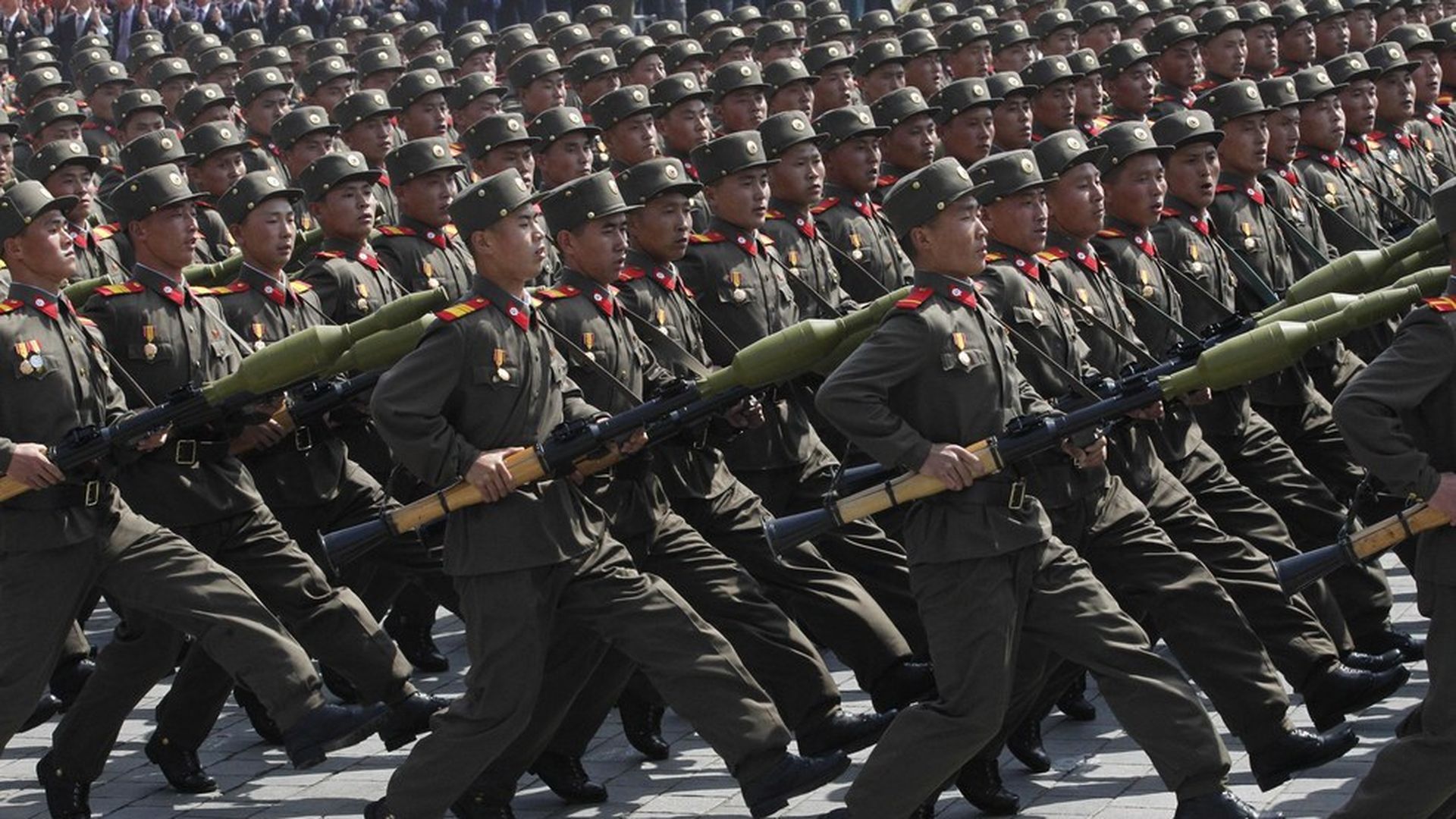 North Korean leader Kim Jong-un looks like he wants a war, meaning that this weekend's provocative posturing is much more worrisome than in the past.
Taunting Trump, Pyongyang today showed off a "Frankenmissile" — a new type of ICBM that had not been seen before.
Get smart fast: In the past, North Korea has aligned their displays of military force with significant dates. In 2014, hours after the US, South Korea and Japan held a summit to discuss North Korea's nuclear weapons capability, the nation tested two midrange missiles for the first time in five years. They tested a Taepo Dong 2, its longest-range and most provocative missile, as the US celebrated Independence Day in 2006.
The media's war drums began at the start of this tense weekend of geopolitical risk:
The lead of BBC News is the stark "North Korea 'ready for nuclear attack'": "The comments came as North Korea marked the 105th anniversary of the birth of its founding president, Kim Il-sung. ... 'We're prepared to respond to an all-out war with an all-out war,' said Choe Ryong-hae, believed to be the country's second most powerful official."
The Guardian: "On a sunny Saturday morning in Pyongyang, military vehicles and tens of thousands of soldiers filled Kim Il-sung Square as a band played rousing military music."
WSJ's Jonathan Cheng in Seoul: "The weaponry on show, which appeared to include a newly-modified intercontinental ballistic missile and two types of large launchers with never-before-seen missile canisters, is likely to trigger fresh concerns about the speed with which Pyongyang's missile program has advanced."
"[A]n expert on North Korean weapons said the new hardware appeared to be far more advanced than expected."
China warns of "storm clouds" — N.Y. Times: "China warned ... that tensions on the Korean Peninsula could spin out of control, as North Korea said it could test a nuclear weapon at any time and a United States naval group neared the peninsula — an American effort to sow doubt in Pyongyang over how President Trump might respond."
Pulling back the camera: "World power whiplash: Trump reverses views on Russia, China," by AP's Josh Lederman: "Once soft on Russia and hard on China, ... Trump rapidly reversed course in the last weeks, concluding there's more business to be done with Beijing than with Moscow."
Why it matters: "Trump's evolving views ... have brought the U.S. back into alignment with former President Barack Obama's pattern of 'great power' politics."
Go deeper