Normalizing Trump (or at least Trumpland)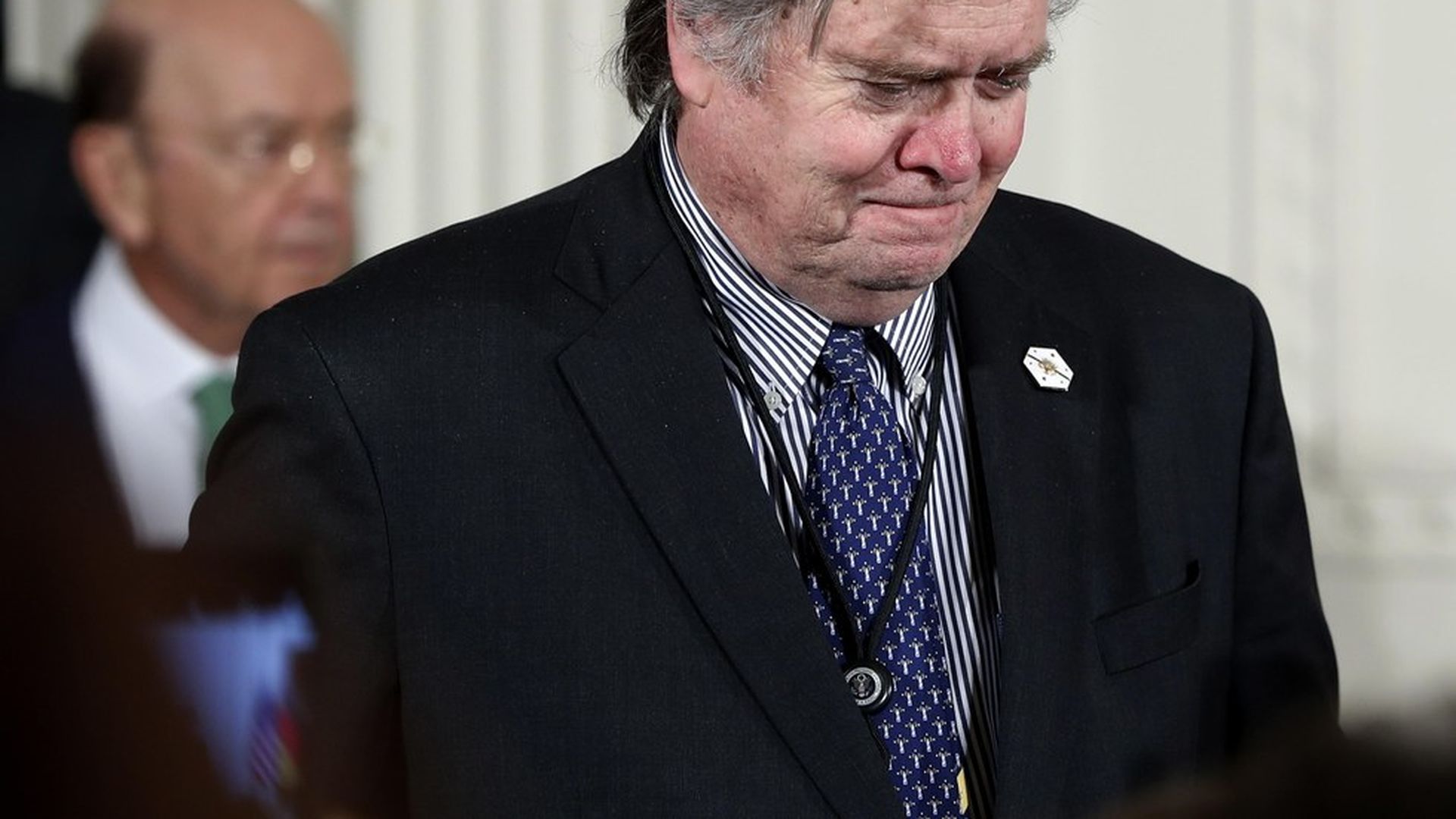 Operation Normal — the steady, loud accumulation of power by Jared Kushner and his allies, at the expense of the more ideological force hardline ideologues, led by Steve Bannon — keeps winning.
Bannon's demotion from the from National Security Council was covered as a demotion and therefore cost him juice. Drudge bannered: "BANNON LOSES POWER IN WHITE HOUSE SHAKEUP."
Bannon associates told Axios' Jonathan Swan that he was only on the NSC to "babysit" the now-ousted Mike Flynn, and never attended an NSC meeting.
The N.Y. Times reports that Bannon resisted the move, even threatening to resign. And Politico's Alex Isenstadt and Andrew Restuccia detail an escalating "civil war between Donald Trump loyalists and establishment-minded Republicans."
At the same time, the Jared/Ivanka/Cohn wing of the White House squirrels away territory in its push to take over Trumpland:
Jared Kushner seizes control over structuring government at home and America's public face aboard.
Ivanka Trump adviser Dina Powell is named Deputy National Security Adviser, and keeps her portfolio as senior counselor for economic initiatives.
The NSC is normal(ish) after Flynn is dumped and Bannon sidelined. The other Deputy National Security Adviser, K.T. McFarland, a former Reagan-administration official and Fox News analyst, has been offered ambassador to Singapore, per CNN — making Dina Powell the clear No. 2.
Economic adviser Gary Cohn's flexes muscle over tax reform, the coming monster on the agenda, at the expense of Treasury Secretary Steve Mnuchin.
What all this means:
For all the talk of radical change, Trump is taking fairly conventional approaches to trade, health care, tax reform, China and foreign policy. Score this a big win for the Jared wing.
Sound smart: Bannon's friends worry he locked arms too tight with White House Chief of Staff Reince Priebus and finds himself more isolated from Jared/Ivanka/Cohn - and therefore with the boss.
Sound even smarter: Trump himself remains very frustrated and not sure who to blame or who can truly help turn things around. Jared is filling the void as aggressively as Bannon did during the early days.
Go deeper