Newspapers ask Congress for new protections from Google, Facebook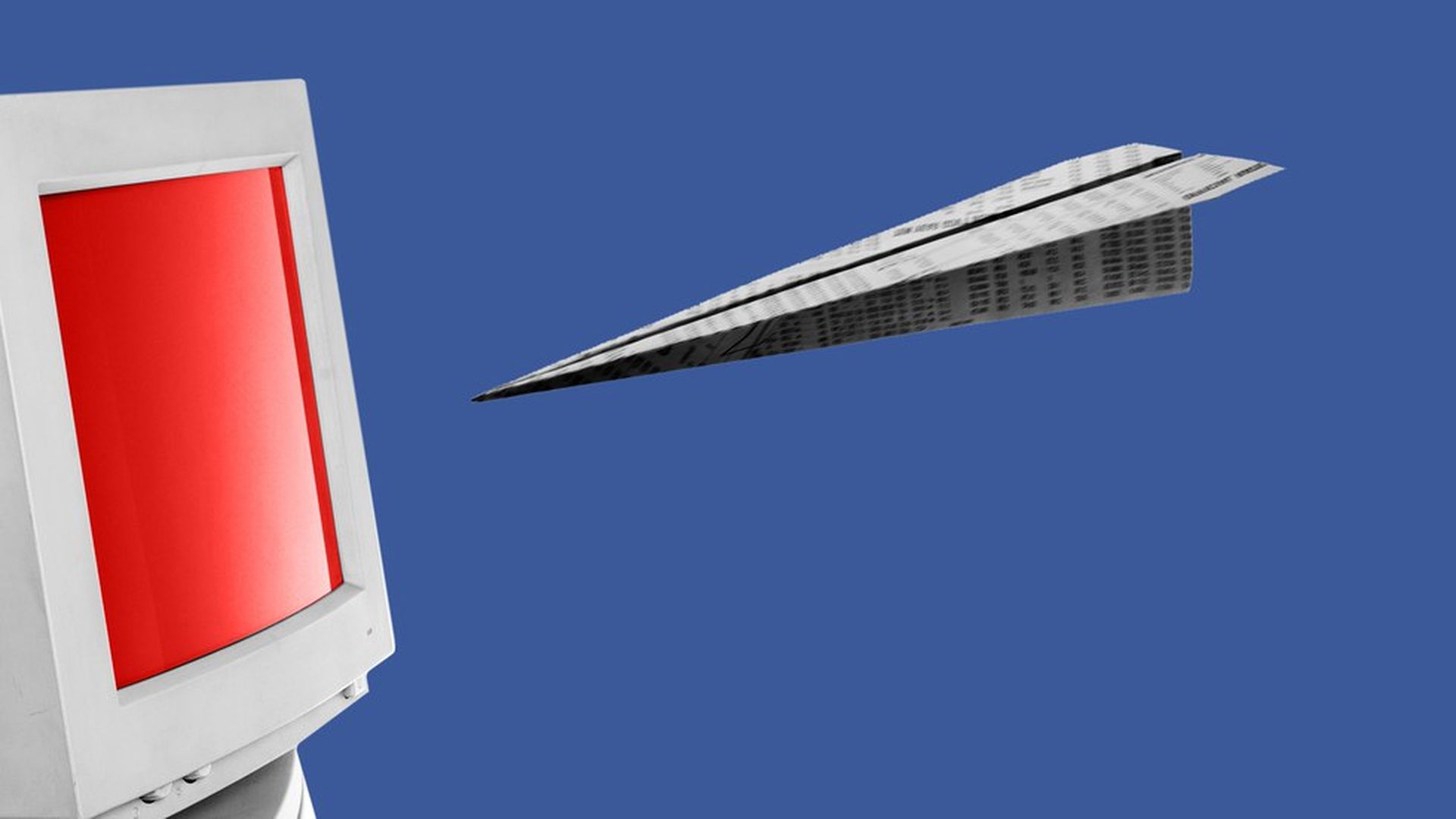 The News Media Alliance (NMA), a newspaper trade group that represents over 2,000 newspapers in the U.S., is asking Congress for an antitrust safe harbor against Google and Facebook. David Chavern, the CEO and President of the Alliance, tells Axios:
Ultimately, we need a better deal from a distorted system.
At issue: The group — with support from members like The New York Times, Washington Post and The Wall Street Journal — argues that existing media competition laws prevent news organizations from working together to negotiate better deals with major internet platforms, unintentionally enabling Google and Facebook to continue to control the digital advertising ecosystem and information economy.
Why it matters: With the support of every major print publication, this is the first big step media industry leaders are taking to rally government action against the Google-Facebook duopoly. In Europe, the duopoly's dominance has been fiercely challenged by antitrust regulators, but in the U.S. regulators have largely ignored the issue, allowing Google and Facebook to grow to a point where they control over 60% of the U.S. digital ad market and over 50% of the global digital ad market. Meanwhile, media companies' ad revenues continue to decline.
The strategy: Chavern has written an op-ed in the Wall Street Journal outlining his position, but says NMA is not calling out any specific lawmakers or committees at this time. "We are just starting to work the Hill," NMA Chairman Michael J. Klingensmith, publisher and CEO of the Minneapolis Star Tribune Media, tells Axios. Klingensmith adds that there's an attachment to local news organizations that lawmakers will want to see sustained, which is an encouraging sign.
By the numbers: There's unquestionable evidence that the duopoly's dominance has created a media economy that is unsustainable for news publishers.
60% of total U.S. digital ad revenue will go to Google and Facebook this year, per eMarketer estimates — roughly $73 billion.
Nearly 80% of all digital search ad revenue in the U.S. will go to Google this year and nearly 40% of all digital display ad revenue in the U.S. will go to Facebook, per eMarketer.
83% of every new digital ad dollar will go to the duopoly this year, according to calculations from Digital Content Next, the premium publishers association.
By comparison, the print industry brings in roughly $18 billion in advertising revenue (both print and digital), nearly a third of what it was just 10 years ago, according to Pew. That's roughly the same as all of Facebook's U.S. digital ad revenue and less than half of Google's.
The impact on news: The group also argues that the Facebook and Google's dominance has created an unhealthy media economy and news environment, where the duopoly benefits from investments made by news companies, and consumers are less likely to connect with news brands. To combat this, they're looking for Google and Facebook to make four key changes:
Increase advertising revenue sharing: Facebook has made revenue sharing updates to Instant Articles and video over the past few months, but the industry argues it's not enough. "It's a promise that hasn't materialized," Klingensmith says.
Create more support for news subscription models: This includes a way to drive subscriptions through Facebook and amend Google's first-click policy that allows access to content past paywalls. There are rumors that Facebook is adding a publisher subscription feature for mobile.
Improve data sharing: Give newspaper publishers more data about their own readers on both platforms. "When our content is being read on Facebook, that audience is invisible to us," Klingensmith says.
Develop better brand support: They argue that brand is at the core of the news business and Google and Facebook have come between consumers and the brand. A new Pew/Knight Foundation study conducted earlier this year found that 10% of respondents exposed to news articles on Facebook thought the news source was Facebook.
Campbell Brown, Head of News Partnerships at Facebook tells Axios: "We're committed to helping quality journalism thrive on Facebook. We're making progress through our work with news publishers and have more work to do."A spokesperson from Google says: "We want to help news publishers succeed as they transition to digital. In recent years we've built numerous specialized products and technologies, developed specifically to help distribute, fund, and support newspapers. This is a priority and we remain deeply committed to helping publishers with both their challenges, and their opportunities."
Go deeper