'Merit-based' immigration may complicate tech's relationship with Trump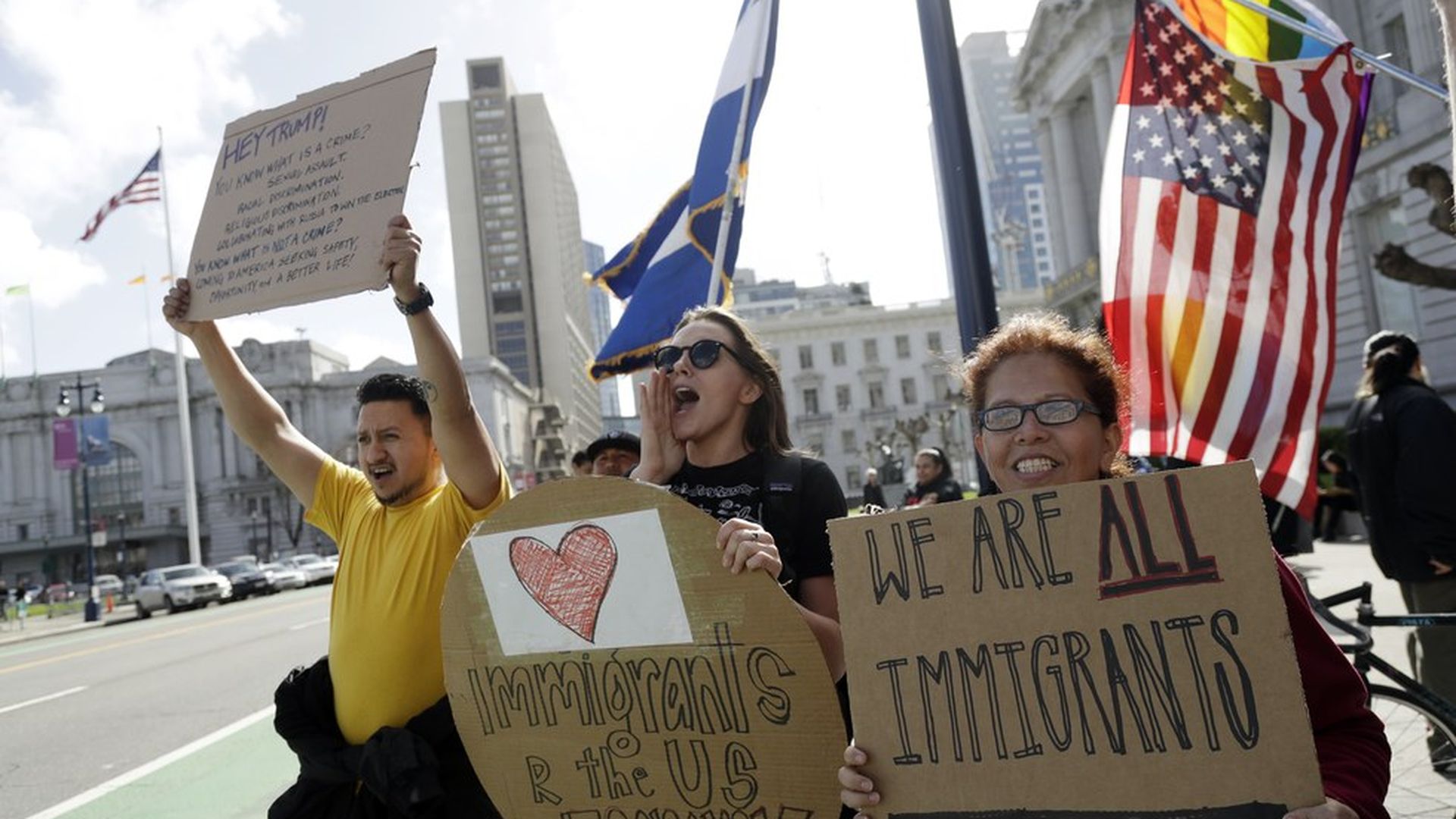 President Trump's interest in a merit-based immigration system is widely seen as a win for the tech industry by putting more emphasis on higher-skilled workers — the very type of worker tech companies need to hire.
"It's the most optimistic I've been about immigration legislation," said Gary Shapiro, CEO of the Consumer Technology Association. "It's actually a strategy. Why wouldn't a country figure out who they want to come live and work within its borders?"
Why this matters: Tech has had a hot-and-cold relationship with Trump. There was the big meeting with tech CEOs at Trump Tower before the inauguration where the executives said they got a fair hearing from Trump, only to face backlash from their employees for not opposing parts of his agenda. Then a slew of tech companies spoke out against Trump's travel ban. These companies depend on immigration and visa programs that Trump will in some way upend.
What Trump said: He told Congress last week that adopting a merit-based system will "save countless dollars, raise workers' wages and help struggling families — families including immigrant families — enter the middle class." The idea is generally interpreted as a nod to his base that wants an overall reduction in green cards.
Shapiro has proposed a points-based system for distributing green cards that takes into account factors like proficiency in English, whether they are entrepreneurs or have received funding for a business idea, and whether they have the skills American companies need. This is similar to systems in Canada and Australia.
Trump doubled down on merit-based immigration in a tweet Friday promoting a book by Australian-born Nick Adams, who told Fox News Friday that "we need to make sure that people coming here are going to be American, are going to subscribe to American values."
What Trump didn't say: Anything about the H-1B worker visa program that companies like Google, Facebook, Intel and Microsoft use to hire foreign engineers and other high-skilled technical workers. Trump has criticized some companies for using the program to undercut American workers and suggested he'll overhaul the program.
Impact on H-1B visas: There's intense demand for a limited number of H-1B visas. The U.S. has temporarily suspended expedited processing on H-1B applications — a big inconvenience for tech companies. A merit-based system that gives green card preference to higher-skilled workers could provide an easier glide path for immigrants qualified to fill tech jobs.
"Anything that allows more people to come in will take pressure off of the H-1B system," said one tech industry lobbyist. "But there's a lot of wiggle room in the definitions of merit-based and point-based systems, how they are assessed, and who is deciding on allocation. What the tech companies want to know is, what does that mean for our ability to attract and recruit talent from our competitors overseas?"
Why Silicon Valley will like it: Tech companies have argued they wouldn't be as reliant on the H-1B program if more green cards were available. Even without expanding the pool of green cards, a merit-based system would give priority to the types of high-skilled workers they need. Shapiro said he expects Silicon Valley to appreciate that upside.
Yes, but: Trump's idea doesn't come without tradeoffs. Increasing the number of higher-skilled immigrants without increasing the overall pool of green cards means another category will have to shrink. In this case, it's likely to reduce family-based visas that allows immigrants to enter the U.S. under certain conditions if they have family members already here. That's bound to impact some tech industry employees.
What to watch: How merit-based green cards play out in Silicon Valley — where many founders and CEOs are immigrants — depends on who is sidelined in the process. Tech companies have already vocally opposed Trump's immigration stances, including filing court briefs opposing his travel ban order (a new version of the order is expected this week). A move to cut back family-based visas may clash with Silicon Valley's progressive social values, even if the flip-side of more high-skilled immigrants is good for business.
Go deeper