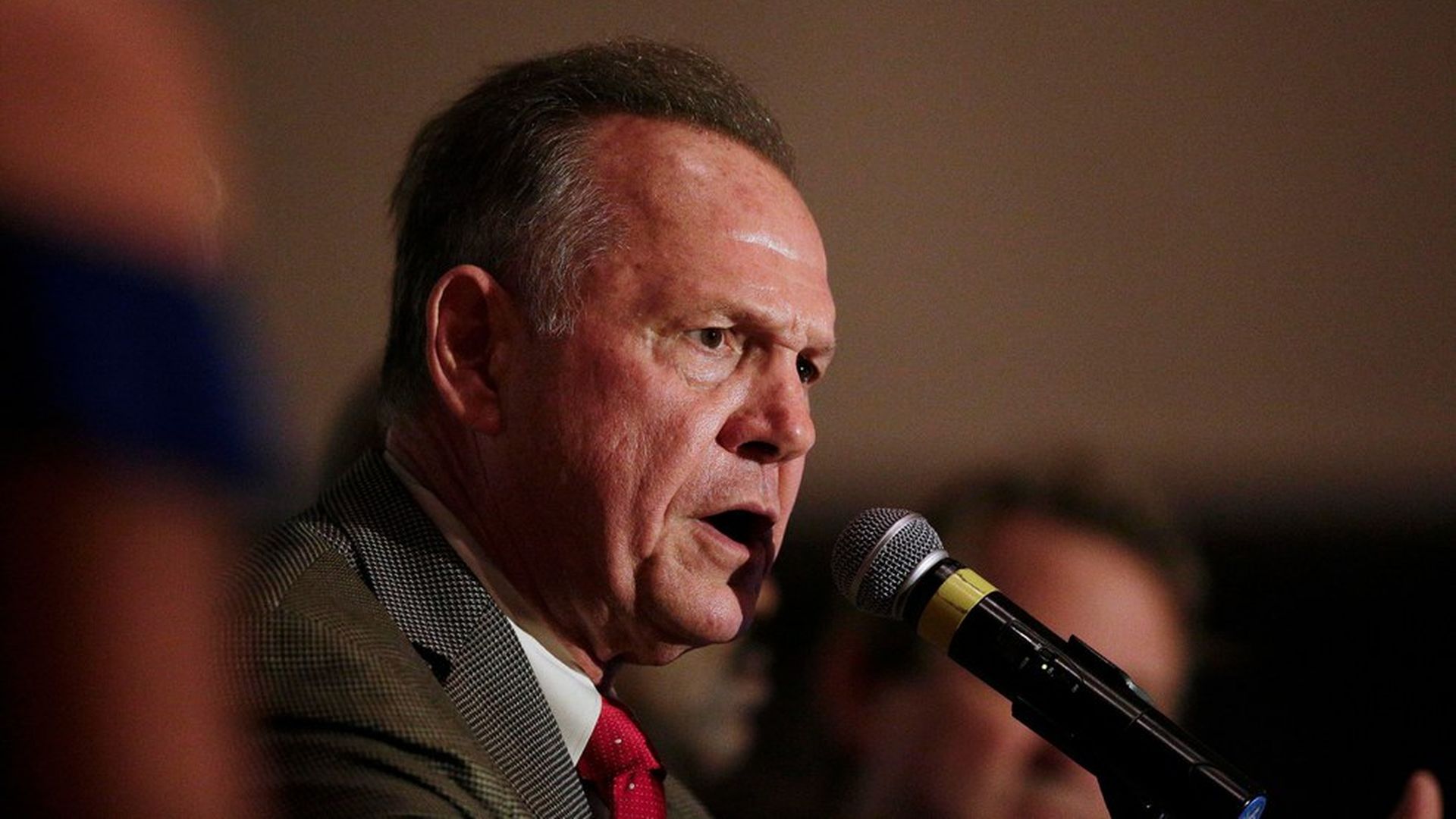 Roy Moore, the GOP's nominee in Alabama's special Senate election to replace Attorney General Jeff Sessions, was alleged today in a report by The Washington Post to have sexually assaulted a 14-year-old in 1979 while he was 32. The report also claims that Moore pursued multiple other relationships with teenage girls at the time.
Why it matters: Moore is one of the most controversial and conservative politicians in America, known for his unbending stances on social issues. He had twice lost his position as the Chief Justice of Alabama's Supreme Court — once by removal, once by resignation — after his refusal to back down on federal directives on cases relating to religion and sexuality.
Moore's backstory
He attended West Point and the University of Alabama Law School, returning to his hometown to begin a private law practice in 1977. From there, he entered the local district attorney's office, eventually became a state circuit judge in 1992, and was elected Chief Justice of the Alabama Supreme Court in 2001.
Moore was removed as the Chief Justice in 2003 after he refused to remove a stone monument of the Ten Commandments that he had commissioned and placed outside the state's main courthouse, defying a federal court order.
Moore was reelected as Chief Justice in 2013, but refused to acknowledge the Supreme Court's legalization of same-sex marriage in 2016 by directing his probate judges to enforce Alabama's marriage ban. That decision led to his suspension in May 2016 and his resignation in April 2017 — when he decided to pursue the open Alabama Senate seat.
Moore in his own words
On the separation of church and state: "The Church's role should be separated from the state's role. That is the definition of separation of church and state. But separation of church and state was never meant to separate God and government."
On homosexuality: "Homosexual conduct should be illegal, yes." Moore then compared homosexuality to bestiality — and, when asked if homosexuality was the same as bestiality, he responded, "It is a moral precept upon which this country was founded."
On the September 11 attacks: "You know, we've suffered a lot in this country. Maybe, just maybe, because we've distanced ourselves from the one that has it within his hands to heal this land."
Go deeper