Meet Rick Gates, the Manafort protégé indicted in Russia probe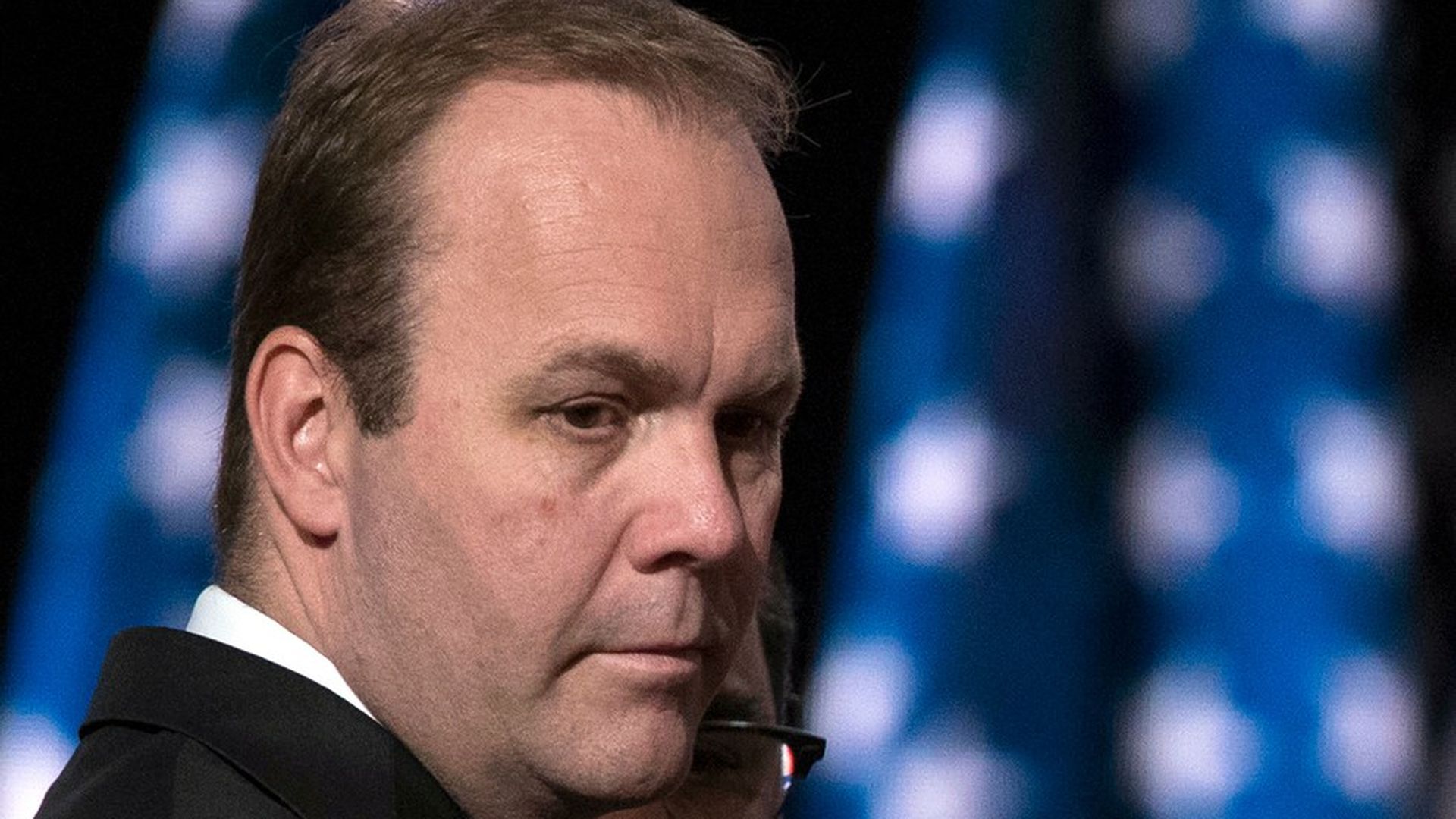 Rick Gates, along with Trump's former campaign chairman Paul Manafort, has been indicted in Special Counsel Robert Mueller's Russia probe. Gates has been described by the New York Times as Manafort's "protégé," and retained a central role in Trump's campaign and inaugural committee thanks to his mentor.
Get smart: "[He could] go to jail because his long-term partner decided to go work for Donald Trump," Paul Rosenzweig, former deputy secretary for policy at the Department of Homeland Security, told Axios. "What he did likely would not have seen the light of day...He's my Reince Priebus, Sean Spicer squared character in this drama...the man whose life is ruined by being sucked into the Trump tornado."
Timeline of Gates' ties to Manafort and the Trump campaign:
Roughly 30 years ago: Gates met Manafort when he worked as an intern at the then-powerful lobbying firm Black, Manafort, Stone and Kelly.
2006: Gates joined Manafort's lobbying firm, Davis Manafort, where they took on Oleg Deripaska, a Russian oligarch with close ties to Russian President Vladimir Putin, as a client. Their relationship with Deripaska later crumbled after Deripaska accused Gates and Manafort of taking nearly $19 million intended for investments without declaring what it was being used for, per the Washington Post.
2014: Gates and Manafort helped promote Ukrainian President Viktor Yanukovych's policies in D.C.
Spring 2016: Gates followed Manafort to the Trump campaign, and played an integral role at the RNC where Gates became the fall guy for Melania Trump's plagiarized speech.
August 2016: Manafort quit the campaign amid scrutiny over his financial ties, but Gates stayed on as a liason to the RNC, before moving to the lobbying group, America First Policies, that was created to advance Trump's agenda.
March 2017: Gates' ties to Manafort led to him being forced out of the lobbying group. He's now reportedly working directly for one of Trump's closest and wealthiest friends, Tom Barrack, per NYT.
Since linking up with Barrack, Gates has been a frequent White House visitor. But some staff noted that "his presence was conspicuous since the president doesn't even like him," per the Daily Beast. "Rick [just] wandered around," a Republican source told the Daily Beast. "My understanding is that [Trump] had no idea he was in the building otherwise he wouldn't be too happy."
What Gates is being charged with: The indictment reveals Manafort and Gates were charged on 12 counts, including money laundering, conspiring against the U.S., and false and misleading statements surrounding their offshore financial accounts. Note that the indictment does not make any reference to Russia's election meddling.
What to watch: Rosenzweig suggested that Gates might have more information than Manafort but emphasized that at the end of the day "we don't really know."
Go deeper: Read the indictment charges in full.
Editor's Note: Sign up for Axios newsletters to get our smart brevity delivered to your inbox every morning.
Go deeper