Meet Doug Jones, the Democrats' hope in Alabama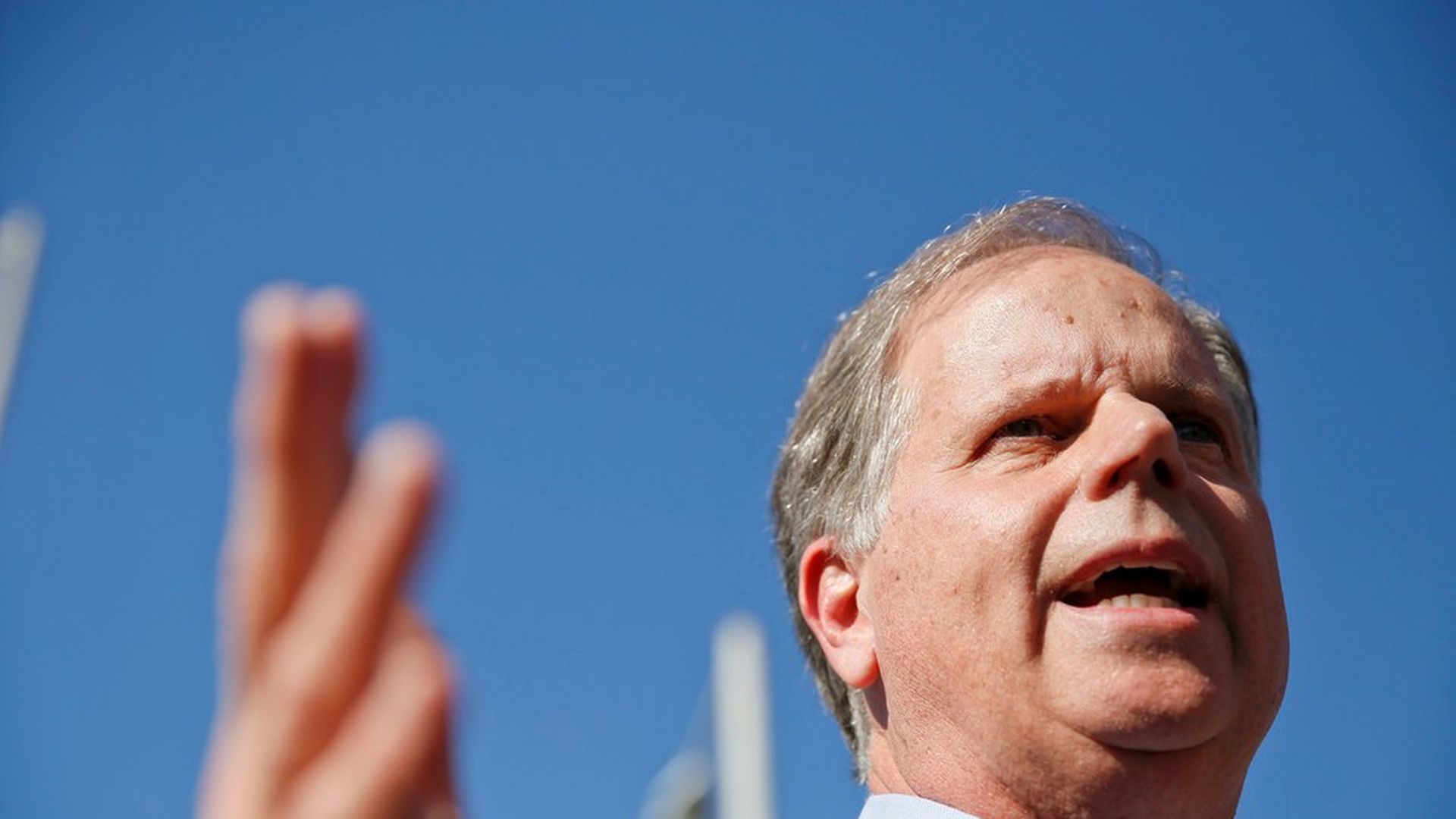 Doug Jones, the Democratic nominee for Senate in Alabama, is a long-time attorney best known for his successful prosecution of Ku Klux Klan members for a 1963 church bombing. He's also a first-time candidate. That's part of the reason Democrats think he might be able to pull out an upset victory over scandal-plagued Republican candidate Roy Moore in a state that hasn't elected a Democrat to statewide office since 1992.
The latest: Jones is going on the offensive against Moore with new ads focusing on his accusers.
What they're saying: Artur Davis, a former Democratic congressman from the Montgomery area, told The Washington Post Jones would need to appeal to his no-nonsense track record and avoid the culture wars of other recent high-profile races to get statewide Alabama voters on board: "To pull the 20 percent of Republicans he needs, he is going to have to make this a race about common-sense ideas, working with both sides, and avoid the temptation to portray this race as a clash of dark and light. That will backfire here quicker than Roy can say Jesus."
Jones' background
Born and raised in Alabama, he completed his undergraduate studies at the University of Alabama in Tuscaloosa and his law degree at Samford University.
Jones worked for the Senate Judiciary Committee and Department of Justice before being appointed U.S. Attorney for the Northern District of Alabama by Bill Clinton in 1997.
As U.S. attorney, beginning in 1998, Jones successfully prosecuted two KKK members in connection with the 1963 16th Street Baptist Church bombing in Birmingham that killed four African-American girls. Both perpetrators received life sentences.
He also coordinated the federal response to Atlanta Olympics bomber Eric Rudolph after he bombed an abortion clinic in Birmingham in 1998.
His positions
In his own words: Jones told WaPo: "People don't want a lap dog for Mitch McConnell, but they don't want an attack dog, either. Unfortunately, Jeff Sessions's voice is what people think of when they imagine the typical Southern politician. And that's not true. There's a lot of folks on the other side who might be concerned about the rollback of civil rights we could see under Jeff Sessions at the Justice Department."
More progressive stances: Jones is pro-choice — one of his major difficulties in deeply religious Alabama — and a staunch supporter of the Affordable Care Act. On that end, he's voiced his hope that Alabama might one day expand its Medicaid coverage under the ACA. He's also spoken out against the violence in Charlottesville, denouncing white supremacists and neo-Nazis.
On Trump: He told AL.com: "It doesn't really matter what my view is. My view is going to be taking every issue step by step, because he is the president."
Go deeper