McCain's latest surprise: Regulate Facebook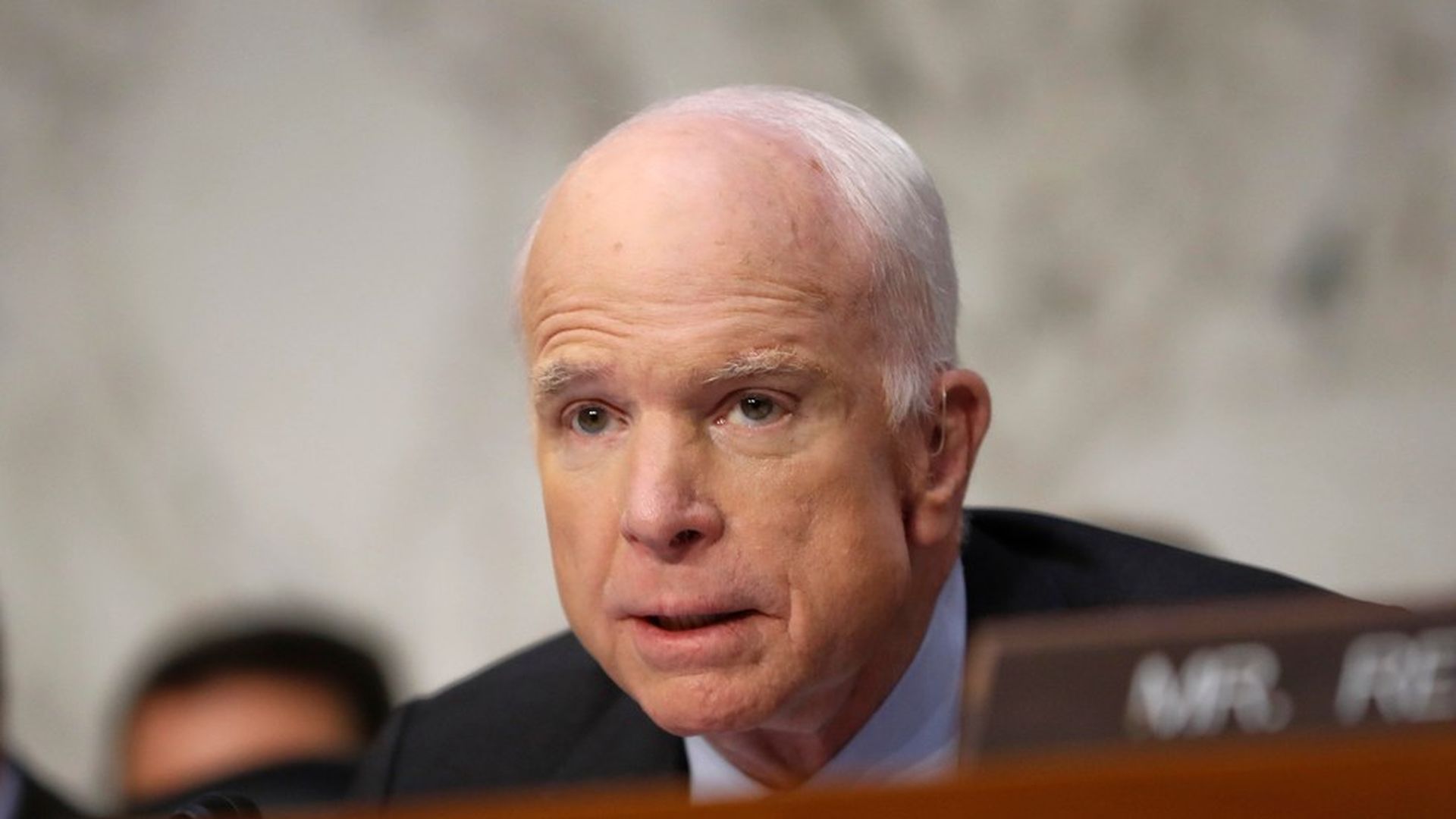 Republican Sen. John McCain (Ariz.) knows his time in the public eye is short, so his big statements in recent weeks are especially resonant. Today, McCain will join with two Democrats — Sens. Mark Warner (Va.) and Amy Klobuchar (Minn.) — to give bipartisan imprimatur to the first of the "Facebook bills," responding to last year's election interference.
Axios has a sneak peek at provisions of the Honest Ads Act, which would increase disclosure requirements for online political ads like the ones Russians surreptitiously bought, putting the rules on par with those for radio and TV ads.
Why it matters: This is the first in a wave of legislative and regulatory proposals we can expect in response to the disclosures that Russian agents used tech platforms to meddle in the 2016 election.
The preview of the act:
"Amending the Bipartisan Campaign Reform Act of 2002's definition of electioneering communication to include paid Internet and digital advertisements. Currently only broadcast television, radio, cable and satellite communications are included."
"Requiring digital platforms to maintain a public file of all electioneering communications it sells above specific thresholds."
"The file would contain a digital copy of the advertisement, a description of the audience the advertisement targets, the number of views generated, the dates and times of publication, the rates charged, and the contract information of the purchaser."
"Requiring online platforms to make reasonable efforts to ensure that foreign individuals and entities are not purchasing political advertisements in order to influence the American electorate."
Be smart: The tech giants won't resist all legislation — they know that's not tenable in this environment. So they'll work to shape the proposals to give Congress a win, with a minimal hit to the bottom line.
P.S. Bite of the day ... Former Google Ventures CEO Bill Maris, who now runs a San Diego-area V.C. firm called Section 32, said yesterday during a Wall Street Journal tech conference: "It wouldn't surprise me if the sun is setting on the golden age of Silicon Valley."
Axios' Dan Primack writes that Maris added that he also wouldn't be surprised if federal regulators try breaking up tech giants like Google or Facebook, saying that such companies "are more powerful than AT&T ever was."
Go deeper