Look what streaming made the Billboard charts do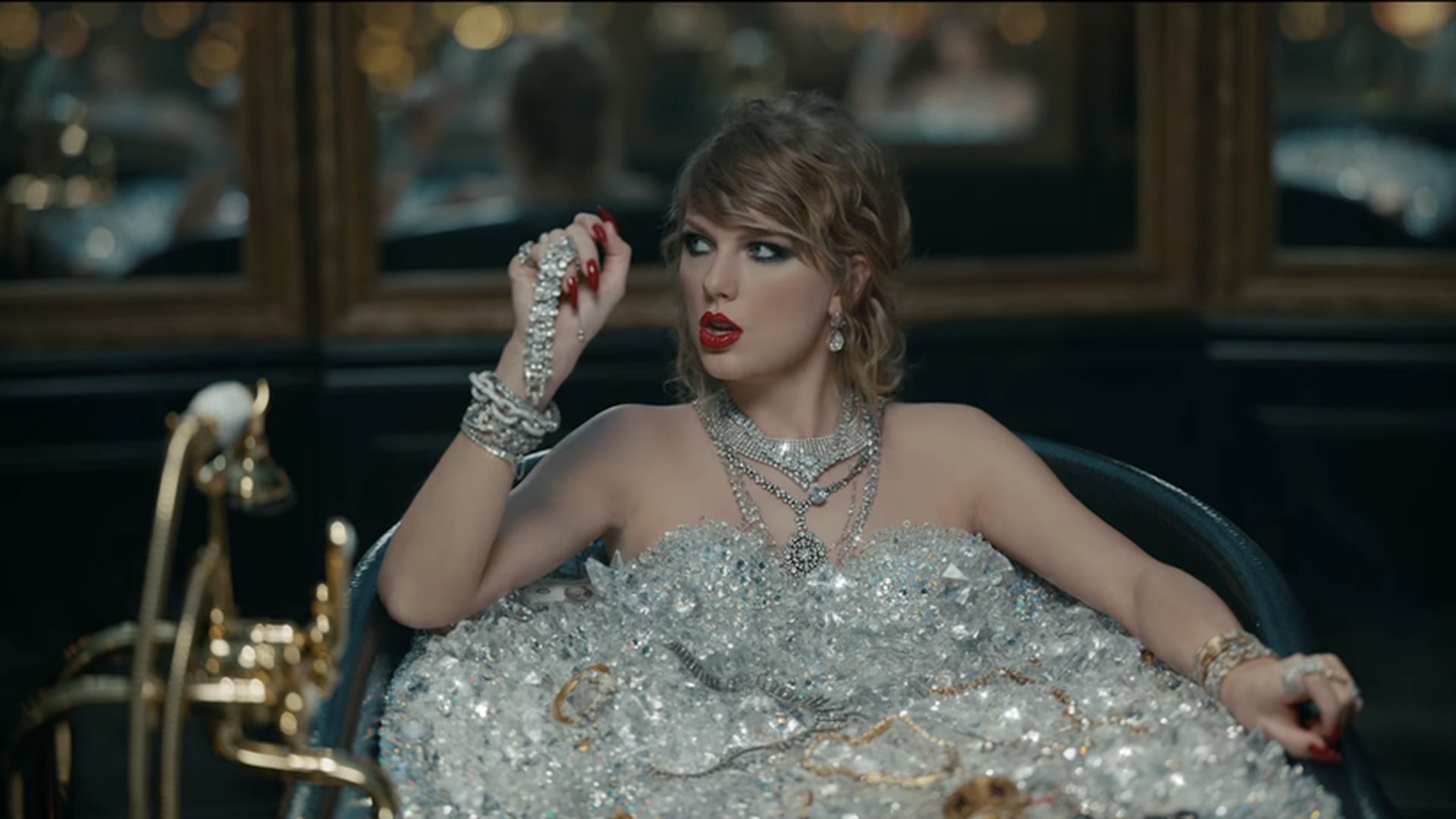 Taylor Swift's "Look What You Made Me Do" blasted to the top of the Billboard Hot 100 this week, ending a 16-week reign by the nation's song of the summer, "Despacito." But it's not exactly clear to most people how the country's hits — a source of both trendsetting and bragging rights across the music industry — are chosen.
How it's computed: According to Billboard, the Hot 100 chart comes together via a mix of three factors: song sales (35-45%), radio airplay (30-40%), and, crucially, online streaming (20-30%). Since 2014, Billboard has counted 1,500 plays of a song as one album sold, per the NYT.
Why it matters: Even though it makes up the smallest piece of the pie, Billboard's use of streaming has potentially the biggest impact on its charts — and the industry as a whole. It's perhaps most indicative of listeners' immediate tastes, which allows both zeitgeist-y artists like Taylor Swift to fly to the top spot and larger labels to attempt to game the system to their advantage.
The issue: By incorporating streaming into its chart computations, Billboard is forced to give increased weight to songs on popular albums, especially those favored by younger audiences, in their release weeks when they're likely to rack up a massive amount of streams. That, in turn, devalues other artists' singles by allowing these album releases to take up a significant amount of Hot 100 real estate. This week's Hot 100 illustrates the problem: rapper Lil Uzi Vert's hit single "XO TOUR Llif3" bounced back to #15 after his album's release, but he also has 10 other spots down the chart.
Two other examples of labels taking advantage of streaming to boost their chart or sales positions in crafty ways:
Epic Records created a compilation "album" series called "Epic AF" that it released to streaming services comprised of its artists' most popular songs that weren't included on albums. That allowed the "Epic AF" entries to rack up those songs' streams as their own, landing four versions of "Epic AF" in the top 10 until Billboard changed its rules in June to prevent such gaming.
Drake's album Views debuted at #1 in Billboard's Top 200 Albums chart last May with sales of over 1 million in its first week. It certainly would have hit #1 on its own, but, per Stereogum, it boosted its figures by including the months old "Hotline Bling" as a bonus track, thus counting the millions of streams racked up by the hit song in Views' initial sales week.
But don't forget: Sometimes the song that tops the Hot 100 is the genuine article, and "Look What You Made Me Do" seems to be just that — even with its tepid public reception. And unprecedented streaming fueled the massive numbers from the first full week of the New Taylor, per Billboard:
It racked up 84.4 million streams in the week ending August 31. That's the most ever for a female artist, and second only to Baauer's Harlem Shake in 2013, which racked up over 100 million streams thanks to its proliferation as a meme.
It sold 353,000 digital copies, the most thus far this year, destroying the 240,000 sold by Ed Sheeran's "Shape of You" in January.
Swift becomes the first woman to top the Hot 100 in 2017 with her fifth number-one hit, but she's still way behind Mariah Carey's record 18 number-ones as a female solo artist.
Go deeper