Lawsuit: Fox News, Trump supporter made up Seth Rich story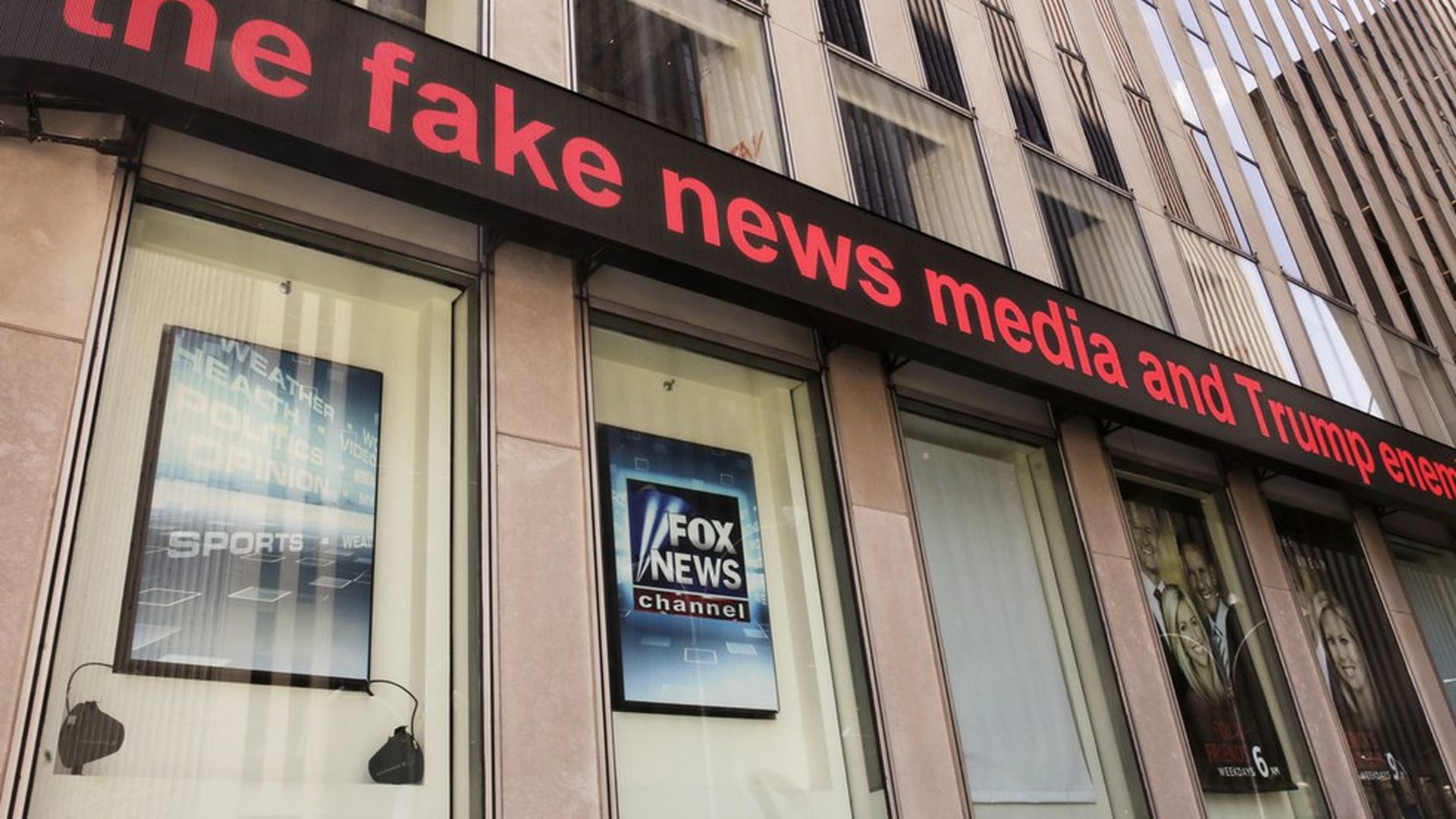 A lawsuit filed Tuesday in New York by Rod Wheeler alleges that Fox News and Ed Butowsky, a wealthy GOP donor, worked together to fabricate a story claiming the FBI had evidence that murdered Democratic National Committee staffer Seth Rich had passed documents to WikiLeaks.
Why the suit was filed: Wheeler, a Fox News commentator and private investigator hired by Butowsky for the Rich story, alleges that the author of the Fox News story, Malia Zimmerman, fabricated quotes from him regarding the Rich investigation in the report. Fox News retracted the story a week after its publication.
The big thing: The lawsuit, first obtained by NPR, claims that Butowsky boasted that President Trump himself had read drafts of the story before it was published by Fox News — and that Sean Spicer had taken a meeting in the White House a month before its publication to be briefed on its contents.
The backstory: Rich was murdered last year while walking to his home in Washington, DC, in what authorities say was a botched robbery. However, a number of conspiracy theories popped up surrounding his death, as no perpetrator was ever found.
Other notes: The suit alleges that the story was an attempt to guide public attention away from the Trump/Russia scandal, and Wheeler also claims the network racially discriminated against him during his time as a contributor.
The responses
Fox News: From Fox News' President of News, Jay Wallace: "The accusation that FoxNews.com published Malia Zimmerman's story to help detract from coverage of the Russia collusion issue is completely erroneous. The retraction of this story is still being investigated internally and we have no evidence that Rod Wheeler was misquoted by Zimmerman. Additionally, Fox News vehemently denies the race discrimination claims in the lawsuit — the dispute between Zimmerman and Rod Wheeler has nothing to do with race."
Butowsky spoke with CNN, calling the lawsuit "bullshit" while claiming that Wheeler's attorney "pulled [the suit] out of his butt to make money." He also stated that the allegation that he boasted about Trump reading a draft was simply an inside joke between him and Wheeler regarding the latter's desire to get a job in the Trump administration. Butowsky also suspended his Twitter account this morning, telling New York Magazine's Olivia Nuzzi that "people are so mean."
Spicer: The outgoing White House press secretary told NPR that he took the meeting as a favor to Butowsky due to his longtime support of Trump — and confirmed that they'd laid out the facts of the story to him — but stated that he was unaware of Butowsky having any contact with Trump.
The White House: Axios reached out to the White House for comment regarding the allegations that Trump knew about the story before it was published but did not receive a response. At this afternoon's press briefing, Sarah Huckabee Sanders said, "[Trump] had no knowledge of the story, and it is completely untrue that there was White House involvement."
Rich family statement: "While we can't speak to the evidence that you now have, we are hopeful this brings an end to what has been the most emotionally difficult time in our lives, and an end to conspiracy theories surrounding our beloved Seth."
Go deeper