LaVar Ball used Trump's playbook to conquer sports media
LaVar Ball and Donald Trump are squabbling about giving the President credit for bringing home three UCLA basketball players — including Ball's son LiAngelo — after the players were arrested for shoplifting in China.
The beef brings two of the biggest attention hounds, usually in separate spheres of the media universe, into the same news story. Ball, father of three talented basketball players, used some familiar tactics to become Trump's equivalent in sports media.
Why it matters: Donald Trump created the blueprint for building an avalanche of earned media momentum: be the loudest, most outrageous voice in the room. Generate buzz with confrontational statements, outsized self-promotion, and abundant charisma. With Ball, we saw that strategy executed to a tee in a different habitat of the media ecosystem, and we could see more copycats.
Say something outrageous, get coverage, rinse and repeat.
LaVar's oldest son Lonzo starred at UCLA for a season and was picked No. 2 overall in the NBA Draft by the Lakers. LaVar is confident in Lonzo's abilities.
LaVar parlayed the comments into TV spots for ESPN and Fox Sports One, where he continued to provoke reactions and garner even more media buzz. By Spring of 2017, ESPN.com had more than 75 pieces of digital content with LaVar Ball in the headline.
Supreme self-regard
Ball: "Back in my heyday, I would kill Michael Jordan one-on-one" (Ball played one college season and averaged 2 points per game)
Trump: "I know more about ISIS than the generals do. Believe me."
Hostile takeover
Ball: ...of the Chino Hills High School basketball program, where LaVar's two younger sons LiAngelo (18) and LaMelo (16) played last season. LaVar undermined coach Chris Gilling during games by yelling instructions to counter Gilling's strategies. He also refused to leave the team locker room when asked, criticized Gilling incessantly, and Gilling got canned at season's end.
Trump:
Bold guarantees
Ball: UCLA will win the National Championship. (They lost in the Sweet 16)
Trump:
"We're going to build the wall, and Mexico is going to pay for it."
"At the end of four years, I guarantee you that I will get over 95 percent of the African-American vote."
The GOP health care plan will cover pre-existing conditions.
Hawk the brand during press appearances
Ball: As leverage against major shoe companies like Nike and Under Armour, LaVar created Big Baller Brand. Lonzo has his own shoe — the $495 ZO2s — before even joining a professional team.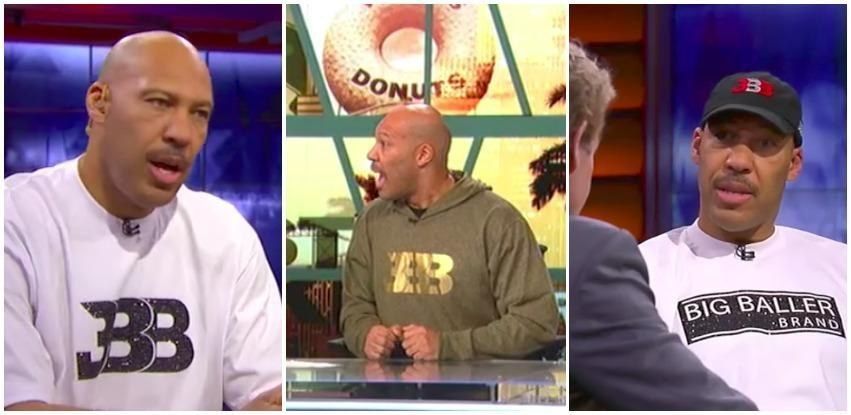 Trump: Brandished a table of Trump-branded food and drink for a press conference last March.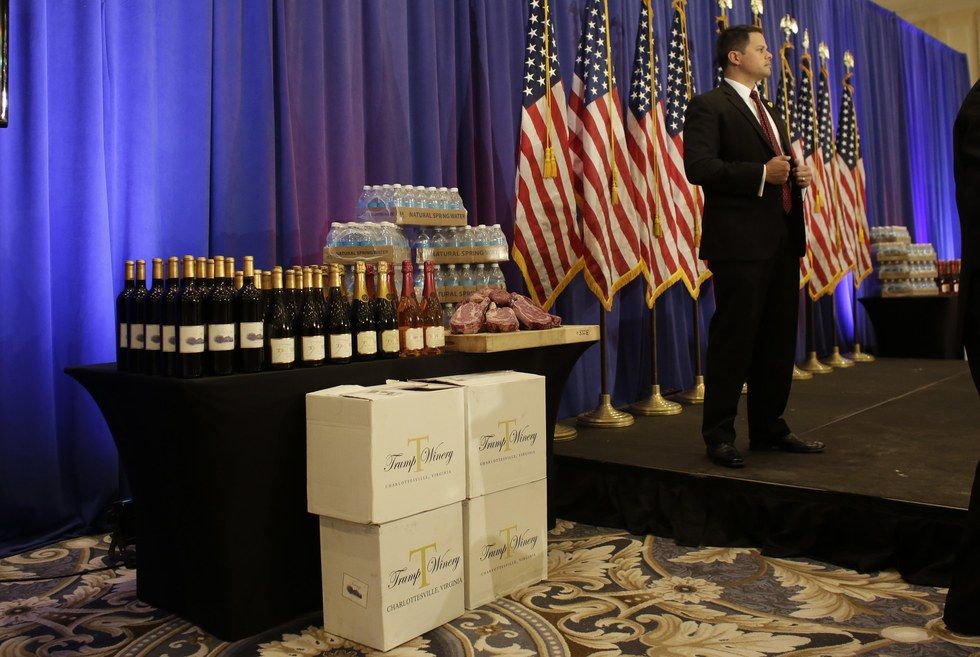 Lean into fights with the big dogs
Ball: "If Charles (Barkley) thought like me, maybe he'd win a championship." ... "I know he don't want to play one-on-one because he's too big. He'd better stay behind at TNT and eat them doughnuts."
Trump:
I know best
Ball: "I don't need no advice from Kobe Bryant."
Trump: "Regardless of recommendation, I was going to fire Comey."
Editor's Note: This story was first published in May. It was updated on November 20th to incorporate the Trump/Ball spat.
Go deeper