Issa's bills take aim at outsourcing firms dependent on H-1B visas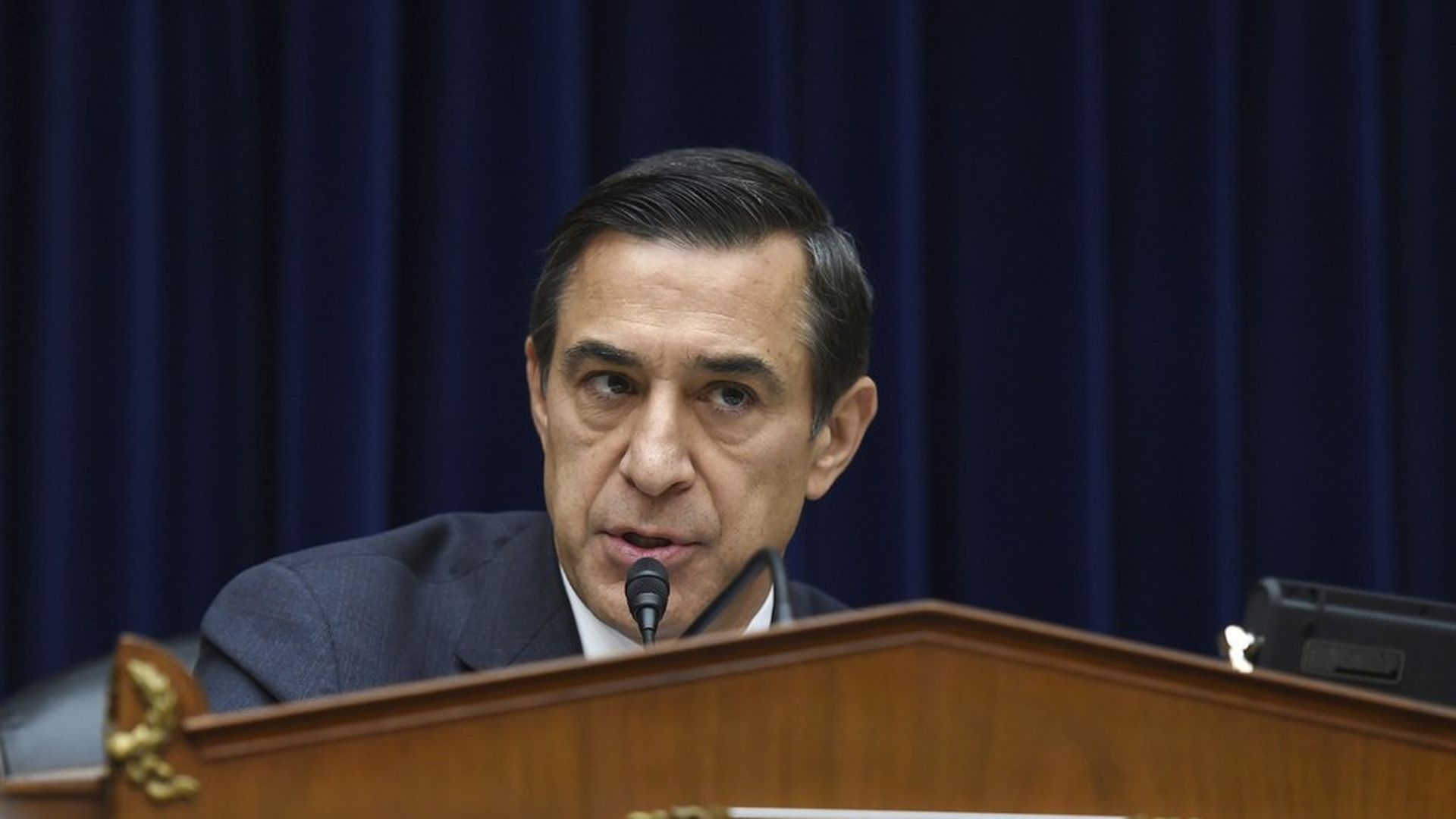 California Rep. Darrell Issa's bill on H-1B visa allocations heads to its first committee vote Wednesday morning. The bill would make it more difficult for so-called "H-1B dependent" companies to obtain the work permits. Currently, companies with 15% or more employees using the visas are labeled as H-1B dependent.
Why it matters: The Trump administration has already taken aim at H-1B dependent companies that it sees as abusing the H-1B visa program, which currently allocates 85,000 visas annually for high-skilled workers. Issa's bill would be the first legislative step toward reforming visa eligibility — a move that India-based IT services firms say unfairly targets them.
The politics: In 2015, utility company Southern California Edison (in Issa's district) laid off nearly 500 IT workers after hiring two H-1B dependent outsourcing firms. Some laid-off workers said they had to train their visa-holding replacements — an anecdote that President Trump used on the campaign trail.
"We are happy to have additional workers brought in to fill gaps," Issa said. "What we don't want is where they clearly displace American workers for less money."
He added that India-based outsourcing firms would need to meet the new standards laid out in the "Protect and Grow American Jobs Act," including guaranteeing their hiring will not result in American layoffs.
The gritty details: In a deal struck with California Rep. Zoe Lofgren, the bill heading to a markup today includes a number of provisions for H-1B dependent firms. While the new bill would change the threshold for defining H-1B dependent employers — to those with at least 20% of their workforce using the visas from its current 15% — the proposal would also eliminate several other exemptions so the net impact would be broader.
Other provisions of the bill would:
Eliminate the exemption for H-1B workers with advanced degrees and increases the $60,000 minimum salary for an H-1B visa holder to $90,000 annually (and possibly more depending on a new formula accounting for the job classification and region).
Require certain H-1B employers to attest that they will not displace a U.S. worker during their entire employment, including employment with a third party (or consulting firm). Current law requires that attestation only 90 days prior and 90 days after the filing of an H-1B petition.
Require H-1B employers to submit a report summarizing the good faith efforts taken to recruit U.S. workers, the number of U.S. workers that applied for the job, and reasons why jobs were not offered to those candidates.
Require H-1B dependent employers to pay workers at least the average wage paid to other workers in the same occupational classification in the same area of employment.
Authorize the Labor Department to conduct at least five random investigations of H-1B dependent employers annually. H-1B dependent companies would be charged a new $495 fee to pay for the investigations.
The other side: India-based IT firms, most of which are classified as H-1B dependent firms, say the bill discriminates against them. "If you're looking at protecting American workers, we don't have a problem with these provisions applying to all companies," said NASSCOM president R. Chandrashekhar. "But these provisions are applicable only to a subset of companies and applicable in such a way that targets Indian companies"
Go deeper: Indian firms fight proposals to slash H-1B visas.
Watch today: The markup will be live-streamed here at 1pm ET.
Go deeper