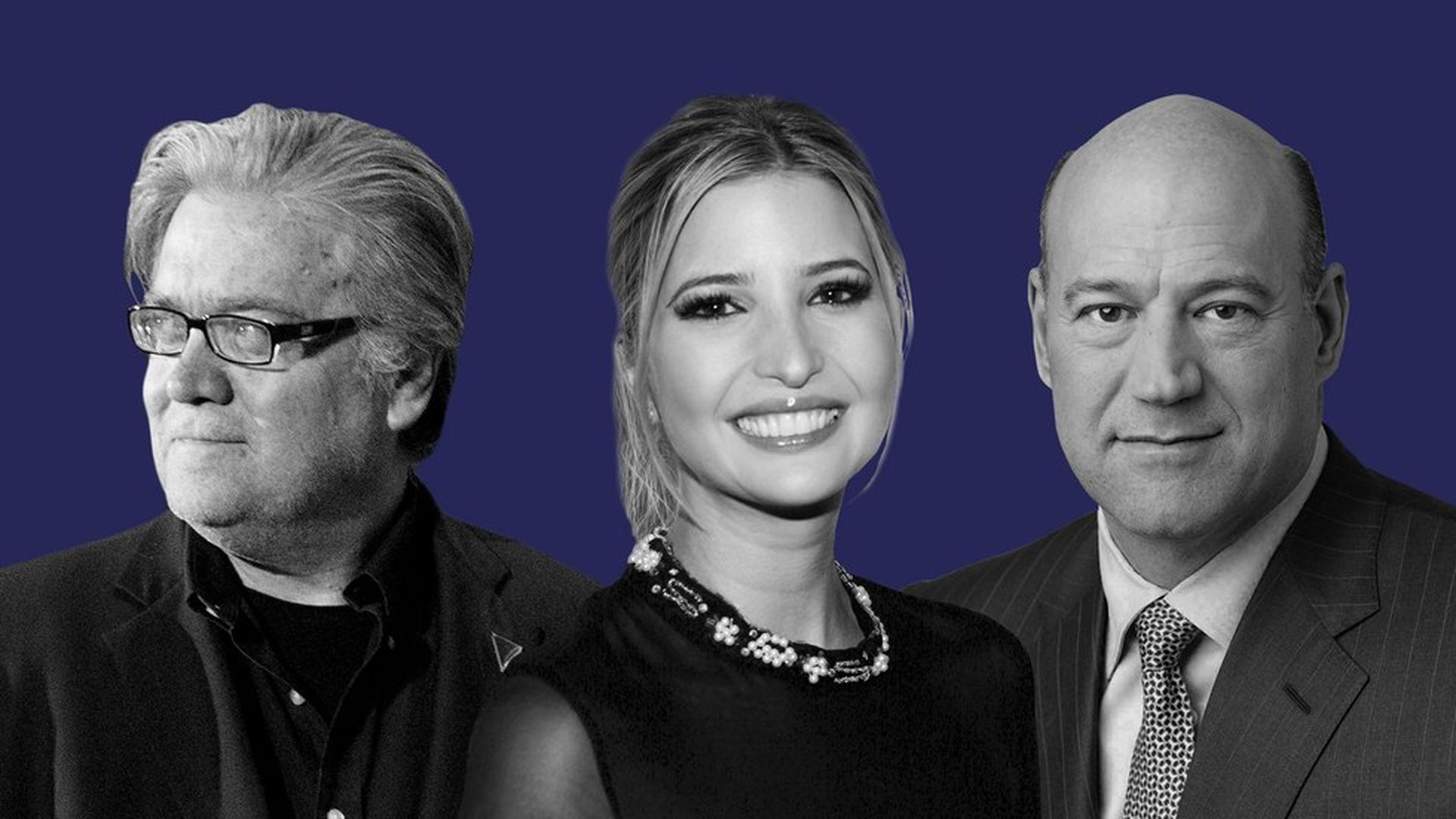 Want to understand how Donald Trump will govern? Watch what he does, not what he says — and keep a very close eye on the business-style board of powerbrokers he's creating inside the White House.
Trump and his advisers told us his legislative priorities: health care first, tax reform second and a big infrastructure spending plan third. Toss into that mix a partial wall along the Mexican border and a Supreme Court pick next month. But, in terms of details and precise timing, just wait-and-see. We can't stress enough the work-in-progress feel of this White House-in-waiting.
Instead, study the emerging corporate-style leadership structure, featuring a series of direct reports to Trump. The president-elect has loaded his cabinet and team with ex-CEOs and corporate officials, way more so than his predecessors. Each has — and wants — a wide portfolio. These are the ones the watch:
If you really need to sell an idea to the boss, first pitch it to Jared Kushner. The son-in-law has power because he can't be fired, and Trump knows he has his interests at heart. One close adviser said: "Trump sometimes yells at him, but he still knows he's going to be at Thanksgiving dinner." His portfolio touches everything from Israel to trade but his influence transcends specific topics.
Gary Cohn, who was a top leader of Goldman Sachs, has the burly build of a boss, and instantly bonded with Trump, who is drawn to people who look the part. Because Cohn was uninvolved in the campaign, he's a clean slate who can act as an ambassador to other power centers. Trump gave Cohn a big say in all economic matters, so look for his fingerprints on everything from the tax bill to the Federal Reserve.
Stephen Miller, who has the pen for the inaugural address and will be the deputy chief of staff for policy, is the keeper of the nationalist flame — the ideas guy and translator who is a true believer in the policies that delight Trump's base. He was a top aide to Sen. Jeff Sessions of Alabama, who'll be attorney general.
Steve Bannon, who has lived a varied life that took him from Goldman Sachs to running Breitbart, holds the title chief strategist, and determines the daily message and priorities. He takes both the 50,000-foot view and is at Trump's side to protect the base and try to prolong the GOP majorities. He's a silent pugilist, often saying little in meetings but pushing hard for confrontation with the establishment in private.
Chief of Staff Reince Priebus, a Wisconsin guy who's the former RNC chairman, is the ambassador to the Hill and D.C. establishment. One transition aide said Priebus sends the message: "Everything is fine." Instinct will be collaboration rather than confrontation, which could lead to internal conflict with the alpha males and powerful women around him.
Kellyanne Conway is the high-level face and voice on the airwaves, but her real power comes from the fact that Trump likes having her around, and likes hearing her opinions, which sometimes contrast with those of the men with the top jobs. She was in the room for our interview with the president-elect and gladly takes to TV to argue, distort and defend.
Simply put, there is no one with more sway over Trump than Ivanka Trump. She is daughter, muse, protector and his secret weapon. Ask anyone on the inside who you go to if you need to get Trump to change his mind: it's "Ivanka." Look for her to have a West Wing office, a rising profile and unparalleled power — when she wants to use it.
Go deeper