Indian firms fight proposals to slash H-1B visas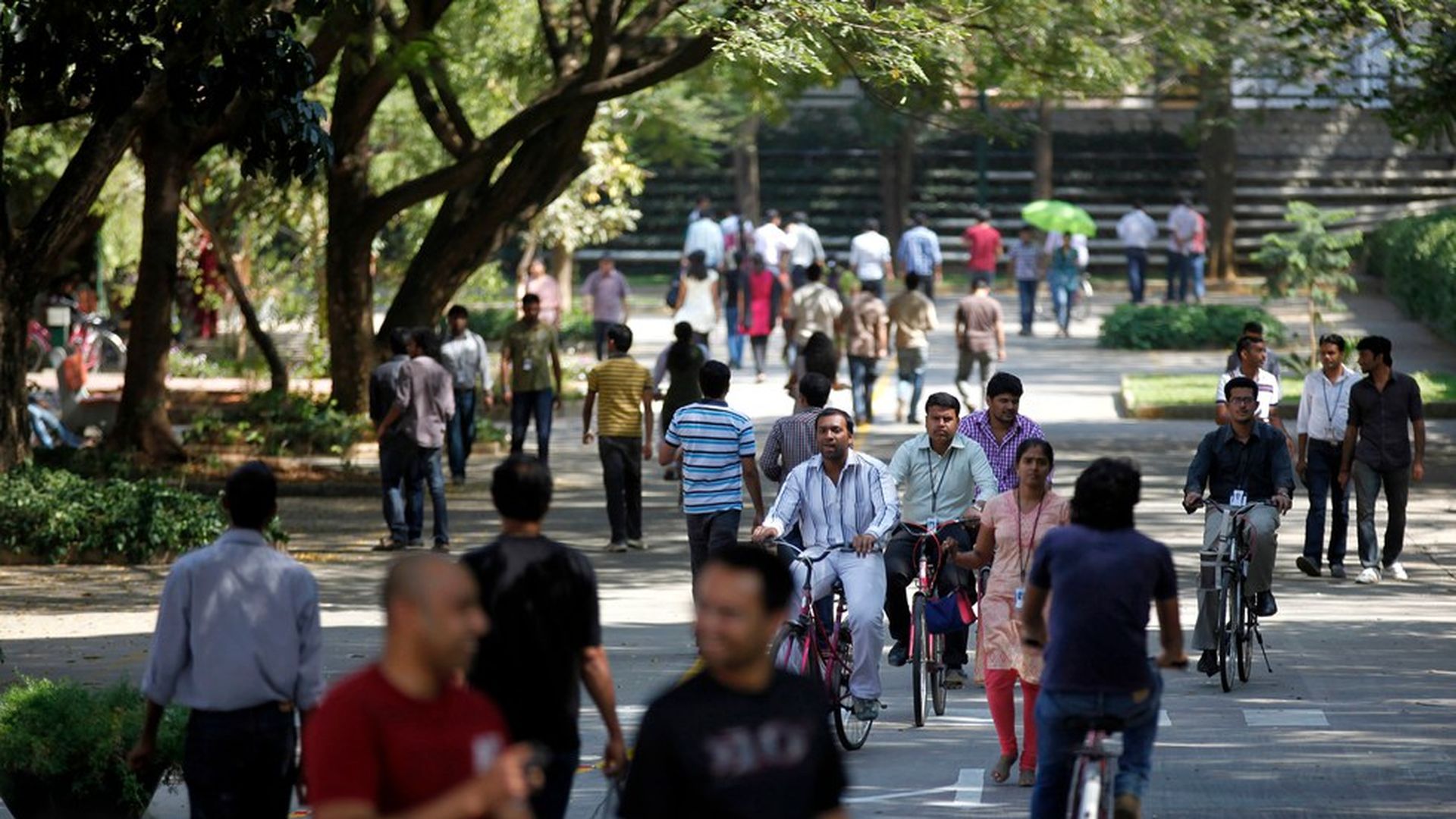 The chief representative of India-based IT consulting companies is firing back at federal efforts to crack down on H-1B visas, saying Indian technology workers are being unfairly singled out by the Trump administration's policies.
Why it matters: Republicans want to curb the number of foreign workers coming to the U.S. on high-skilled visas that many companies use to find talent for hard-to-fill specialized roles. Many proposals, including a bill by Rep. Darrell Issa that heads to a committee vote today, focus on heavy users of H-1B visas, many of which are India-based IT companies.
Fighting back: India says those provisions put its IT sector at a big competitive disadvantage. The National Association of Software & Service Companies (NASSCOM), the group representing those companies in India, visited policymakers this week to warn of the economic domino effects of targeting Indian visa holders.
Decoding: A firm that has 15% or more of its employees on H-1B visas is categorized as "H-1B dependent" by law, and most of those firms are based in India, such as Wipro, Infosys and Cognizant. IT services firms with large U.S. workforces, such as IBM, Accenture and Deloitte, for example, use H-1B workers but aren't subject to H-1B dependent rules because the visa workers make up less than 15% of their workforces.
"We don't have a problem with new provisions applying to all companies," NASSCOM president R. Chandrashekhar told Axios in an interview. "But a discriminatory approach that says these provisions are only applicable to a certain type of company does not actually help American workers. That's just an illusion of protection."
The point of view from India:
Misperception about Indian outsourcing companies: "I think the biggest misperception is the belief that these companies are not actually adding any value, and they are bringing low-skilled workers to replace high-skilled American workers at a lower cost." He says Indian companies have been hiring more and more U.S. talent to complement Indian workers as the consulting business expands beyond just IT jobs.
Not a zero-sum game: "The industry in India plays a significant part in enabling American businesses to be as successful as they are and to continue to grow," he said. "The multiplier effect has to be kept in mind."
Tech worker shortage: U.S. companies are facing a shortage of technology talent. Making it harder for Indian skilled workers to come to the U.S. will encourage companies to find workers in other countries, he said.
Strain on India-U.S. relationship: "I would not say it's already damaged it substantially, but it's become a very major concern in the relationship. It's difficult to see a strong and strategic relationship continuing to grow while this issue continues to fester and get exacerbated."
Two-way street: He noted that India's government has allowed unfettered access to American tech companies wanting to operate in the country. The largest number of Facebook and WhatsApp users are in India, and a significant percentage of Google users are there. "We genuinely believe this policy of openness is in our best interests. But how do we argue that case when there is no reciprocity?"
What's next: Issa's bill heads to a markup today after reaching a compromise with California Rep. Zoe Lofgren.
Go deeper: Issa's bill take aim at H-1B visa-dependent outsourcing firms.
Go deeper