Howard Schultz: Companies need to balance profit and conscience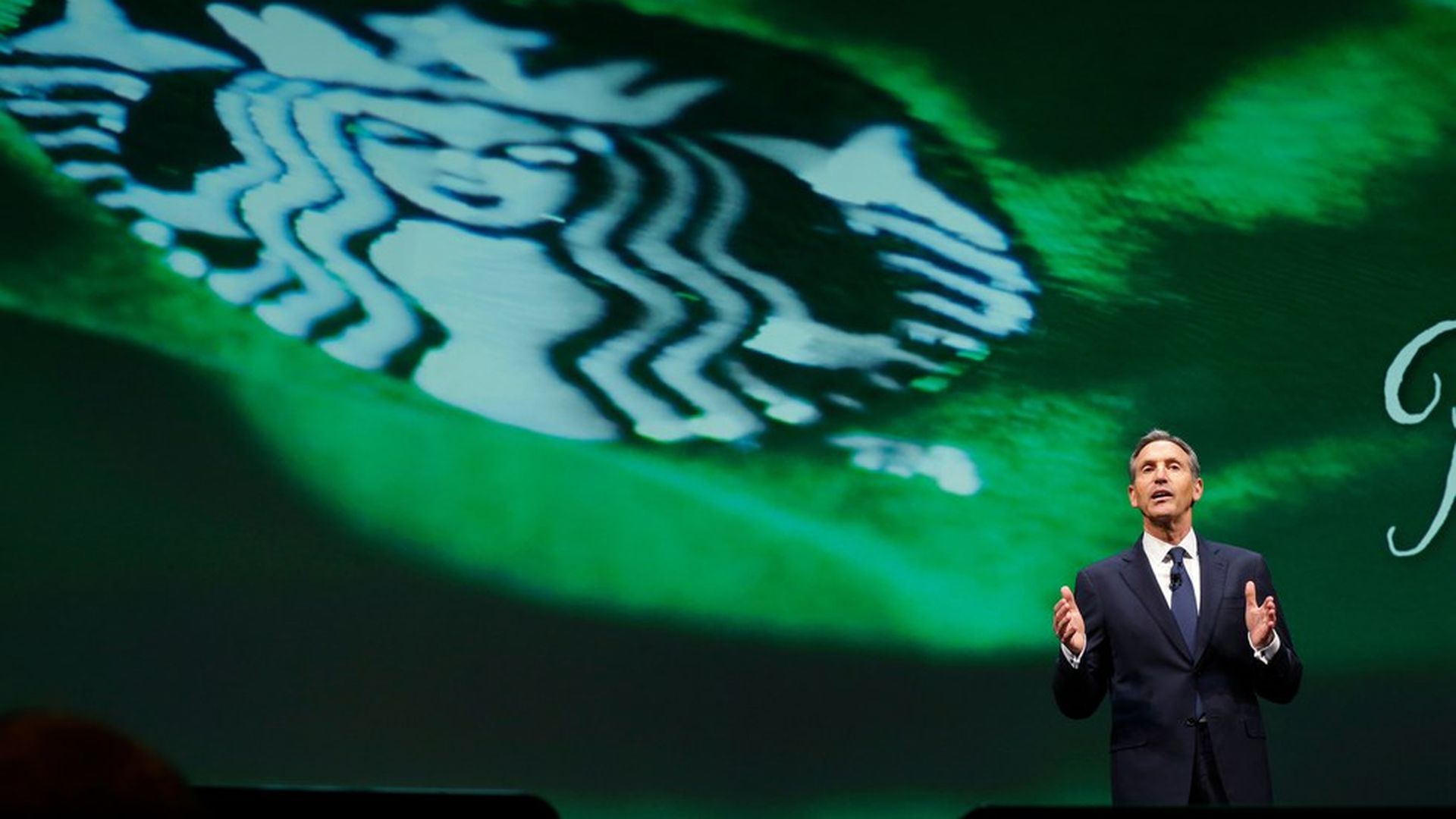 Howard Schultz, who rose from the projects in Brooklyn to create Starbucks, is making it a personal mission to find jobs for some of the least-advantaged and, in his view, most deserving in the United States: veterans and their families, refugees, and, with a job fair today, young people who are neither going to school nor working.
Why it matters: Schultz and his partners are attempting to pull a much-overlooked segment of U.S. society into the work force at a time that public hostility is driven in large part by low and stagnant salaries, and deep pockets of joblessness in inner cities and rust belts.
We caught up with Schultz at the Convention Center in downtown Washington, DC, where Starbucks and about a dozen other companies were conducting interviews with some 1,800 job-seekers aged 16 to 24 years old, seeking to hire as many as possible on the spot, and others over the coming months.
The background: The official national unemployment rate is just 4.4%, but we all know that statistic camouflages a world of misery: Among it is an 11.7% jobless rate for people 16 to 24 — those trying to just get started — and worse for black youths (14.6%) and Latinos (11.9%). Between the lines are young people who have dropped out of school, are jobless, have a criminal record, or are a parent.
Schultz's organization is attempting to attack the whole crippling system. Downstairs from where we spoke, there was a place for job applicants to leave their child while they were interviewed; a place to type up a quick resume; a place to put on a tie and jacket; and one for makeup. For those hired on the spot, there was advice for finding a place to stay, for public transportation, and child care. Companies, Schultz said, need to find "a balance between profit and conscience."
A need for "truthfulness": Regardless of what I asked in our quick, 15-minute chat, Schultz kept returning to what he said the country sorely needs — civility and respect toward one another. "There is a need for more truth and more transparency, not only because of Donald Trump becoming president," he said. "We've needed that for some time. There is a great need for servant leadership and truthfulness."
Go deeper