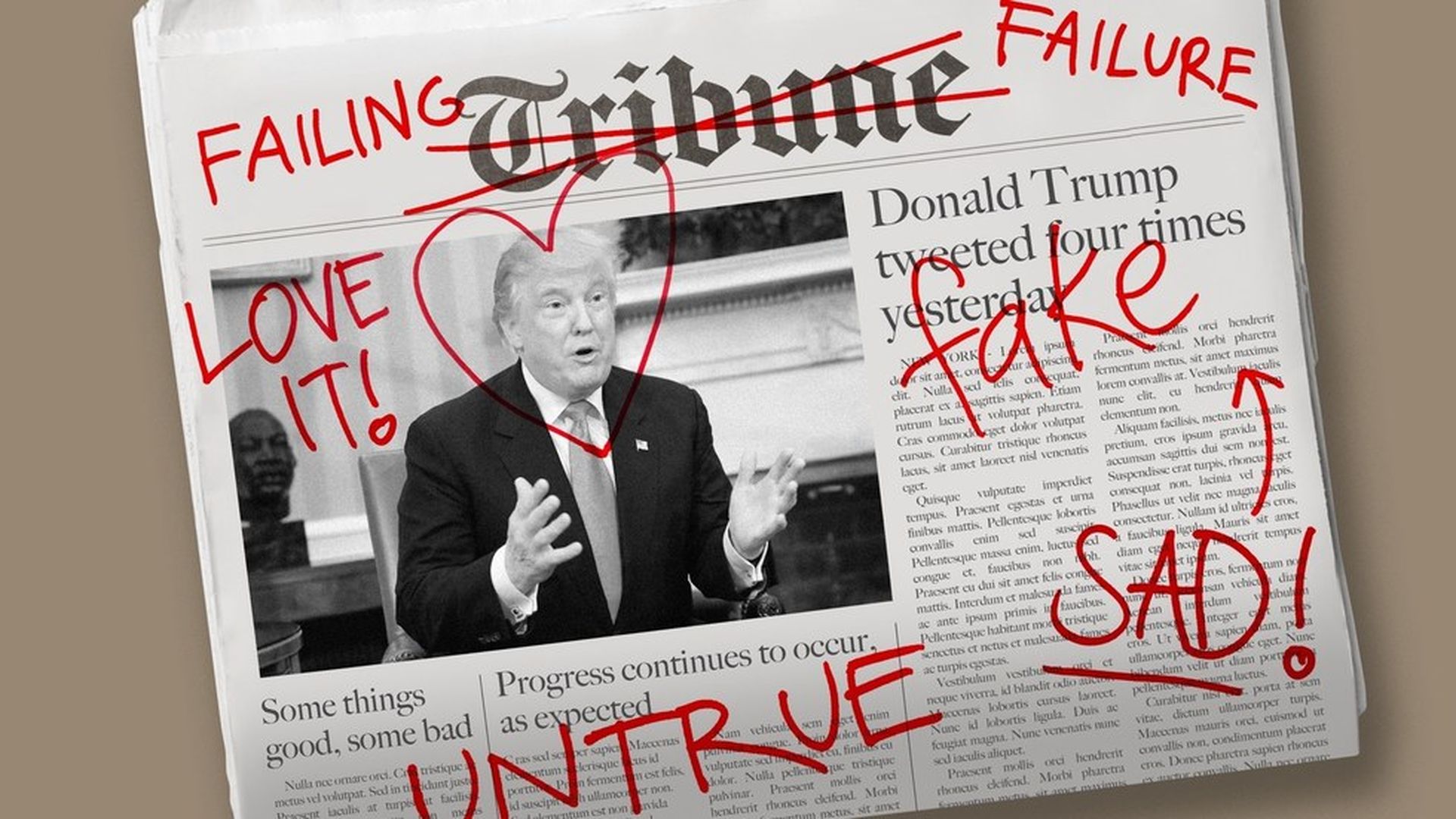 Donald Trump has perfected the art of bashing the media, "the most dishonest people on earth," in his view. But no president has been more obsessed with every form of it, from traditional cable shows to, of course, Twitter. Trump's tactics could serve as clues as to how his administration will oversee and influence different forms of media over the next four years.
Social Media: Trump learned early that his feisty comments spread like wildfire on Facebook and he could reach millions directly on Twitter. He arguably benefited from conservative criticism of Facebook's editorial leanings and the fake news controversy that the company is scrambling to address. Son-in-law and adviser Jared Kushner reportedly told a crowd of business executives that Google and Facebook are now much more powerful than outlets like CNN and The New York Times.
What to expect: The government doesn't oversee online content—that's called the First Amendment—and Trump's team will continue to leverage its massive following on social media (42 million followers and growing) to push his agenda. Google and Facebook are taking steps to reduce the amount of fake news swirling on their platforms, and lawmakers have so far left it to the companies to sort out. But the controversy is far from over.
Tech companies are wary of Trump's policies, from possible changes to the high-skilled worker visa program and corporate tax laws to interference with mergers and data-related requirements.
Trump's camp is aware of Silicon Valley's disdain for him, and they haven't forgotten how hard some tech execs worked to defeat him in November. He's acknowledged some giants' dominance and has hinted he'd like to see more competition.
There is a faction inside the White House, including chief strategist Steve Bannon, who do not have a romantic view of Silicon Valley and want to find ways to punish companies that create wealth, not jobs, or move too many jobs overseas.
Cable: He's addicted to MSNBC's Morning Joe, is clearly still glued to CNN despite his sharp criticism of its coverage, and enjoys frequent Fox News appearances. He's proven to be deft at exploiting these relationships to shape the news, and he has plenty of experience striking deals with media executives. But that also gives him power to influence media merger outcomes. A major test will be AT&T's $85 billion proposed takeover of Time Warner, which Trump has vowed to block.
What to expect: Some industry insiders chalked up the hostility as retribution for CNN's campaign coverage. But a personal grudge against CNN won't stand as sound rationale for blocking the deal. Trump's antitrust advisors on the transition team—Joshua Wright and David Higbee—both have business-friendly views on competition policy and told AT&T the deal would get a fair shake from regulators. And Attorney General nominee Sen. Jeff Sessions said he sees "dangers" in political interference in merger reviews.
AT&T and Time Warner are avoiding transferring broadcast and satellite licenses to dodge an FCC review. It's possible that Trump's antitrust heads could require spinoffs (bye-bye, CNN?) or other conditions before greenlighting the deal.
Given his general distaste for media consolidation, Trump could nudge the FCC to use its media oversight powers to cudgel his frenemies in the press. (This may be tricky, as the FCC is an independent agency.)
TV Stations: Trump's fond of shaming outlets over unfavorable press. To get better media coverage during the campaign, Trump's camp reportedly struck a deal with Sinclair Broadcast Group to give its stations more access in exchange for more even coverage. Local TV stations are a crucial avenue to swing-state markets that helped him get elected, and he'll want to make sure he can get his message to these viewers.
What to expect: TV stations have to abide by certain standards to maintain their broadcasting license from the FCC. Trump's FCC is unlikely to have the grounds to revoke licenses, but can use its bully pulpit to try to shape broadcaster's behavior. That alone would get a lot of attention from a base that distrusts the mainstream media.
Remember, broadcasters have deep relationships with Washington Republicans—incoming House Energy & Commerce Chairman Greg Walden used to be one—so they can breathe easy in other areas (like restrictions on joint sales agreements and cross-ownership) where the FCC is likely to take a de-regulatory approach.
Newspapers: Trump is a tabloid junkie, a master at pitting papers against each other and bad-mouthing coverage he doesn't like. On the campaign trail, he threatened to "open up libel laws so when [publications] write purposely negative and horrible and false articles, we can sue them and win lots of money." And, if his transparency record this far is any indication (Exhibit A: tax returns), Trump will likely be hostile to the Freedom of Information Act, the most powerful tool for accessing government documents.
What to expect: Chances of Trump blowing up libel or FOIA laws are slim. Loosening libel laws and its protections for press writing about public figures would require overturning a 1964 Supreme Court decision or changing the Constitution itself. FOIA law would have to be repealed by Congress, and there is little appetite for that.
Still, Trump can keep using his bag of tricks: threaten to sue publications that are critical of him and find ways around releasing information -- all the while getting more coverage and, ironically driving big newspaper subscriptions in the process.
He'll continue to call out reporters he feels are trying to undermine him, calling coverage "fake news" when it suits him. As he said at his pre-innauguration press conference, "All I can ask for is honest reporting." His most likely early moves will be to give mainstream media outlets worse seating in the press room and less prominence and fewer questions at his events.
Go deeper