How Trump's first visit to China was similar to Obama's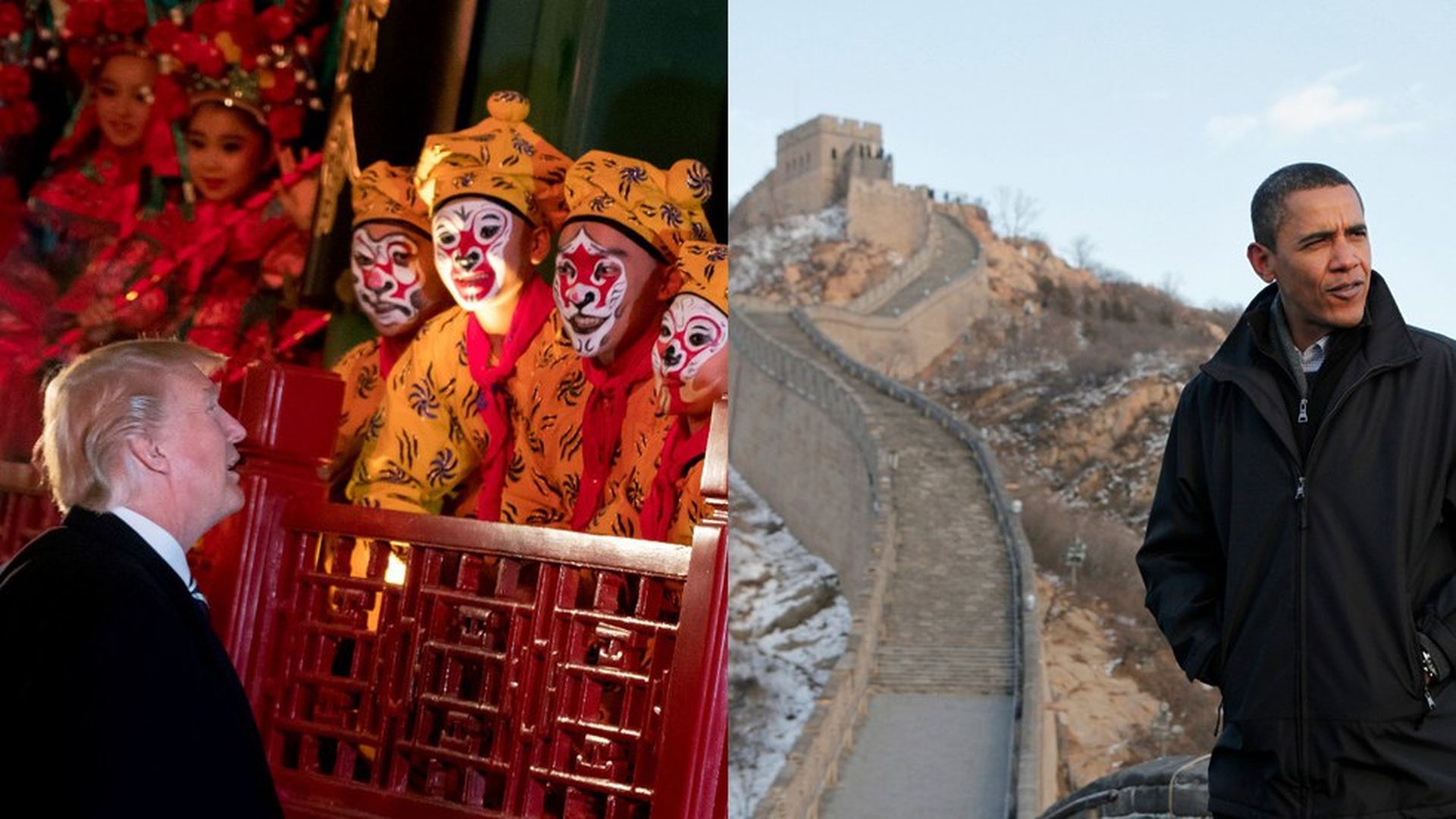 President Trump has largely taken it easy on China during his two-day stop in Beijing, something Barack Obama was criticized for during his first trip to China as president, which took place under surprisingly similar circumstances.
The parallels: Obama and Trump both visited China in November of their first years in office as a part of larger multi-country swings through Asia as major legislative packages hung in the balance back home. And each of their trips garnered criticism for being largely deferential to their Chinese hosts — though both presidents might argue that their decisions were part of a larger strategy to establish stronger relations with the United States' biggest competitor on the world stage.
Their prior rhetoric
During his 2008 campaign, Obama called China a currency manipulator, which he cited as the cause for the United States' trade deficit with the increasingly powerful country. But he largely took a moderate path on China at this stage in his presidency, hoping to bait them into supporting sanctions on Iran or taking action on climate change.
Trump took a strikingly hard tack on China — now a bonafide superpower — throughout his 2016 campaign, accusing the country of unfair trade practices, including steel dumping on the international market, on multiple occasions. The apotheosis of Trump's criticism of China came in May 2016, when he declared that he wouldn't "continue to allow China to rape our country" via currency manipulation.
The lead up
Obama had concentrated much of his political capital at home attempting to push the Affordable Care Act through Congress in the months before and after his stop in Beijing in mid-November 2009. That left him unable to bring a plan to China for some of his more grandiose visions, like action on climate, as congressional Democrats already had too much on their plate. And notably, Obama postponed a meeting with the Dalai Lama just before his trip to avoid tensions with Chinese leaders upon his arrival.
Trump's relationship with China heading into his visit had also been a balancing act between his coarse rhetoric regarding trade imbalances and his attempts to pressure the Chinese into action on North Korea. He seemed to have some success on the latter issue, getting China to agree to stop its banks from doing business with North Korea.
While there
China largely held firm against Obama's biggest demands during his trip, refusing to take action on the issues most important to the U.S. like Iran and human rights. Obama's town hall meeting with Chinese students in Shanghai was blocked from wider broadcast around the country. During joint press statements with then-Chinese President Hu Jintao, Obama mentioned human rights — but no questions were taken from reporters. Perhaps tellingly, he mused while standing on the Great Wall during his visit, ""It gives you a good perspective on a lot of the day-to-day things. They don't amount to much in the scope of history."
Trump, too, remained largely deferential to his Chinese hosts, soaking in the pageantry of Chinese welcome ceremonies and also agreeing to a demand that no questions be asked during his press statement with Xi. Notably, his compliment to China on "taking advantage" of the U.S. on trade was a much softer approach than he showed on the campaign trail. One concession Trump did get from his hosts: the ability to tweet from behind China's Great Firewall.
The headlines
From Obama's trip:
From Trump's trip:
Go deeper