How the Russia probe closed in on Michael Flynn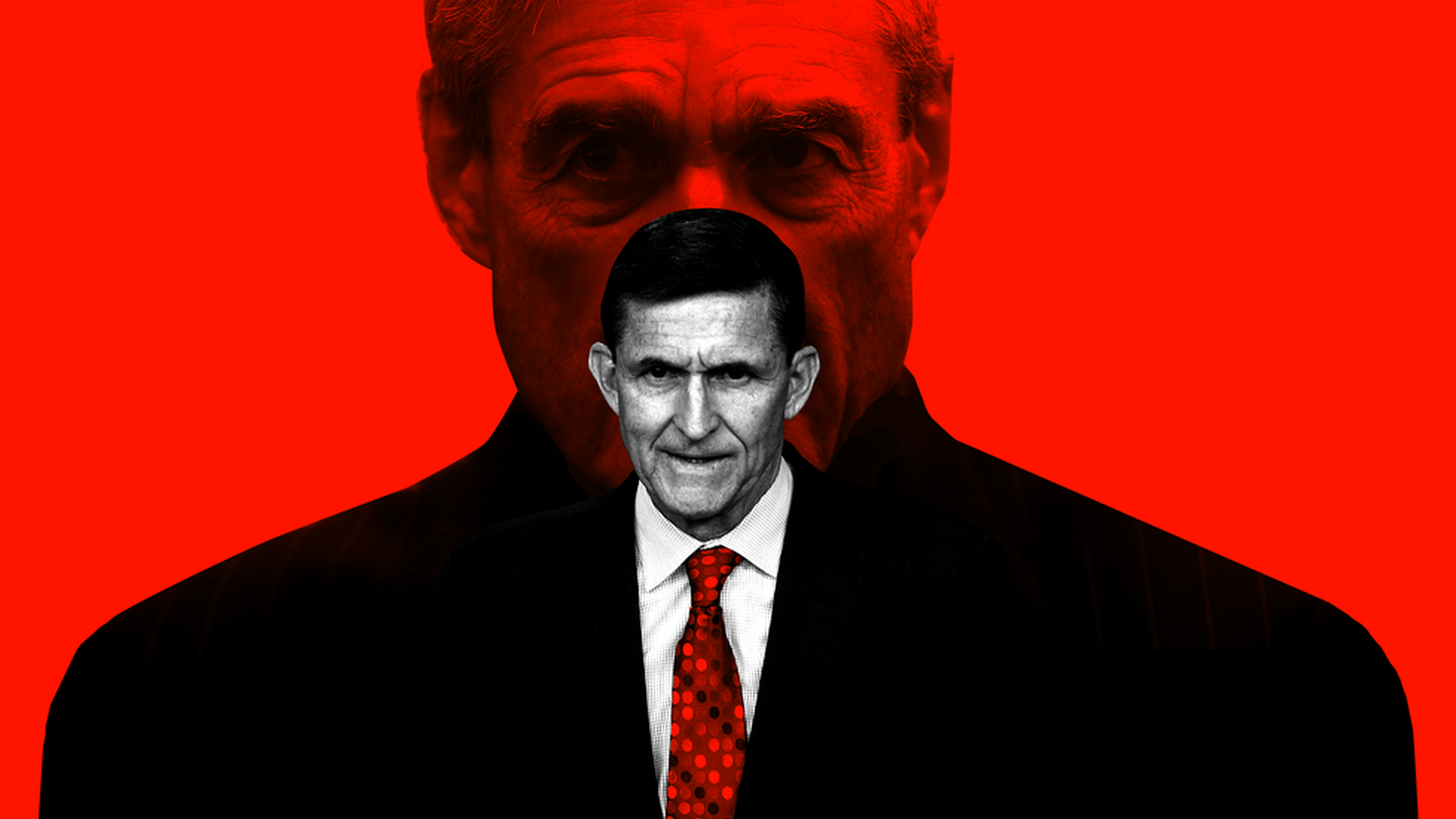 Michael Flynn, President Trump's former National Security Advisor, pleaded guilty Friday to lying to the FBI.
Special counsel Robert Mueller's Russia investigation, conducted in secret, burst into public view in late October with indictments against former Trump campaign manager Paul Manafort and his associate and fellow campaign staffer Rick Gates. With campaign foreign policy advisor George Papadopoulos already having pleaded guilty, Flynn is the fourth Trump associate to be caught in Mueller's net. Below, a look at how we got here...
2014
Flynn is ousted from his post as director of the Pentagon's Defense Intelligence Agency. "[Flynn's] vision in DIA was seen as disruptive," a former Pentagon official tells the Washington Post when the firing is announced. Flynn retires from the military, and founds the Flynn Intel Group.
2015
August: Flynn reportedly first met Donald Trump at a 90-minute meeting in New York
December: Flynn travels to Moscow to attend a dinner celebrating Kremlin-funded news network RT's 10th anniversary. He sits next to Vladimir Putin at the gala and is paid $45,000 to speak at the event, per NBC.
2016
February: Flynn begins serving as an informal advisor to Trump.
July: Trump, now the presumptive Republican nominee, considers Flynn for VP before choosing Mike Pence. Later that month, Flynn gives a speech at the Republican National Convention during which he leads a chant against Democratic nominee Hillary Clinton: "Lock her up! Yes, that's right, lock her up!"
Aug. 9: Flynn signs a contract with a Dutch firm, Inovo BV, which is owned by a Turkish man with close ties to Ankara. Flynn was promised $600K in exchange for three months of work for the Turkish government.
Nov. 8: Flynn publishes a pro-Turkey op-ed on the Hill's website. That day, Trump is elected president.
Nov. 10: President Obama meets with President-elect Trump. Obama reportedly warns Trump against hiring Michael Flynn as National Security Advisor.
Nov. 11: Daily Caller reporter Chuck Ross reports that Flynn's firm had been hired by a Dutch company with ties to Turkey, pointing to Flynn's op-ed at The Hill as a potential example of such work. That story prompts the first FBI investigation into Flynn.
Nov. 18: Trump announces that he will name Flynn National Security Advisor.
Nov. 30: Flynn is contacted by the Department of Justice's National Security Division for more information. Flynn's contract with Inovo BV ends. His firm receives $530,000 rather than $600,000 as they had not completed a requested video.
Dec. 1: Flynn terminates his lobbying contract with the Senate, claiming he had received less than $5,000 from Inovo BV.
Dec 29: The Obama administration announces sanctions against Russia for interfering in the 2016 election. In a call with Russian ambassador to the U.S. Sergey Kislyak, Michael Flynn discusses the sanctions and potentially relaxing them when Trump takes office. The call is monitored by U.S. intelligence officials, as part of standard surveillance of foreign diplomats.
Dec. 30: Trump tweets in approval of Putin's comment that Russia will not fight the sanctions.
2017
Jan. 4: Flynn and his lawyers tell the Trump transition team about the DOJ's investigation into his work with Turkey.
Jan. 13: Sean Spicer denies that Flynn and Kislyak discussed sanctions in a briefing call.
Jan. 14: Pence talks to Flynn. Flynn tells him the conversations did not discuss U.S. sanctions against Russia.
Jan. 15: Pence, on "Face the Nation", denies sanctions were discussed. Reince Priebus denies it on "Meet the Press."
January, days before inauguration: Flynn denies Susan Rice's request to sign off on a plan for retaking Raqqa from ISIS with the help of Kurdish forces, a plan vehemently opposed by Turkey. He also files a White House financial disclosure form which leaves out certain dealings with foreign entities.
Jan. 20: Inauguration Day. Flynn becomes National Security Adviser.
Jan. 23: Spicer's first briefing. He tells reporters that Flynn's conversation with Kislyak focused on the following four topics, nothing more: "a plane crash that claimed the lives of a Russian military choir; Christmas greetings; Russian-led talks over the Syrian civil war; and the logistics of setting up a call between Putin and Trump," per the Post.
Jan. 24: The FBI interviews Flynn.
Jan. 26: Acting Attorney General Sally Yates meets with White House Counsel Don McGahn. She tells him 1) that Flynn did discuss sanctions 2) VP and others are repeating false information to the American people 3) Flynn could be blackmailed.
Feb. 9: Washington Post reports that Flynn did discuss sanctions.
Feb. 13: Flynn is forced to resign after a Post report reveals that White House officials knew for weeks that he had lied about the nature of his calls with Kislyak.
Feb. 14: Trump reportedly asks FBI Director James Comey to drop the investigation into Flynn.
Mar. 7: Flynn files paperwork at the DOJ, retroactively filing as a foreign agent and disclosing that he had been paid $500K to work on Turkish interests last year.
Mar. 31: Flynn delivers an updated financial disclosure form to the White House, obtained by Politico, in which he details three different speeches — previously undisclosed — that he gave in exchange for money from Russian organizations. He reports accepting at least $5,000 from RT as well as $11,250 a piece from Russian cybersecurity firm Kaspersky Lab and the airline company Volga-Dnepr Group, which is owned by a Russian businessman.
May 7: Robert Mueller named Special Counsel for Russia probe. He takes over the investigation into Flynn.
Oct. 30: Manafort and Gates are arrested, and it is revealed that campaign foreign policy adviser George Papadopoulos has pleaded guilty to lying to investigators.
Nov. 5: NBC News reports, citing sources familiar with the investigation, that Mueller has sufficient evidence to bring charges against Flynn.
Nov. 23: The NY Times reports that Flynn's lawyers have ended an information-sharing agreement with Trump's in a sign he plans to cooperate with Mueller in hopes of a plea deal.
Nov. 28: The Wall Street Journal reports that Flynn worked with private-sector backers to promote a controversial Middle East nuclear-power plan in the White House.
Nov. 29: The NY Times reports that Jared Kushner met with Mueller to discuss Flynn.
Dec. 1: Mueller's office announces charges against Flynn for "willfully and knowingly [making] false, fictitious and fraudulent statements and representations" to the FBI.
Go deeper
Go deeper