How Marine Le Pen could take France out of the EU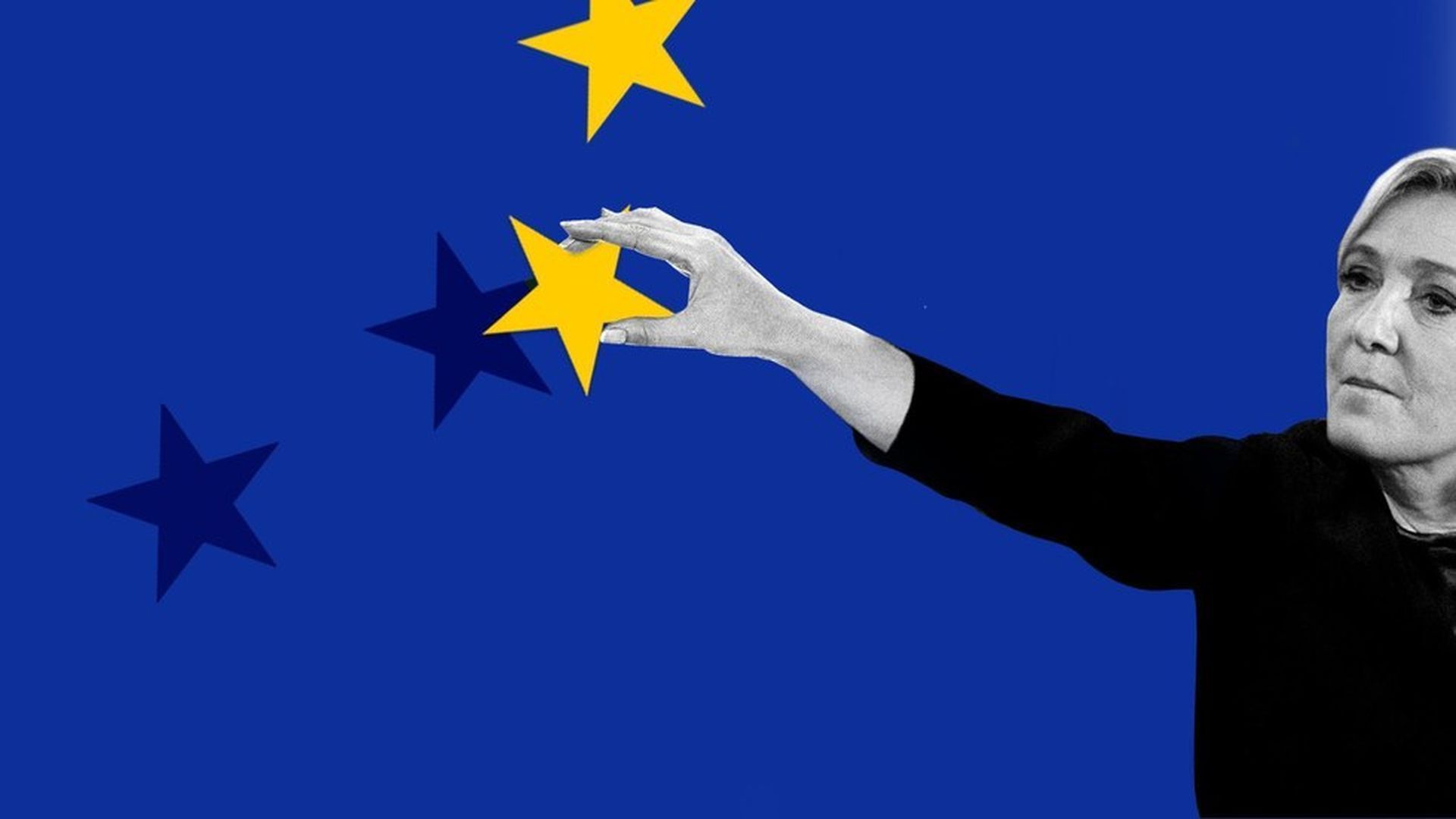 The first round of the French presidential election is this weekend and far-right populist Marine Le Pen has been near the top of the polls. She's likely to make it to the second round, where most pundits expect her to lose — just like Brexit and Donald Trump.
Focus on this: If Trump's victory taught us anything, it should be that Le Pen certainly might win the French presidency. But Trump taught us something else — talking the talk is easy, but following through once in power can be much harder. Le Pen's call to destroy the "anti-democratic monster" of the EU works well as a sound bite, but implementing it won't be easy.
Le Pen's plan upon assuming the presidency, from her manifesto:
A 6-month negotiation period to revamp France's place in the EU and roll back its influence — ending the visa-free Schengen Zone and giving nations an option to revert to their own currencies.
After 6 months, Le Pen would hold a referendum to leave the EU, only recommending against Frexit if her desired conditions are met.
Tougher than it sounds: Frexit would be more difficult than Le Pen lets on because France's participation in the EU is codified in its constitution.
In order to amend the constitution, Le Pen would need both houses of Parliament to approve an amendment. To make it official, she can either send it back to a joint session of Parliament that requires 60% approval or, per her promise, put it to the people in a referendum.
But Le Pen's National Front has just 4 members of Parliament right now — 2 in the National Assembly and 2 in the Senate — out of 925 total seats. Barring landslide gains in June's legislative elections, it's borderline inconceivable that she could get a Frexit amendment approved in both houses, let alone secure 60% of the votes in a joint session.
An alternative path: Charles de Gaulle circumvented the constitutional procedures surrounding referenda in 1962 when he took the question of a direct presidential vote to the people. He utilized a section of the constitution that allows the prime minister — selected by the president — to request a referendum on the basis of "the organization of public powers." There's now a constitutional provision requiring such changes to go in front of a constitutional council, but that might be a fight Le Pen would relish.
Will she hear the people sing? The European Commission's latest Eurobarometer says that 29% of French are positive about the EU, 39% are neutral, and 31% are negative, but when faced with the stark question of leaving the EU last month, 66% of French citizens said they'd stay in.
Go deeper