How late-night shows ridiculed O'Reilly vs. Weinstein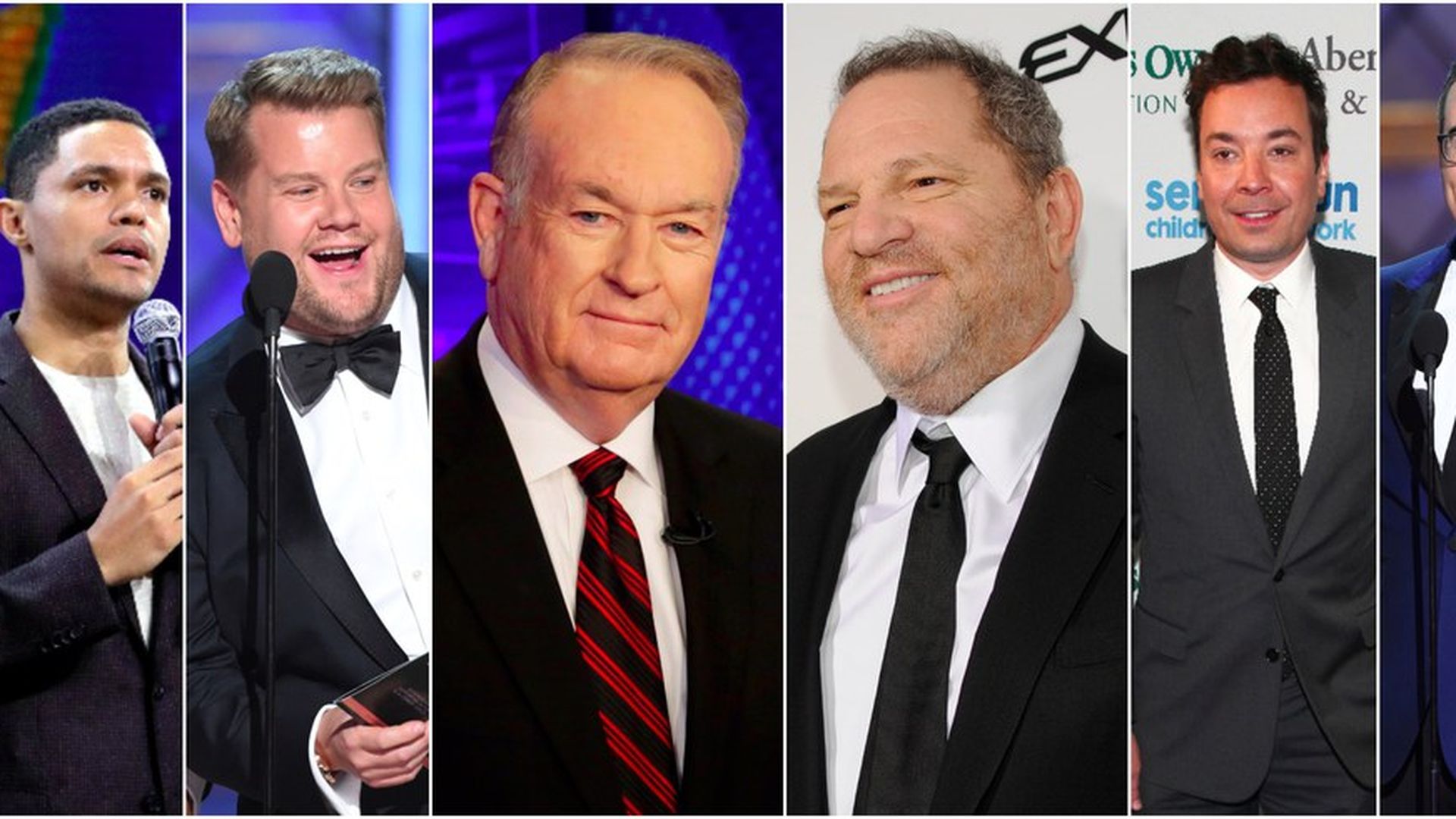 Film producer and film studio executive Harvey Weinstein has been fired from the film company he co-founded after a series of sexual harassment allegations against him emerged last week. While the allegations are reminiscent of former show host Bill O'Reilly's scandal, which resulted in his firing from Fox News, the treatment from late night show hosts has been strikingly different. O'Reilly provided perfect fodder for late-night skits and monologues, while only John Oliver fully addressed the Weinstein scandal.
Why it matters: O'Reilly was a conservative with whom most show hosts disagreed on a number of issues, while Harvey Weinstein was a fellow Hollywood liberal. But it's important to remember that O'Reilly was much more of a household name than Weinstein.
Saturday Night Live
Bill O'Reilly: After Bill O'Reilly left Fox News, SNL dedicated a skit mimicking the "O'Reilly Factor" and mocking his sexual advances toward women.
Weinstein: SNL had written Weinstein-related jokes for their performance, but didn't end up doing them, the New York Times reported. A person familiar with SNL's decision to scratch their Weinstein segment told the Times that Lorne Michaels was afraid it was a NYC media story, and would not be as familiar to a national audience.
The Tonight Show with Jimmy Fallon:
O'Reilly: "Today Fox News announced that Bill O'Reilly has been fired after his sexual harassment scandal. Experts say that it's not likely that any self-respecting network will hire him. Then CNN said, 'Welcome aboard.' Get this, I saw that earlier today O'Reilly actually met with Pope Francis at the Vatican. When he saw O'Reilly go into confession, the next guy in line said, 'You know what, I"ll come back tomorrow.'"
Weinstein: *Crickets*
Jimmy Kimmel Live:
O'Reilly: Jimmy Kimmel's show also led his show with the news of O'Reilly being fired. "What did Bill O'Reilly do today while this was all going on? He met the Pope. For real, he went to the Vatican and waiting in the VIP long to meet the Pope... Anyways, Fox News decided to extend Bill's vacation to forever. I tell you, of all the jobs President Trump promised to create, you wouldn't think Bill O'Reilly's would be one, but it is." He then revealed his own replacement show, "The Guillerm O'factor."
Weinstein: Crickets on air. Kimmel tweeted in response to a question from Donald Trump, Jr. asking for comment on the Weinstein story: "You mean that big story from the failing, liberal, one-sided @nytimes? I think it is disgusting."
Late Night with Seth Meyers:
O'Reilly: Following the news of Bill O'Reilly's millions of dollars of settlements, Seth Meyers used his show to criticize Bill O'Reilly and Fox News' relationship with President Trump. "If it seemed outrageous to you at the time that O'Reilly would dismiss Trump's apparent sexual assault confession as crude guy talk, it might make more sense now after the news that broke over the weekend."
Weinstein: *Crickets*
The Late Show with Stephen Colbert:
O'Reilly: Steven Colbert also led his show with a segment dedicated to mocking O'Reilly and his firing from Fox News. "Over the years, I have talked one or two time about Fox news host and bold fresh piece of humanity, Bill O'Reilly... He had the number one cable new show for 15 years, until today. Because Bill O'Reilly has been fired by Fox News! ... He's been a host on my show, and I take no pleasure in his downfall. I'm not going to sit here and publicly gloat.Jimmy can you take the camera off me for a second?"
Weinstein: No discussion on air. [Update: Colbert didn't tape Friday.] Colbert tweeted: "So far, Harvey Weinstein has checked off 'Sex' and 'Lies,' but I really don't want to see the Videotape."
The Late Late Show with James Corden:
O'Reilly: "I hope everybody had a great day. One person who hasn't has a great day is Fox News Commentator Bill O'Reilly who has been fired from the network after years of multi-million dollar sexual harassment settlements. I mean, Fox News had no choice, the have a very strict '28 strikes and you're out' policy.... This is a lesson for all of us. If you behave like an animal who sexually harasses women, you can't host a toalk show. You can be president, but you can't host a talk show."
Weinstein: *Crickets*
Daily Show with Trevor Noah:
O'Reilly: Shortly after the news broke that O'Reilly would not be returning to Fox News, Trevor Noah told a series of O'Reilly jokes on his show, including playing an old clip of O'Reilly throwing a fit on live TV. "We assume that they'll change the name of the show, but we also assumed Fox would've fired O'Reilly after the third time he was accused of sexual harassment... So let's give Bill his proper due. Because you may not know this, but Bill O'Reilly was the biggest figure in the history of cable news. At one point, no one even come close... because they were afraid that he might sexually harass them."
Weinstein: Trevor Noah mentioned the Weinstein scandal during his segment mocking Cam Newton for his sexist remarks toward a female reporter, "It's funny, right? Cause women.. they don't know... the things about the... Look! Harvey Weinstein!"
John Oliver:
O'Reilly: "Bill O'Reilly, who scientists hypothesize is kind of a dent nebula of boner and racism, has been paying out settlements for alleged harassment for years. And the details are pretty disturbing here, with the victims claiming things like verbal abuse, lewd comments, unwanted advances and phone calls in which it sounded as if Mr. O'Reilly was masturbating. Now I hate to ask this, but what does that sound like?"
Weinstein: Oliver was the only late night comedian to specifically mention and condemn Weinstein's actions.
Go deeper