How John Kelly risks his credibility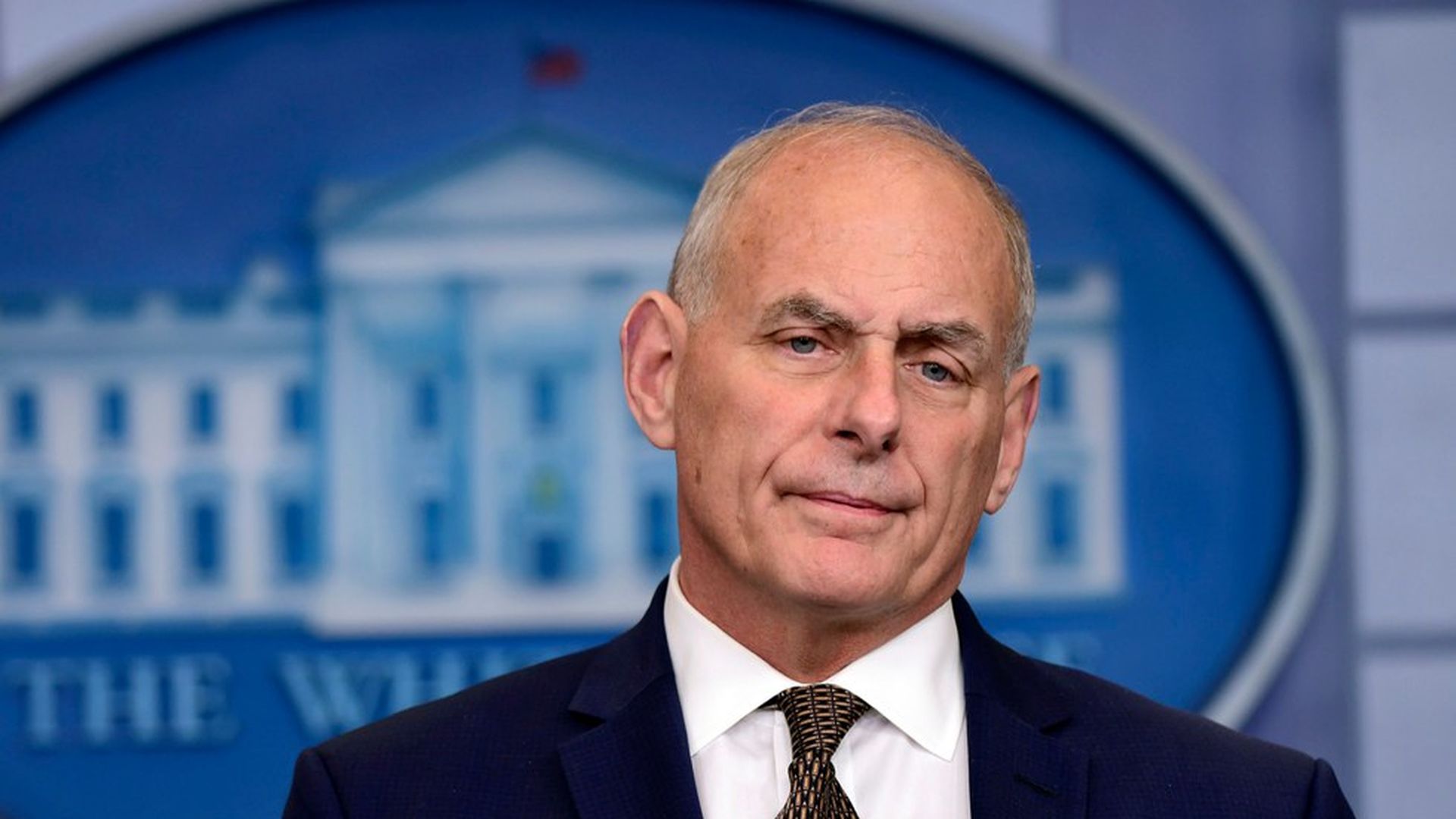 Upon his ascension to White House chief of staff, Gen. John Kelly was widely viewed as a moderating force for the Trump administration. But, like any good soldier, he stepped straight into the breach for President Trump in the culture wars this week, branding Robert E. Lee as "honorable" and refusing to apologize to a Gold Star widow in an interview with Fox News' Laura Ingraham.
What we're hearing: Credibility is currency, especially in Washington, and Kelly is already seeing his portrayal in the media change after he took a very public, partisan stance that undermined his authority as Trump's voice of reason.
Swan has the inside look from the White House:
"Several administration officials have told me, after the Laura Ingraham interview on Fox, that they worry Kelly is undermining his unique status. They say the more of these appearances he does — the more he fights polarizing culture wars — his public image will quickly morph into more of a sharp-elbowed right-wing operative than an above-the-fray four star general."
A taste of the shifting headlines on Kelly:
The New York Times: "Pitched as Calming Force, John Kelly Instead Mirrors Boss's Priorities"
"For all of the talk of Mr. Kelly as a moderating force and the so-called grown-up in the room, it turns out that he harbors strong feelings on patriotism, national security and immigration that mirror the hard-line views of his outspoken boss. With his attack on a congresswoman who had criticized Mr. Trump's condolence call to a slain soldier's widow last week, Mr. Kelly showed that he was willing to escalate a politically distracting, racially charged public fight even with false assertions."
AP: "The real John Kelly slowly revealing himself at White House"
"Much has been made of the imagery of Kelly silently lurking on the sidelines of presidential addresses, seeming to cringe when Trump gets out of line. But it may be wishful thinking by Trump's critics to believe that he's tugging the president in another direction."
The Washington Post: "Kelly was brought to the White House to impose order. Now he's stirring controversy."
"'He violated the first basic rule of the chief of staff, which is not to make yourself the news of the day,' said former defense secretary Leon E. Panetta, who worked with Kelly in the Pentagon and also served as White House chief of staff. 'I have no idea what he was trying to say because history is not on his side.'"
Commentary: "General Kelly's Disastrous Interview"
"John Kelly's decision to weigh in on cultural and political matters has been clarifying, but that clarity is not always so laudable. The comments he made on Fox range from bewildering to reprehensible."
Go deeper