How Congress could get Trump to cough up his tax returns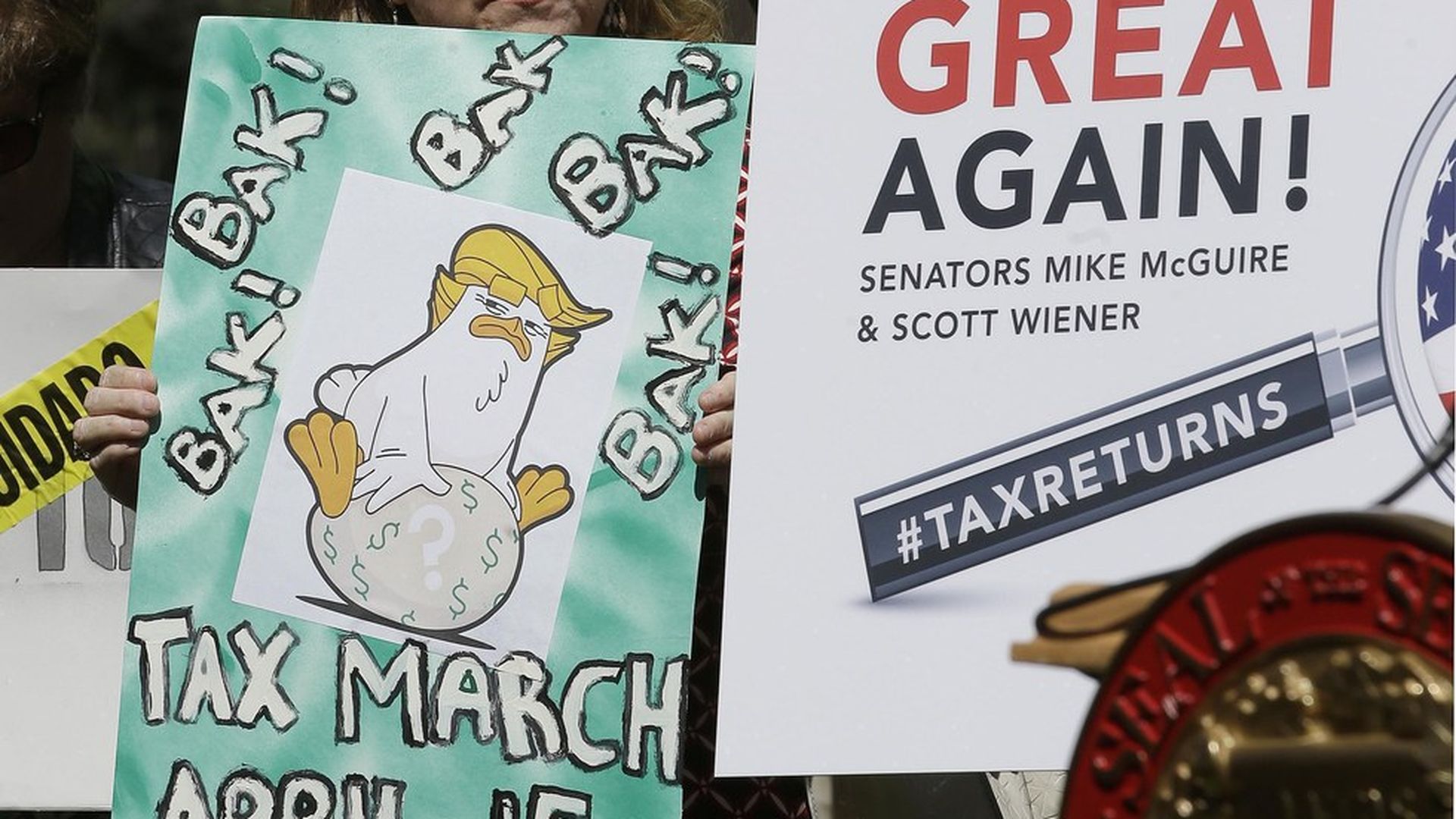 Hundreds of marches are taking place across the country today, pressuring President Trump to release his tax returns. So far, he's stubbornly refused — first claiming that he couldn't release his tax returns because they were under audit with the IRS, then claiming nobody cared about his tax returns and finally sending Kellyanne Conway to say, "It's not going to happen."
Why they matter: The marches only work if they put enough pressure on Congressman to join the efforts in forcing Trump to release his tax returns. So far, there are three ways Dems could manage to get Trump's tax information — through the emoluments clause, subpoena or a petition.
1. Emoluments Clause
Both the watchdog group Citizens Responsible for Ethics in Washington (CREW) and House Democrats are trying to get Trump's tax returns to see if Trump violates the emoluments clause by owning so many international hotels and resorts. The emoluments clause of the Constitution makes it illegal for federal officials to receive gifts from foreign officials.
Likelihood: CREW filed their lawsuit two days after the inauguration, but have an unusual claim, which might prevent them from making it to court. The last attempt by House Dems to push a resolution was blocked by Republicans at the end of March.
2. Subpoena
A Democrat's dream would be to get Trump on both Russia and his tax returns. As the House Intelligence Committee investigates Trump's ties with Russia, they could subpoena Trump's tax returns to look for signs of collusion.
Likelihood: So far, there are no signs of the intelligence committees requesting Trump's tax reforms, some Dems suspect this possibility is why Republicans refuse to have an independent investigator for the case.
3. Petition
House Dems are now pushing a "discharge petition" on a bill, which would require all U.S. presidents — including Trump — to disclose their tax returns or the Office of Government Ethics and the FEC can request the returns from the Treasury and make them publicly available.
Likelihood: So far, Mark Sanford and Justin Amash are the only two Republicans to cosponsor the bill, although Walter Jones supported the House resolution requesting Trump's tax returns as part of an emoluments investigation.
Go deeper