How Best Buy succeeds in the age of Amazon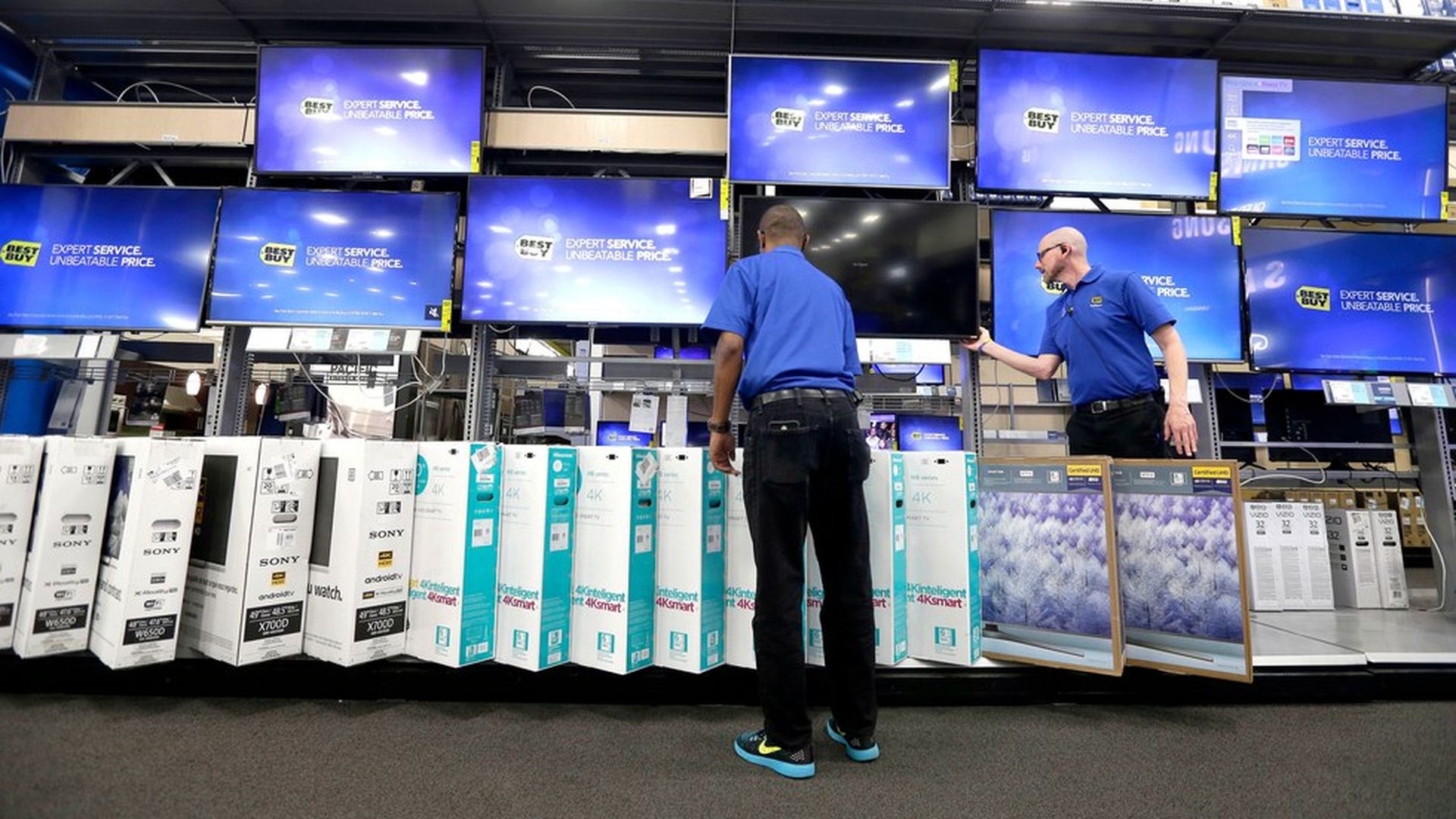 Despite Amazon's tightening grip on the retail market, Best Buy has consistently surprised Wall Street with its revenue numbers, and its stock price continues to rise, per the New York Times' Kevin Roose.
Why it matters: Other big electronics chains like Circuit City, Radio Shack and HH Gregg have gone bankrupt or shut down, but Best Buy has managed to stay afloat with some luck and smart, revamped business practices.
1. The price-matching guarantee: Hubert Joly, Best Buy's CEO, told the NYT, "Until I match Amazon's prices, the customers are ours to lose." While the price-matching promise loses Best Buy some money, it also keeps customers.
2. Good customer service: Joly said that since he couldn't beat Amazon's speed, he focuses on customer service that robots can't provide — he reinstated an employee discount, began an extensive retraining program and rolled out in-house, pre-purchase consultations with the "Geek Squad" to help customers decide what to buy.
3. Adapting stores to online ordering: Best Buy brick-and-mortar stores now also serve as small warehouses for online orders in their areas, which has decreased shipping time. Best Buy also allows suppliers to set up their own on-brand showroom kiosks inside the store.4. Penny pinching: Jolly has let leases on less-successful stores expire, laid off managers, consolidated overseas divisions, reassigned Geek Squad members, and cut prices. More creatively, Best Buy changed the handling process to decrease the number of flat screen TVs that were dropped and broken. 5. Luck: As Roose wrote, "It's lucky that the products it specializes in selling, like big-screen TVs and high-end audio equipment, are big-ticket items that many customers still feel uncomfortable buying sight unseen from a website. It's lucky that several large competitors have gone out of business, shrinking its list of rivals. And it's lucky that the vendors who make the products it sells, like Apple and Samsung, have kept churning out expensive blockbuster gadgets."Go deeper with the full NYT article here.
Go deeper