How and when presidents pivot (and what Trump could do)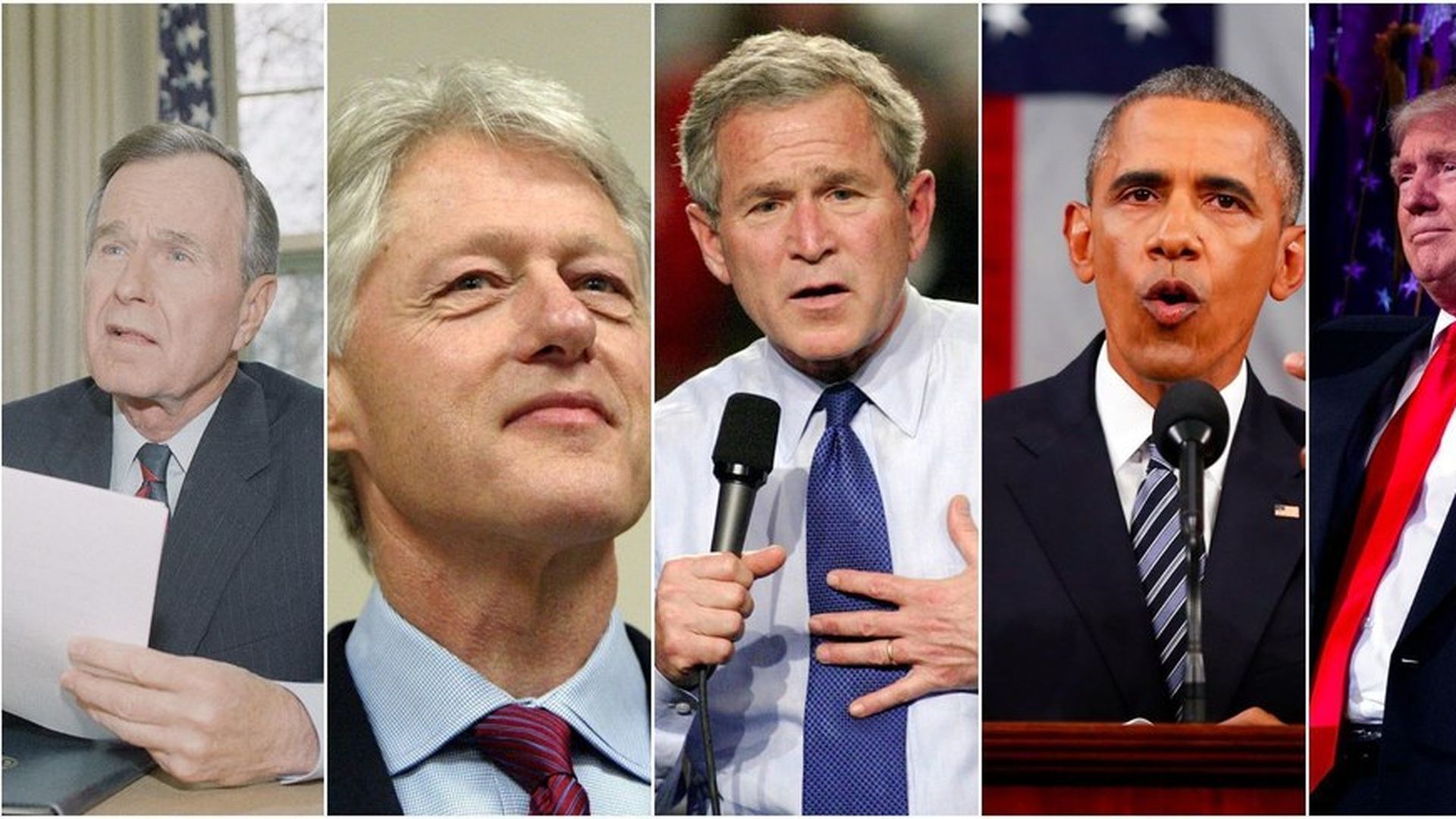 Presidents frequently have to change their tactics or message at some point during their presidency, as D.C. lobbying firm Mehlman Castagnetti points out in their "Understanding Trump's Washington" overview:
George H. W. Bush relented to the Democratic Congress and agreed to tax increases to pass a budget in 1990.
Bill Clinton reformed welfare and agreed to a more balanced budget after a disastrous 1994 midterm election for Dems.
George W. Bush sent more troops to Iraq and backed an immigration bill allowing easier paths to citizenship after a bad 2006 midterm election for the GOP.
Barack Obama, in 2014, used an Executive Order to pass DACA and promoted Clean Power Plan and the Paris Accord after failing to pass bipartisan legislation.
Four possible Trump pivots that they point out:
Pushing policies that Dems will agree to. Trump already plans to work on infrastructure and tax reform simultaneously, hoping to win some Democratic support, as Jonathan Swan reported here.
Full Bannon populism. This doesn't seem to be happening (as Mike Allen and Swan point out here), but he could jettison the NYC influence and go for his base.
Take on the Freedom Caucus and let the more moderate GOP work with Dems. Tump failed at winning over the more conservative Freedom Caucus when it came to the Obamacare repeal bill, which still had zero Democratic support.
Focus on military and foreign policy success. Just this past week, he has sent harsh warning to North Korea via Twitter, met with Chinese President Xi Jinping, managing to get his promise of help with North Korea and signed off on an airstrike on Syria after Assad's chemical weapon attack on civilians. Now's the time for Trump to pivot in this direction.
And 7 positions he's changed in recent days:
Russia
NATO
Chinese currency manipulation
His tax plan
The national debt
The Export-Import Bank
Janet Yellen's future at the Federal Reserve
Go deeper