Harvey makes second landfall as death toll rises to 31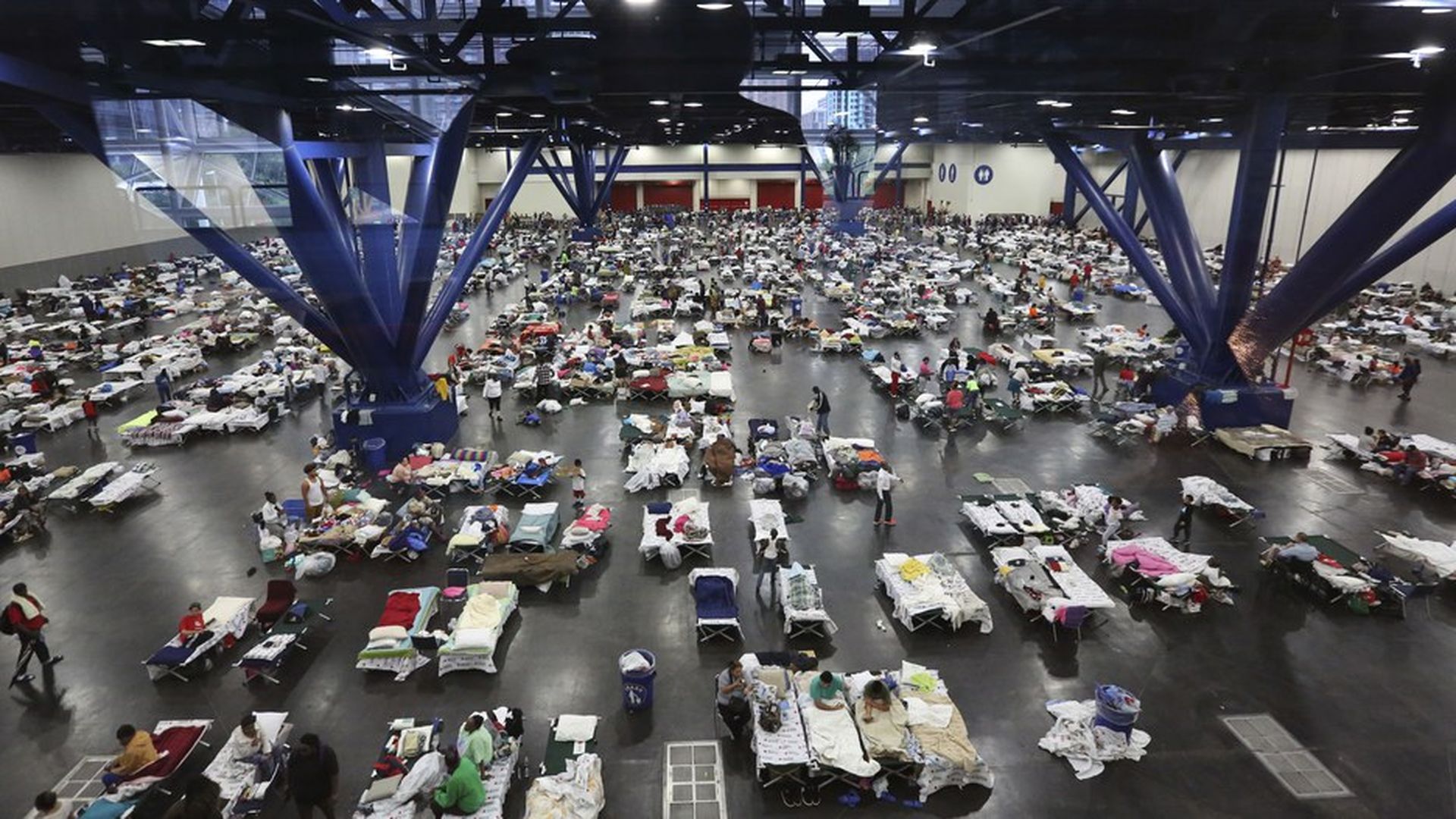 It's day six of what now is Tropical Storm Harvey. The record-breaking storm headed toward southwest Louisiana Wednesday morning, making its second landfall at 4 a.m. It has also been pounding the Beaumont-Port Arthur area of Texas, with intense overnight rain leaving the region underwater. Emergency rescuers are continuing to work overtime as heavy rain and extreme flooding continue to soak the region.
The human toll, by the numbers: Local officials in Texas have reported at least 31 people have died, while thousands are left homeless and seeking refuge in overflowing disaster relief shelters. As of Wednesday afternoon, more than 32,000 people were reported staying in shelters, according to Texas Gov. Greg Abbott. Meanwhile, 14,000 national guardsmen have been deployed in Texas, and 10,000 more are on their way.
Record rain: With 51.88 inches of rain recorded near Mont Belvieu, Texas, Tropical Storm Harvey has broken the 48-inch record for rainfall in the continental U.S., and may break the record of 52 inches in Hawaii. But the danger is far from over. The National Hurricane Center warned Wednesday that "catastrophic and life-threatening flooding will continue in and around Houston eastward into southwest Louisiana for the rest of the week."
Government aid: Texas Sen. Ted Cruz said there will be bipartisan support in Congress for a bill to provide federal aide to those affected in Texas. Trump also promised government help on Monday, "You're going to see very rapid action from Congress — certainly from the President... We're going to get your funding."
Human chains: In Houston, a woman who went into labor was rescued by neighbors and firefighters who formed a human chain, per ABC. ABC 13 Houston also tweeted a photo of another human chain, formed to help rescue an elderly man stuck in his car.
Heartbreaking story: Police officers and rescue divers in Beaumont, Texas pulled a woman and her 3-year-old daughter from a canal in Beaumont on Tuesday. The mother was dead, but her daughter was still alive. Officer Carol Riley, a spokeswoman for the Beaumont Police Department, told People that the woman "absolutely saved the child's life... They were in the water for quite some time. When the baby was found the baby was clinging to her. The mother did the best she could to keep her child up over the water."
More on Harvey:
FEMA said they will need volunteers to aid in the recovery process, for the "next couple of years."
Houston's mayor, Sylvester Turner, said at a news conference that the city's current focus "will continue to be on rescue," and not on damage assessment or recovery. Turner also set a curfew in Houston from midnight Wednesday to 5 a.m. until further notice.
Louisiana Gov. John Bel Edwards urged people to "prepare and pray" during a news conference Tuesday.
The storm's path is expected to hit the coast of southern Louisiana, from Holly Beach to Morgan City, and skip New Orleans. "By the grace of God, this is going to miss us," New Orleans Mayor Mitch Landrieu told CNN on Wednesday.
Go deeper in the Axios stream:
Go deeper