Harvey devastation deepens, death toll rises to 8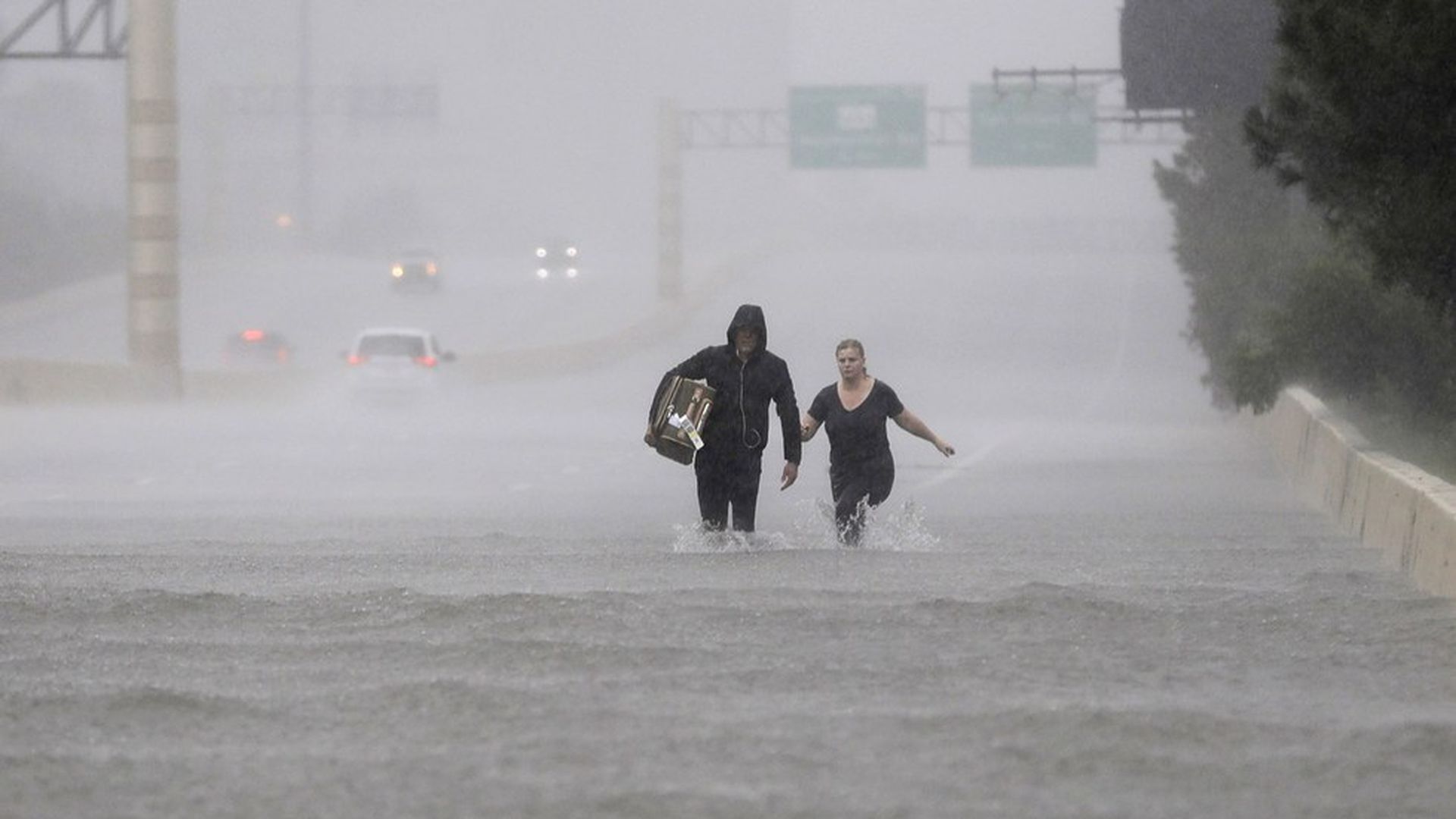 The remnants of Hurricane Harvey continue to pound the Texas coast, with the Houston metropolitan area already recording up to 25 inches of rainfall with the possibility of another 15 to 25 inches throughout the rest of the week, according to the National Weather Service.
The human toll, by the numbers: The death toll rose to 8 on Monday, and is expected to rise further, and Houston police announced today that they'd rescued more than 2,000 people from the floodwaters so far. FEMA announced this morning that 30,000 evacuees had been placed in shelters with 450,000 expected to apply for federal disaster assistance. Expect those numbers to rise as the rain continues to fall.
President Trump is heading to Texas tomorrow, but he'll stay away from Houston to avoid interfering in rescue operations, according to Texas Gov. Greg Abbott.
More on Harvey:
Some hints of the devastation: As Harvey lingers, the extent of its devastation still isn't clear. Two scary tweets from the weekend: Houston tweeted yesterday that its 911 services were at capacity and the NWS branded the storm as "unprecedented" and "beyond anything experienced."
The scope: The Washington Post shows what Harvey's 9 trillion gallons of rainwater would look like — a massive 2 mile cube of water dropped onto Houston. They note that the storm is rapidly approaching a once-in-a-million-year event with its rainfall totals.
Learn more: Houston's history with massive rains, the city's geography, and Harvey's timeframe all contributed to the decision not to evacuate the city — check out this worthwhile Twitter thread from Matt Corbett for more.
What's next: Houston's mayor declared yesterday that most of the region's major roads remain "impassable" and both of the city's major airports remain closed. With presidential disaster and emergency declarations now stretching from Texas to Louisiana, thousands of National Guard troops have been activated to assist in the federal government's emergency response, per Politico.
Go deeper in the Axios STREAM:
Go deeper